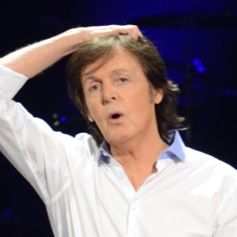 NEW YORK, NY - DECEMBER 12: Sir Paul McCartney performs at "12-12-12" a concert benefiting The Robin Hood Relief Fund to aid the victims of Hurricane Sandy presented by Clear Channel Media & Entertainment, The Madison Square Garden Company and The Weinstein Company at Madison Square Garden on December 12, 2012 in New York City. (Photo by Larry Busacca/Getty Images for Clear Channel)
Paul McCartney's unfortunately titled Kisses on the Bottom hit shelves in February 2012. Now he's got another LP on the way with New, reportedly hitting around October. With the five-year studio album gap that preceded Kisses, then the two- and four-year gaps before that, two albums in a year and a half is pretty impressive. Dude's 71, and dude's still going for it. Hear the title track below.
* This post (and headline) previously stated that this new album would be McCartney's second this year. That was incorrect. We regret the error.