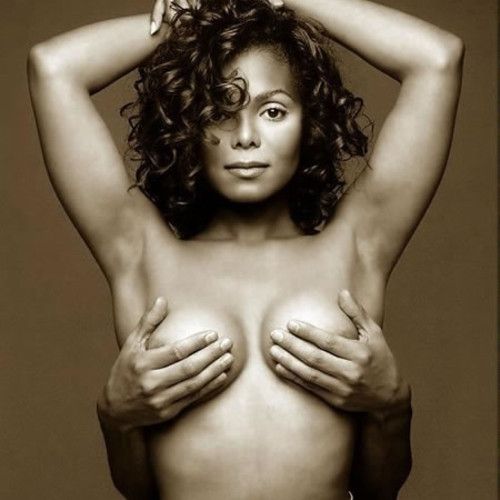 With its provocative cover of a topless Janet Jackson having her breasts cupped by an otherwise-unseen man, janet. (pronounced "Janet Period," by the way) signaled a significant career shift when the album arrived in the spring of 1993. We'd seen a newly liberated, martial Ms. Jackson on both Control and Rhythm Nation 1814, and we'd gotten a glimpse of her startling lower register on that '80s love anthem/wordplay parenthetical, "Love Will Never Do (Without You)." But janet. brought us a supple sex kitten where a "Black Cat" had once prowled. "That's the Way Love Goes," the album's lead single, slinked its way easily onto summer mix tapes, but the follow-up, "If," released on July 13 of that year, was like a punch to the eardrum.
After twenty years, the song still sounds as fresh as it did then; it may even come across as being fresher. Imagine, in our David Guetta glut, how overwhelming it would be to hear "If" as a new single today — a trip-hop fever dream of distorted guitars, trance-like backing vocals, and Janet's erotic mumbles. Many contenders for best pop song of the past twenty years make glorious musical silk of the past — Outkast's "Hey Ya!" comes most readily to my mind, but it applies to "Blurred Lines" as well — but it is an altogether more impressive feat to make a song that sounds as if it's from the future.
This is one of those songs that conjures up its corresponding music video immediately. It's hard to hear the opening strains without seeing a cappuccino-curled Janet as she emerges from a windblown poof of red curtains (ahem). Along with the movie thriller Rising Sun, based on Michael Crichton's novel and also released in July 1993, the video of "If" was the most prominent mainstream piece of Japanica that I can recall during that time — a rich depiction of a Tokyo-style video bar in which lithe young things communicated in the newly coined "virtual reality." (Gwen Stefani would return to this well ten years later with her Harakuju Girls, but her approach would be tongue-in-cheek where Janet's was cheeky.)
After the single's release, no party that year was complete without an impromptu re-creation of the video's famous voguing-meets-capoeira breakdown, choreographed by the legendary Tina Landon. It's hard to name other dance sequences that occupy such an ample part of my memory — apart from those attributed to Janet's King of Pop brother, of course. That dance breakdown felt like it was building a temple to Janet, shoulder blade by shoulder blade.
The breakdown is also one of the two parts of the song that features a sample of Diana Ross's "Someday We'll Be Together." The '90s, of course, facilitated the ubiquity of samples in pop music, but one of the genius aspects of "If" is its isolation of the motif — a seemingly innocuous but extremely effective garnish. Furthermore, the sample is synched up emotionally as well as musically: "Someday We'll Be Together" is, after all, the same conditional sentiment implied by the song's title. But whereas Ross's song is light and cheery, the verses of Janet's song practically seethe with intensity. Listen beyond Janet's own voice to the multiple drones behind her: This is a truly focused pursuit, as if Janet and her cohorts know exactly which day "someday" will be.
There are few more perfect pairings of performer and production than this song. Although hits like "Pleasure Principle," "Rhythm Nation," and "All For You" define Janet Jackson more as an artist, this song remains for me not just her pinnacle but also the pinnacle of her longtime collaborators Jimmy Jam and Terry Lewis. They work against the normal attributes of her voice, which is usually a soft coo (cf. "Again," another single off this diverse album). This is why the song works so well. There is something sinister about a pop star straddling octaves against a sea of percussive churns and waves. For all of its metallic glossiness, a voice like Rihanna's would do this song a disservice. Even though Rihanna is today's reigning queen of the pop come-on, "If" manages to be ten times more effective than "S&M." In a similar vein, if Ke$ha represents the fusion of the flip and the forward, then "If" is the sexual nugget that her music aims to send up.
And regardless of contemporary starlet, you'd be hard-pressed to find a song with a more audacious yet expertly-worded line than "your smooth-and-shiny feels so good against my lips, Sugar." Yowza.
Many a rock-infused power ditty has come in "If"'s wake, but they all pale in its shade. To name but a few of the many: En Vogue's "Free Your Mind," Aaliyah's "What If?," Rihanna's "Rockstar 101" – even janet.'s own "This Time," which featured the iconoclastic opera singer Kathleen Battle on backing vocals. And I constantly hear strains of its DNA in other songs; as soon as I heard it in LCD Soundsystem's "One Touch," I could hardly hear anything else.
Of course, Janet Jackson's sexual dominance would take a hard stumble after her infamous Super Bowl performance with Justin Timberlake in 2004. But "If" is why that imbroglio stung. More than ten years prior to that fateful halftime show, Janet had made a definitive sexual statement in a more groundbreaking, indelible, and mesmerizing way. Anthems have come and gone since that time, but few people have ever had more rhythm and control than Janet Jackson did in the summer of 1993.