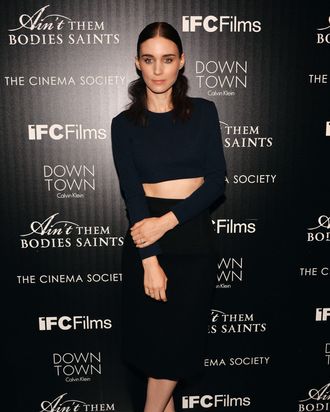 Actress Rooney Mara attends the Downtown Calvin Klein with The Cinema Society screening of IFC Films' "Ain't Them Bodies Saints" at the Museum of Modern Art on August 13, 2013 in New York City.
Photo: Andrew H. Walker/Getty Images
Rooney Mara is poised to replace Mia Wasikowska opposite Cate Blanchett in Carol, according to The Hollywood Reporter. The movie, directed by Todd Haynes, is based on Patricia Highsmith's novella The Price of Salt, and follows the love affair between a department store clerk (Mara) and a wealthy married woman (Blanchett) who yearns for a different life. Carol was originally supposed to start filming back in February, and it's not clear yet exactly what the new timeline is. What is clear, though, is that when this movie does eventually come out, we're in for an adventurous-fashion bonanza with Mara and Blanchett.