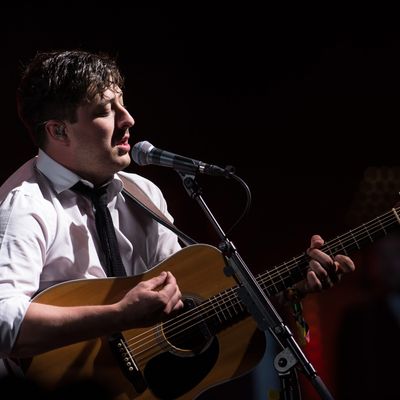 Photo: Ian Gavan/Getty Images
Mumford & Sons, the platinum-selling folk maulers, won the Internet last week—or at least won the admiration of many erstwhile haters—with a sketch comedy routine that sends up the band's chest-thumping pastoral-gothic shtick. The video for "Hopeless Wanderer" stars Jason Sudeikis, Jason Bateman, Ed Helms, and Will Forte, and one fake beard. Sudeikis & Co., dressed like the Mumfords — which is to say, like Dust Bowl hobos — are shown in farmyards and fields and rowboats, playing "Hopeless Wanderer" Mumford-style: glowering, trembling, weeping, stomping, flailing their banjos and kick drums, doing everything short of ingesting a passing barn owl. It's funny, but Mumford & Sons are so self-parodying in the first place, it's kind of a gimme. Mostly, "Hopeless Wanderer" registers as a savvy marketing move: You can never lose by making fun of yourself, especially when you hire a bunch of famous comedians to do the dirty work.
For those of us who structure our daily lives to inhabit a Mumford-free bubble, "Hopeless Wanderer" also serves as a reminder: of the crude effectiveness of the band's music, and of how little that music has anything to do with anything old-timey. As many critics have pointed out, Mumford & Sons are really a rock group, with acoustic instruments and couture by Grant Wood. Their whisper-to-a-howl dynamics are straight out of grunge; their big crescendos and war-whoop choruses are Springsteen-by-way-of–Arcade Fire.
But here's what really struck me, watching the "Hopeless Wanderer" clip and then listening, for the first time in months, to the album it came from, Babel: This music is so damn British. The Mumfords may come on like extras from O Brother, Where Art Thou? and talk up their love of bluegrass, but their music has nothing to do with Americana; it's as soddenly Blighty as a week-old platter of beans-on-toast. For the last few decades — at least since Bono first strode onto the scene, clutching the hem of God's silken robes — Brits have had a virtual monopoly on pomp-rock: music that aims for transcendence, amid cresting choruses and explosions of abstract nouns. Think not just U2 but Simple Minds and (gulp) the Alarm. Think Keane, and, of course, Coldplay — and even, in their weakest moments, Radiohead.
"Hopeless Wanderer" is a fine example of the Brit-pomp form. It booms and blasts and mewls; you know the song is about Something Big, but the lyric sheet doesn't help much to pin down meaning. There are lines about wresting with youth and living in truth; there's a thing about fire, which, sure enough, rhymes with desire.
As it happens, last week, the Internet also disgorged the first new Coldplay song in many moons: The handwritten lyric sheet to "Atlas," the band's contribution to the forthcoming Hunger Games: Catching Fire soundtrack. Sample verses: "Caught in the fire, say oh / We're about to explode / Carry your world, I'll carry your world / Some far away / Some search for gold … Show me the way, Lord because I / I'm about to explode." Et cetera. You could set those words to the tune of "Hopeless Wanderer," I reckon, and it would work without a hitch. You could even hire some comedians to impersonate Coldplay in the video. Sudeikis would make a mean Chris Martin.