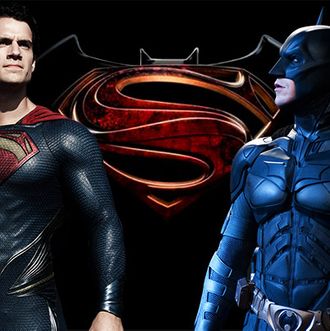 Here's what we know about  Zack Snyder's Man of Steel sequel so far: It will feature Batman. It could very well be called Superman vs. Batman or Batman vs. Superman (likely the latter). Screenwriter David S. Goyer, who was responsible for Man of Steel and Batman Begins, will be writing the screenplay. Fanboys are shitting themselves. Christian Bale is hanging up the cape as the Dark Knight. Christopher Nolan has "every confidence that [Snyder's] fresh interpretation will take the character in a new and exciting direction." And so now it's time to start asking who will play the Caped Crusader this time around.
The LA Times and The Hollywood Reporter are leading the speculation effort, and they've come up with some unsurprising names to star opposite Henry Cavill's Superman. THR's sources report that "this Wayne/Batman will be in the late 30s or around the 40 mark…established and rugged." They believe that Gangster Squad co-stars Josh Brolin and Ryan Gosling in the running, along with True Blood's Joe Manganiello, and Matthew Goode of Watchmen Avengers fame (who we're still hoping gets the 007 role someday).
Meanwhile, the LA Times put together a wide-ranging voter poll of sixteen names that includes Joseph Gordon-Levitt, Bradley Cooper, Richard Madden, Zachary Quinto, Channing Tatum, Idris Elba, and, of course, Ryan Gosling. In fact, it seems regardless of the middle-aged speculations, only Gosling's name overlaps between the two lists, so we'll keep our fingers crossed that the Internet dream boy comes out of his pseudo retirement for this one.