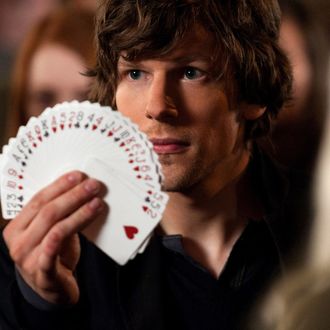 Jesse Eisenberg doing magic stuff.
Photo: Barry Wetcher, SMPSP/Summit Entertainment
Now You See Me is undoubtedly the surprise hit of the summer. The Jesse Eisenberg magic-heist movie has already earned $115.6 million domestically and over $230 million in total (and that's not including the major markets of China, Australia, and Japan, where the film is yet to come out). So as these things go, the studio behind the film, Lionsgate, has announced plans for a sequel. There's no word yet on who from the cast and behind the scenes will return, or if they'll title it Now You See Me Too or Now You See Me 2: Hey, I'm Over Here Now.