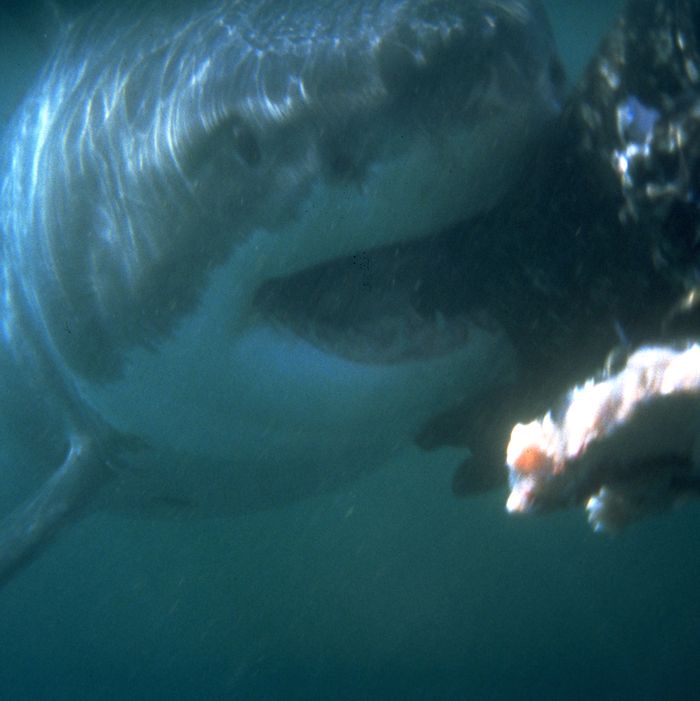 GREAT WHITE ISLAND
Photo: Scot Anderson
As we find ourselves standing knee-deep in Shark Week–infested water yet again (knee-deep in water, you say? Well, Misterjaw says, "Yea-gotcha!"), Vulture can't help but feel a sense of déjà vu. Wasn't there a special about shark-jumping last year? And the year before that? And the five years before that? Curious about how often Discovery recycles its signature motifs, we sifted through 26 years of the network's predatory programming and determined that every Shark Week is constructed out of eight basic building blocks.
1. Shark 101.
Of the 139 Shark Week programs we found, well over half use the word shark right in the title (some more bluntly than others), and seem titled to proclaim to shark fetishists that this is where to go for their purest sharkcentric experience.
Shark!
Sharks: Hunters of the Sea
Sharks: Predator or Prey?
The Shark: Maneater or Myth
Sharks 3-D
Sharks: Size Matters
Sharks: Are They Hunting Us?
Sharks: A Family Affair
The Ultimate Guide: Sharks
2. Sharks bite.
Way back in 1988, Discovery Channel's founder John Hendricks said, "What we've learned is, if an animal can eat you, ratings go through the roof." In other words: Sharks have teeth and they want to bite you.
Anatomy of a Shark Bite
Big Tooth: Dead or Alive
Dirty Jobs: Jobs That Bite
Dirty Jobs: Jobs That Bite Harder
Into the Shark Bite
Sharkbite Beach
Sharkbite Summer
Shark Bites: Adventures in Shark Week
Shark Bite! Surviving Great Whites
Shark Bites: A Decade of Shark Week
Shark Week's 25 Best Bites
Teeth of Death
3. Sharks attack.
Is there a single person in the world who'd enjoy being adrift for 47 days with sharks all around? Nope, but fear makes for good TV.
Adrift: 47 Days With Sharks
Blood in the Water
Caged in Fear
Danger Beach
Day of the Shark
Day of the Shark 2
Day of the Shark 3
Demons of the Deep
How Sharks Hunt
Killer Sharks
Live From a Shark Cage
Ocean of Fear: Worst Shark Attack Ever
Perfect Predators
Predators of the Sea
Primal Scream
Swift, Smart and Deadly
Shark Attack Files
Shark Attack Files II
Shark Attack Files III
Shark Feeding Frenzy
Summer of the Shark
Tiger Shark Attack: Beyond Fear
4. Remember Jaws?
The Hollywood blockbuster was built on the back of Steven Spielberg's 1975 movie Jaws, so why not Shark Week?
Air Jaws Apocalypse
Air Jaws: Beyond the Breach
Air Jaws: Sharks of South Africa
Air Jaws II: Even Higher
How Jaws Changed the World
I Escaped Jaws
Jaws Comes Home
Jaws of the Pacific
MythBusters: Jaws Special
MythBusters' Jawsome Shark Special
Return of Jaws
Spawn of Jaws
The Ultimate Air Jaws
5. Great white hype.
Great whites are so awesome that it's only a matter of time until Shark Week is hosted by the hair band Great White, and Bob and Doug McKenzie's "Take Off" becomes its theme song.
Great White: In Search of the Giants
Great White! (Parts 1 and 2)
Great White Appetite
Great White Attack: A True Story
Great White Down Under
Great White Encounter
Great White Highway
Great White Invasion
Great White Gauntlet
Great White Serial Killer
Great White Shark: Uncaged
The Great Whites of Dangerous Reef
6. Sharknado sells.
If you thought Sunday's fake documentary Megalodon: The Monster Shark Lives was exploitative, Syfy has something to sell you. These Shark Week titles all seem like they could be the next Sharknado.
Alien Sharks of the Deep
Dive to Shark Volcano
Future Shark
Giant Sharks
Jurassic Shark
Mysteries of Shark Coast
Operation Shark Attack!
Perfect Shark
Robo Shark
Rogue Sharks
Shark Boy
Shark City
Shark Fight
Shark Rebellion
Shark Roulette
Sharkman
Sharkpocalypse
Sharkzilla
Sharks of Pirate Island
The Man Who Loves Sharks
Voodoo Sharks
7. Have fins, will travel.
Where in the world is Sharky Sandiego? Probabably off in some far-flung location.
African Shark Safari
American Shark
In South African Waters
Paradise for Predators: Sharks of Palau
Shark Callers of Kontu
Shark Hunters of Achill Island
Sharks of the Atlantic
Sharks of the Deep Blue
Sharks of Polynesia
Sharks of the Red Triangle
Sharks of the Wild Coast
The Sharks of San Francisco
The Sharks of Enewetok
Zambezi Shark
8. Sharks do the craziest things!
Sharks don't just terrorize. They also take naps, have sex, and tell jokes.
The Science of Shark Sex
The Secret Life of Sharks
Shark After Dark
The Shark Takes a Siesta