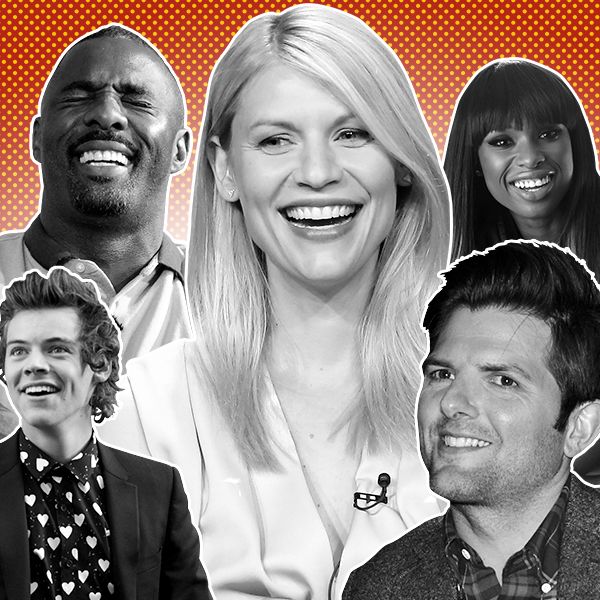 Photo: Maya Robinson and Photos by Getty
While we await an official announcement of who exactly is joining the SNL cast this season and in what capacity, let's turn to a much bigger question: Who's gonna host? Typically, the host has something to promote (shows, movies, albums), or he or she is in the news for some specific reason (sports, politics, general excellence). While acknowledging those realities, our wish list for who should host SNL this season will focus more on our desires, our wishes, our hopes and dreams.  So, in no particular order:
Aaron Paul and Bryan Cranston, together
Cranston hosted back in 2010, but Paul hasn't done it yet, and with Breaking Bad building to its finale, this is the perfect time. Plus, they are BFFs and would be great together.
Claire Danes
Again, she's hosted before — but that was way back in 1997. Danes is buzzy because of Homeland, and given her ebullience and charm in interviews and acceptance speeches, she seems pretty game. (She'd have to do an Anne Hathaway impression, of course, just to balance out the universe.)
Benedict Cumberbatch
He's got 12 Years a Slave and August: Osage County coming up movie-wise, and a third season of Sherlock is nigh. He was just Khan. It's time.
Ben Affleck
He's the new Batman! People sure had a lot to say about that. Affleck hosted this past season's finale, so it might seem like it's too soon for him to return. But! He also already holds the record for shortest time between hosting stints in the modern SNL era: a mere 203 days back in 2004. He could beat his own record if he hosts any time before December 2 of this year.
Ellen Degeneres
Ellen hosted once, back in 2001 — before her talk show even launched. She's hosting the Oscars, which makes her more newsy than usual, but mostly we just want to see her reunite with Kate McKinnon for dueling Ellens.
Kerry Washington
She's the star of Scandal, which suddenly became everyone's favorite show at the end of last season. Buzz buzz buzz buzz buzz.
Drake
He's got an album coming out at the end of September, and he was a perfectly fine musical guest back in 2011. But if Bruno Mars can both host and be the musical guest, why not the erstwhile Jimmy from Degrassi? He was on TV for years. In Canada, but still.
Carey Mulligan
John Goodman's the more obvious choice from Inside Llewyn Davis, but Mulligan's due. She's got Serious Actress cred but still seems like she'd be fun.
Taylor Schilling
It's hard to pick one break-out person from this summer's break-outiest show, Orange Is the New Black. But the show rested on Schilling's impeccable timing and the combination of anxiety, vulnerability, and pluck she gave her portrayal of Piper. She's probably not quite famous enough to host, so this is where the wish-factor comes in.
Idris Elba
Between Pacific Rim, Luther, and Mandela, this is Idris Elba's year. Top it off with hosting SNL!
Jennifer Hudson
She's the star of the other Nelson Mandela movie, which has been in the can for two years. She also knows how to do live television, having gotten her start on American Idol, back when that show was interesting. She even has an Oscar. What else do you want, America?
One Direction
They gamely participated in a sketch when they were the musical guests in 2011, plus their latest video starts with a sketch, too. They want to be in sketches! Let them!
Adam Scott
A.C.O.D. comes out this fall, and Parks and Rec is conveniently also on NBC. Scott's also probably not quite a big enough name, but again, our wishing makes it so.