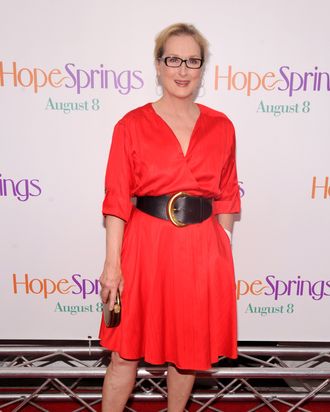 Meryl Streep attends the "Hope Springs" premiere at the SVA Theater on August 6, 2012 in New York City.
Photo: Jamie McCarthy/FilmMagic
Seventeen years after their last onscreen date, the greats that are Meryl Streep and Robert De Niro will co-star together in The Good House, an adaptation of Ann Leary's recent novel about a recovering alcoholic in a small Massachusetts town. (But it's funny, apparently.) Michael Cunningham, of the Hours, will write the script. No director yet, but it will probably be someone pretty important, because did you read all those other names? Right.