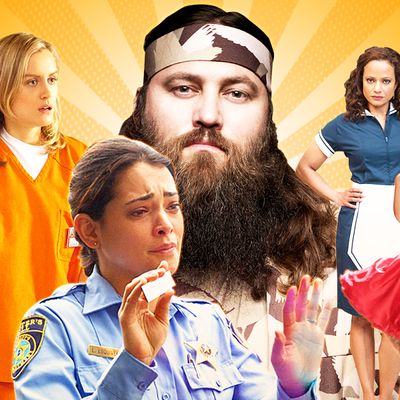 After last year's bummer summer, the warm weather months of 2013 have been filled with positive headlines for the TV business. Under the Dome became an instant hit for CBS, Breaking Bad proved patience pays, Discovery's Shark Week was bigger than ever, and A&E's Duck Dynasty returned with spec-quack-ular ratings. But while these success stories (deservedly) got plenty of attention, they don't paint a full picture of the summer season. To get a better idea of how things have played out in the three months since Memorial Day, Vulture dug deep into the summer data, hunting for the season's winners and losers. We discovered ten things that the TV industry can be happy about, and five more it would just as soon forget. Let's start with the good stuff.
WINNERS
VH1 Monday
TV executives are fond of saying that viewers don't watch networks, they watch shows. But in the case of VH1's powerhouse Monday lineup, there's a case to be made that a whole lot of folks — specifically, women under 35 — have simply decided to start their week with the network. A whopping five of the top ten shows this summer among young females belong to VH1, and they're a mix of scripted and unscripted (or, should we say, slightly less scripted): Love & Hip Hop Atlanta, T.I. and Tiny, Marrying the Game, Basketball Wives, and Hit the Floor. The anchor of the night is Love & Hip Hop, which, until Breaking Bad came roaring back, was on track to be cable's biggest show among all adults under 50, men and women. As it is, it will end up outdrawing established hits such as Falling Skies and Keeping Up With the Kardashians. Meanwhile, freshman drama Hit the Floor doesn't get as much buzz, but among women under 35, the show is beating fellow newbie (and legit hit) Devious Maids, time-slot rival The Real Housewives of Orange County — and, yes, even Breaking Bad.
Devious Maids
While it might not be as big as Hit the Floor with younger women, Marc Cherry's new Lifetime soap has a bigger overall audience and is now the network's top-rated summer series in its broader target demo of women under 50. In fact, it's actually the top-rated new basic cable drama this summer among all adults (men and women) under 50, beating new fare from USA, FX, and TNT. What's particularly impressive about Maids is that the show debuted to modest, borderline disappointing ratings in June. But relentless marketing by Lifetime and frequent repeats allowed the show to find an audience, with recent episodes drawing crowds nearly 50 percent bigger than the premiere. Fun fact: ABC originally developed Maids, but ultimately passed.
Gordon Ramsay
The sun is nowhere near ready to set on the potty-mouthed chef's empire of cooking competition shows. While Fox airs his shows year-round, the network goes gaga for Gordo in the summer. The most recent season of Hell's Kitchen debuted in March, but it provided Fox with a strong Thursday anchor all the way through July. And on Wednesdays, the network has been running Ramsay's MasterChef, which in its fourth season has actually managed to move up a tick in overall viewership. MasterChef has been particularly impressive, ranking among the summer's five biggest network shows among adults under 50.  Ramsay's power underlines another truth of the summer: With one big exception (see the losers list, below), established network reality shows continue to thrive. The Bachelorette is still doing fine on ABC, and over on CBS, Big Brother remains a ratings powerhouse three nights a week, no matter how dumb (or awful) the cast members get.
Pretty Little Liars
Breaking Bad's badass return made headlines, but ABC Family's soapy drama is also thriving this summer. The series is averaging more than 2 million adults between 18 and 49, up nearly 10 percent versus last season and a bigger audience than network shows such as ABC's Rookie Blue or CBS's Unforgettable. What's more, among viewers under 50, it's now beating every summer drama on USA, while also beating everything on TNT save for Falling Skies. PLL is drawing these big adults 18 to 49 numbers because of the show's huge core of females under 35: It draws just under 1.4 million viewers in that demo, accounting for nearly two thirds of its adults 18 to 49 audience.
Almost Anything Animated
Broadcast networks have gotten rid of most drama repeats because ratings started diving. Sitcom encores are still around (except on NBC), but other than The Big Bang Theory and Two and a Half Men, they're drawing awful ratings. Repeats of animated shows, however, are surging this summer. On the broadcast side, Fox's Sunday toons are drawing more viewers under 50 than a number of first-run reality and scripted shows, with Family Guy reruns among the top ten broadcast series in the demo. Reruns of The Simpsons are doing better this summer than 2 Broke Girls repeats on CBS. And even second showings of Bob's Burgers — little Bob's Burgers — is drawing more younger viewers than both new shows (ABC's dud drama Motive) and live-action reruns (How I Met Your Mother). Animated shows are even hotter on cable: Adult Swim, which features a mix of toons and live-action series, will end up cable's top network among viewers under 35 for the summer. And both Adult Swim and sister net TBS regularly beat broadcast repeats with their weeknight showings of old episodes of everything from Family Guy to King of the Hill.
Sharknado
At first, it appeared that this Syfy movie's social media bark was far bigger than its Nielsen bite: Despite winning Twitter the night it aired, the crapfest drew just 1.4 million viewers to its initial July 11 telecast. That was even fewer than most Syfy B-movies. But then something funny happened: Repeats of the movie outrated the initial telecast. The July 18 encore brought in 1.8 million viewers; a July 30 showing lured in 2.1 million unsuspecting victims. Some people even paid to watch Sharknadoin a movie theater via hastily scheduled midnight screenings. Oh, and the movie cost Syfy next to nothing to make. Throw in the massive social media chatter about the show, and the nearly as massive news media coverage of said online chatter, and Sharknado has to be considered one of summer TV's biggest hits.
Orange Is the New Black
We're putting the Netflix prison drama on our list even though there's no quantifiable way to measure how many people are watching the show. Netflix doesn't give out viewership data, so it's quite possible the only people actually watching the show are reporters who cover TV and folks on Twitter (some of whom may actually be bots and not actual viewers). But Orange is a winner because, without any huge stars or much advance publicity, it has easily become the most buzzed-about new series to debut this summer (and yes, we're counting Under the Dome). Its cast is constantly being profiled by pop-culture websites (including Vulture), critics can't stop raving, and the show's focus on the sorry state of the U.S. prison system has inspired segments on MSNBC and other news channels. None of this may translate to an immediate profit for Netflix, of course. But the endless, mostly positive chatter about Orange can only help Netflix in its mission to convince non-subscribers that it is worth $8 per month.
NBC's Summer Reality Shows
It's been a while since any network launched an out-of-the-box unscripted hit in the summer (or any time of year, for that matter). But NBC has at least used the warm-weather months to build a small army of solid performers, shows that keep the lights on and allow the network to get rid of those pesky low-rated repeats. On Mondays, the combination of G4 import American Ninja Warrior and freshman Get Out Alive With Bear Grylls has proven to be powerful counterprogramming to the female-friendly lineups on ABC, VH1, and ABC Family. Both shows rank in the summer's twenty top-rated broadcast shows with viewers under 50, with Ninja regularly winning its 8 p.m. time slot and Get Out Alive ranking as the summer's No. 1 new reality show in the demo. NBC also found a winner with Hollywood Game Night, which has done admirably on Thursdays at ten without any real lead-in. What's more, Tuesday repeats of the show do nearly as well as the initial broadcasts; combine the two airings, and suddenly Game Night is pulling in the same under-50 audience as The Bachelorette or Big Brother's Wednesday edition. (NBC has wisely already renewed it for another season). Combined with the still-strong America's Got Talent, NBC's unscripted summer slate lets the Peacock do something it rarely does during the regular season: win.
Naked and Afraid
Unlike past years, the biggest new cable show this summer wasn't a drama, but Discovery's gritty twist on Survivor. Smartly launched after the network's June broadcast of Nic Wallenda's Grand Canyon stunt, Naked regularly draws over 1.7 million viewers under 50 on Sundays. That puts it ahead of scripted freshmen such as The Bridge and Graceland, and gives it nearly as many young adults viewers as Bravo's long-running Real Housewives franchise. But Naked also does well with older and younger viewers, giving it a total weekly audience of just over 3 million viewers.
Mistresses
ABC's summer soap got terrible reviews and seemed to have zero buzz. And yet, in no small owing to its smart scheduling behind The Bachelorette — and despite airing opposite CBS's megahit Under the Dome — Mistresses actually drew a crowd. Its 1.9 rating among adults under 50 ranks it among the 10 top-rated shows on broadcast this season, and it's actually only a couple tenths of a ratings point behind* Dome with women under 35. Yes, it loses a big chunk of its Bachelorette lead-in, but it also gets a solid boost from time-shifting: Its under-50 audience jumps nearly 60 percent once DVR data is factored in. Most important, Mistresses is doing far better than The Glass House did on Mondays last summer, boosting ABC by nearly 75 percent versus 2012. None of this means the show is a cinch for a second season, since Alphabet execs may ultimately decide they can do even better with a higher-quality show. But based on ratings alone, Mistresses narrowly qualifies as a summer winner.
LOSERS
The USA-TNT Drama Factories
For the better part of a decade, cable's two most established general entertainment networks have used summer to launch their most promising new dramas: Monk, The Closer, Burn Notice, Rizzoli & Isles, Psych, and Falling Skies. But just like their broadcast brethren, TNT and USA are finding it harder to score out-of-the-box hits. One of the biggest summer duds has been King & Maxwell. Thanks to its positioning on TNT behind the hit Major Crimes, it's averaging a solid 4.4 million viewers. But among viewers under 50, the demo that counts in TV, it's losing nearly 40 percent of that lead-in, drawing slightly fewer viewers than the repeats of Bob's Burgers Adult Swim airs opposite it at 10 p.m. Mondays. (Tellingly, TNT didn't even bother to mention the show in its lengthy list of summer ratings highlights.) USA's big new summer drama, Graceland, is a hit by comparison: It's drawing around 1.6 million viewers under 50, on par with USA dramas such as Covert Affairs and Royal Pains. That sounds okay, until you realize that those two shows are in their fourth and fifth seasons, respectively, and have been losing viewers. Or that Graceland's demo audience is nearly 20 percent below that of USA's Burn Notice, which is ending its run this season. Or that Lifetime's Devious Maids is drawing more young adult viewers with a far smaller lead-in. What's more, for the first time since 2005, USA didn't launch a new summer hit in 2012. (R.I.P., Common Law and Political Animals.) Graceland will almost certainly be renewed for a second season, but it's not the immediate breakout USA once cranked out so easily. It, along with TNT, may now have to do what other, smaller cable nets have done for years: patiently build hits over a couple of seasons.
So You Think You Can Dance
Fox's long-running dance competition used to be the network's summer tentpole. When ratings started slipping two years ago, the network tried to shore up the show by eliminating its results night, hoping it would concentrate viewers on a single telecast. Alas, viewer continue to flee: This season, Dance has lost one-quarter of its audience compared to 2012. And in recent weeks, its audience has shrunk even further. Last Tuesday, for example, the second hour of SYTYCD ranked third in its time period among broadcast shows among viewers under 50; it basically tied the ratings of time-slot rivals Rizzoli & Isles and Amish Mafia. The goods news for SYTYCD is that the show remains (barely) in the top ten summer shows among broadcasters, and it still does better than everything else Fox airs in the summer (save, of course, for all of the Gordon Ramsay shows). Still, it's not a cheap show to produce. A renewal is hardly guaranteed, especially as Fox looks to expand its scripted offerings next summer. 
Wilfred
It really was the dog days of summer for FX's out-there comedy. It's never been a huge Nielsen hit, but the show's ratings fell off a cliff this year. Just 371,000 adult viewers under 50 are making an appointment to watch the show on Thursdays this year, about half as many as the 714,000 who watched last summer. Ah, but what about DVRs, you say? Well, yes: Folks are time-shifting Wilfred in greater numbers. An average episode gains about 83 percent more under-50 eyeballs this season (versus a 59 percent bump last year), which brings the show's actual demo audience to about 678,000.  Unfortunately, even that number is still 40 percent below the show's 2012 total demo audience of 1.1 million viewers. The good news for Wilfred fans: The show's very inexpensive to produce, and FX execs are very fond of it and are happy with its creative direction. A fourth season, perhaps on new spinoff channel FXX, is not at all out of the question.
Wipeout
ABC has a bad habit of running its hit reality shows into the ground via overexposure. Who Wants to Be a Millionaire? was a monster hit at the turn of the century, but ratings greedy execs at one point expanded the show to five nights per week, and viewers quickly grew exhausted. More recently, it's been clear for several years that there aren't enough interesting stars to do Dancing With the Stars more than once per year, but ABC doesn't seem to care: As recently as last month, ABC boss Paul Lee was insisting he's still considering airing two cycles of the show this season. (We're betting he won't.) And then there's Wipeout. The show was an instant summer hit in 2008, and it remained a strong summer staple in 2009 and 2010. But in one of his first decisions upon arriving at ABC, Lee decided to expand Wipeout, scheduling winter and spring editions. The result: Steadily falling ratings, and, this summer, a total collapse. So far this summer, Wipeout is down a whopping 33 percent among adults under 50 versus last summer's shows; the declines are even steeper among young men under 35. Don't expect to see the show back on ABC next summer.
NBC's Summer Dramas
While the Peacock can be proud of its reality fare this summer, its scripted slate has been a disaster — at least in terms of ratings. Sunday's Crossing Lines drew fewer young adult viewers than the repeats of Law & Order: SVU that led into it. Monday's Siberia lost one third of the audience from Get Out Alive. And while Wednesday's Camp is actually averaging an okay 1.3 rating among adults under 50, that's only because it's behind the top-rated America's Got Talent. Camp literally loses two thirds of the AGT audience, a sure sign viewers are rejecting it. Still, while NBC struck out in terms of finding a summer hit, it actually didn't hurt itself overall. The Peacock got all three shows for a song, with international partners footing most of the cost. And while the shows didn't pop, they probably did better than repeats of, say, Parenthood or Parks and Rec would've done, and thus kept more viewers watching NBC during the summer.
* An earlier version of this story stated that ABC's "Mistresses" is beating CBS"s "Under the Dome" among women under 35 during 10 p.m. Monday timeslot. In fact,  while ABC is ahead of CBS in that demo Mondays at 10 p.m., that's only because "Mistresses" premiered several weeks before "Dome." Until "Dome" debuted at the end of June, CBS was drawing miniscule ratings with repeats of "Hawaii Five-0," thus lowering its time period average.