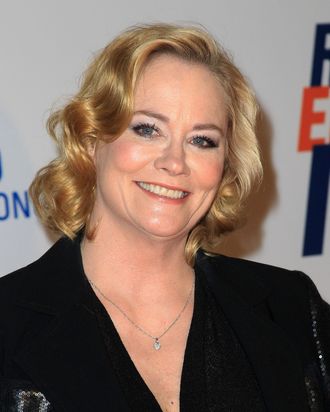 Actress Cybill Shepherd attends the 19th Annual Race To Erase MS - "Glam Rock To Erase MS" event at the Hyatt Regency Century Plaza on May 18, 2012 in Century City, California.
Photo: Frederick M. Brown/Getty Images
We all knew Law & Order: SVU would eventually adapt Paula Deen's racism scandal into an episode. And it seemed likely that the show would acknowledge Trayvon Martin's death in some capacity. What didn't seem likely was that those two events would be rolled into one big episode, but here we are. SVU's executive producer Warren Leight tells EW that the third episode of this coming season has Jeffrey Tambor playing a defense attorney who is "representing a very high-profile celebrity woman chef who thought she was being pursued by a rapist and turned around it was a teenager. And she shot him." Cybill Shepherd is playing faux-Dean, and Leight says the episode will also address "a lot of stop and frisk elements." No word yet on when the Anthony Weiner episode is coming out, but it's gotta be soon, right?