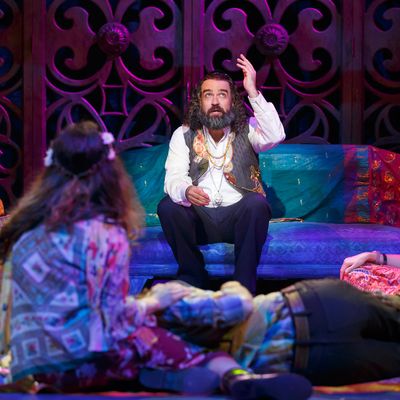 Eric Anderson as Rabbi Shlomo Carlebach in Soul Doctor.
Photo: Carol Rosegg
Before I saw Soul Doctor: Journey of a Rockstar Rabbi, I knew nothing about Shlomo Carlebach. Two and half hours of gentle Jewish liturgical folk-rock later, I'm still not sure I know the guy. It's not for lack of earnestly proffered information: This unctuous, amiably shambling biomusical pamphleteers you mercilessly with plenty of (selective) facts. We open with Carlebach, the sorta-famous "Singing Rabbi" of the sixties, playing a concert in Vienna, when he's heckled by a composite-character named Reb Pinchas (Ron Orbach), Shlomo's square, sour childhood tutor, who thinks Carlebach's message of universal peace and love (delivered in Vienna, of all places!) is obscuring the very particular circumstances of the Holocaust and cheapening the ongoing struggle of the Jewish people. Is it? Does Reb Shlomo have an authenticity problem? Is he too in love with love — the pasteurized, unkosher love of the secular world? And has anyone seen Neil Diamond's remake of The Jazz Singer lately? Because, oof.
Okay, Soul Doctor isn't that bad. But it does display a muddy, bumbling, amateurish quality in its storytelling that gets in the way of some fine performances and seriously impedes its ability to grapple with questions as serious as the ones listed above. The Broadway incarnation (I missed the show's arrival here last year at New York Theater Workshop) suffers from structural bloat and thematic penury, message-y persistence and character fog. What Soul Doctor does have, in abundance, is information. From the opening concert, we're quickly sucked into screen-treatment flashback, where we meet Carlebach's family—descended from a line of distinguished rabbis—and see them chased from Vienna ahead of the Anschluss. They eventually land in New York, where his father (Jamie Jackson) leads a small Orthodox congregation on the Upper West Side. Shlomo (played, as an adult, with unforced warmth and quiet magnetism by Eric Anderson) shows great promise as a Torah scholar, but his passions lie elsewhere.
Shlomo strays from his father's dwindling congregation, first to the charismatic Chabad-Lubavitch movement, then even further: to the intersection of sacred and popular music. He finds himself influenced by African-American jazz and spiritual musicians (including Nina Simone, played here by the winning Amber Iman in an exciting Broadway debut), the folk movement and other tributaries to secular pop, and begins penning simple, infectious melodies with lyrics drawn from scriptural snippets and religious teachings. Celebrated as "the Singing Rabbi," his immense body of work—impressive for a guy who couldn't read music — essentially becomes the new liturgy in synagogues around the world. He gives concerts alongside irreligious superstars and tours college campuses — and eventually finds his way to Haight-Ashbury, where he opens a "House of Love and Prayer." (Prepare yourself for a great deal of unstructured hippie dancing.) Along the way, as this familiar narrative dictates, Shlomo is forced, painfully, to cut some ties with the past.
Soul Doctor hints at the paradox of Carlebach: that he was both a huggably heterodox interfaith icon and a passionate recruiter of assimilated Jewish youth. But for all Anderson's many charms — and he's a wonderful, woolly security blanket of a presence, with a lovely folk baritone — he can't find the interior man in writer-director Daniel Wise's sprawling, worshipful book, where tangy one-liners float in giant pools of yadda-yadda Wikisposition. The content here is only edgy by the standards of the strictly Orthodox: Chances are, general audiences won't be short of breath when young Shlomo finally touches a woman, even if that woman is the great Nina Simone. (The historicity of the encounter is highly speculative, and was apparently, according to the New York Times, "suggested" by Carlebach's daughter. Iman somehow makes the role feel epic, masterfully selling us a character whose definitive tic, according to the script, is her stubborn mispronunciation of Shlomo's name.) On the night I attended, a large portion of the crowd gasped audibly at the mere mention of Lubavitcher Rabbi Yosef Yitzchak Schneersohn's name — I somehow doubt that'll be the case after the TKTS set is filling seats.
Soul Doctor was commissioned with the blessing of Carlebach's surviving heirs, maintains a steady, almost hypnotic adulation towards its subject that leaves civilians so soothed they're practically numb. (You'll hear no mention of the posthumous sexual harassment charges lodged against Rabbi Shlomo. Drugs, sex, women: It's all paved over with warm kugel.) Against all this reverent keening, Carlebach's music, which has been adapted here with new lyrics, feels like a pleasant Epsom-salt bath. These tunes weren't really designed to highlight or color dramatic moments on stage, and it's no miracle that they don't. The necessary gigantism of a Broadway production (even the relatively intimate Circle in the Square has an arena-like feeling) presents us with a question Soul Doctor isn't prepared to answer: Was this hippie rabbi a rock star?A guru? A teacher who did his best work in small kum-ba-yah minyanim? The man, the mensch, and the myth are never parsed with anything approaching curiosity. This is a singalong, steeped in deep fondness, which one can either meet or miss. The show doesn't insist, doesn't specify—only obsessively informs.
* * *
A few blocks away on Ars Nova's tiny stage, you'll find another bio-musical, this one, refreshingly, about a nobody: A smart black girl named Shida who finds her path to adulthood cratered with all-too-common pitfalls — abuse, pregnancy, drugs. Jeannette Bayardelle (a young performer seen in Hair and The Color Purple) wrote and composed this one-act, one-woman descent into hell, and while the show never quite extracts itself from a certain inexorable prescriptiveness, it's nonetheless a heartfelt and affecting work, featuring a robust, small-combo score and a fearsome suite of characters embodied by the protean, inexhaustible Bayardelle. She grew up with the real Shida, and watched her slide backwards from promising student to near-casualty — this show is her tribute, as a friend, and also her triumph, as a creator-performer. And in the snug Ars Nova den, there's no escaping her. I wonder how I'd feel if I met Anderson's fuzzy Reb Shlomo in similarly intimate environs; I wonder if, in closer quarters, in a more open atmosphere, we might've really met.
Soul Doctor is playing at the Circle in the Square.
Shida is at Ars Nova through August 28.