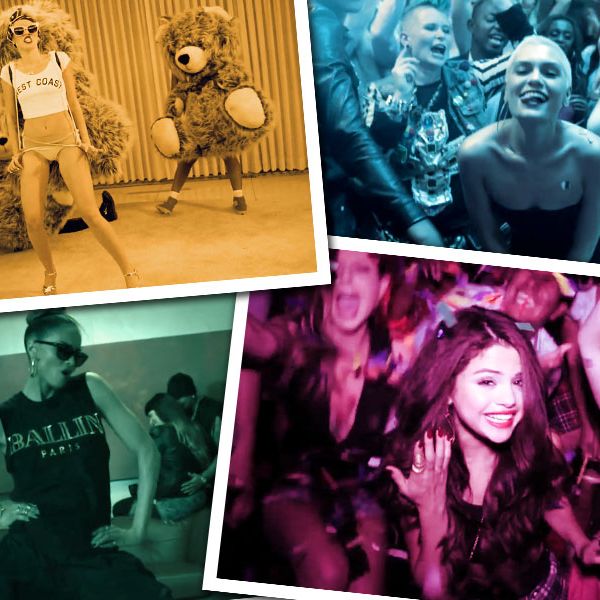 Summer's over, guys! It's time to reminisce about all the good times that were had — all the barbecues and beach days, all the picnics and three-day weekends, all the bangin' music video parties. Everyone from Miley to 2 Chainz decided to basically host a rager in place of putting together an actual music video. We suffered major FOMO. Stave off September by watching the six best.
Vampire Weekend, "Diane Young"
The boys of Columbia University put on their own version of The Last Supper, which quickly turns into a raucous dinner party in which weed is smoked out of a saxophone and espresso machines are fondled. Why would Diane Young wanna change her mind about being at this thing?
2 Chainz, "Feds Watching"
It's an all-ladies (plus 2 Chainz) party at the 2 Chainz mansion. I mean, sometimes you just wanna dress up and dance with your girls, you know? You know.

Miley Cyrus, "We Can't Stop"
Let's just ignore what happened this week at the VMAs and talk about this video, okay? Now be real. As much as we all loved to watch Miley's American Horror Story–esque all-nighter, would you actually want to attend it? There's no way you'd want to be a part of this Alice in Wonderland–like debauchery, right? We're talking roasting marshmallows on a candelabra, eating a sandwich made with hundred-dollar bills, slicing your fake fingers and bleeding pink yogurt, twerking alongside giant teddy bears, making out with an S/M Barbie replica of yourself in the pool, potentially eating a skull made of French fries, and smashing a pinata filled with hot dogs. None of that sounds like fun, right? We're kidding — we want to be at this party right now.
Selena Gomez, "Birthday"  
Selena Gomez turned 21 in July, so if you think about it, this might very well be her 21st birthday party! Points deducted for the weird faceless mannequin things (and general lack of birthday party decor), but there is a lovely party authenticity about the "Birthday" video that makes us believe that even the dancing extras might have been allowed to share in Selena's cake. They even sing "The Happy Birthday Song" at the end. A lot of good, clean fun … for a 21st birthday party. Step it up for 22, Selena! You're a spring breaker now.

Jessie J, "It's My Party"
Sure, "It's My Party" might not have been this year's Song of Summer, but who needs that honor when you have a music video that is this fun? Jessie travels down a hallway where each door leads to a cooler party than the last — literally a scene for anyone who wants to party: goths, Harajuku-inspired gals, even grannies in leather jackets. And at the end? Everyone emerges from their rooms for one giant dance party.

Ciara, "Body Party"
Surely it depends on your party preferences, but the chilled-out scene of "Body Party" strikes us as one of the best ways to spend a night — guests grinding in the living room, people chatting out by the chateau's pool and poppin' bottles with Ludacris at the billiards table. Everyone looks great and there's even some easy choreography. And if you're Future and invited up for a private True Lies–inspired lap dance, then I guess this would definitely be the best party of the summer.