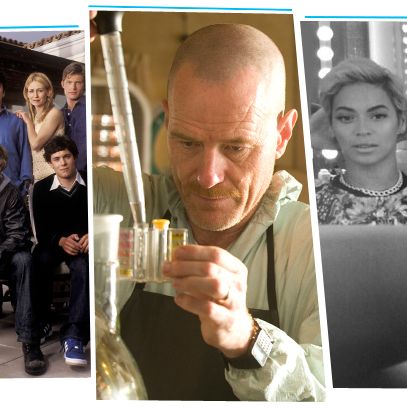 Every week, Vulture faces the big, important questions in entertainment and comes to some creative conclusions. This week we were all about the tenth anniversary of The O.C., counting down to Breaking Bad, and shouting out Jewish lawyers. You may have read some of these stories below, but you certainly didn't read them all. We forgive you.
Q: How old is The O.C.?
A: The O.C. is ten, and we celebrated all week long. We tested our knowledge of the four seasons with Vulture's The O.C. Superfan Quiz and ranked all six soundtracks (or should we say "mixes"?). We learned about love and relationships from schmear-loving dad-extraordinaire Sandy Cohen and spoke to Tate Donovan about playing not-so-great dad Jimmy Cooper. New Girl's J.J. Philbin reminisced about the laughter and the tears in the O.C. writers' room, and O.C. producer Josh Schwartz revealed the inspiration behind the show's unforgettable catchphrase, "Welcome to the O.C., bitch!" and then tweeted his love for Jason Diamond's essay about why Seth Cohen is his spirit animal (and he's ours, too). We even covered those annoying cross-promotional ads Fox slapped on the lower third of the screen through The O.C. first season!
Q: How many days until Breaking Bad returns? I can't wait any longer!
A: Breaking Bad returns August 11 — that's Sunday. We couldn't wait, either, so we counted down for a whole month. This week, we drew up some Breaking Bad infographics and spoke with Dr. Donna Nelson, the show's science adviser, about keeping it (mostly) real in the world of TV meth. Denise Martin talked to Matt Jones and Charles Baker, the show's lovable stoner sidekicks Badger and Skinny Pete. Matt Zoller Seitz revisited Walt's "full-on bastard" circa the fourth season, and Margaret Lyons reminded us where we left off at the end of last season (answer: Hank was on a toilet).
Q: Where does Vulture stand on the whole movie-shusher versus movie-texter debate?
A: Team Movie Shushers (we just want to watch in peace)!
Q: I've heard they work long hours on movie sets. But how long can the days really be?
A: Sixteen hours and 45 minutes long.
Q: Is it just me, or does Beyoncé's new haircut look a lot like Miley's?
A: It's not just you — Amanda Dobbins thinks so, too. Similar or not, we think the cut looks great on Brooklyn's newest bike commuter.
Q: What's the deal with the CBS–Time Warner feud?
A: It's still going on, and Josef Adalian thinks the battling corporations are only harming themselves. Adalian asks the giants, "Wouldn't you rather concede and make a little less money now from the customers you do have rather than speed up the clock to when you don't have any customers at all?"
Q: I love Shark Week, but didn't I see that shark-jumping special last year? And maybe the year before that too?  
A: If you're having déjà vu, you're not alone. You may not have seen that exact special before, but John Sellers found eight heavily recycled motifs over Shark Week's 26-year history. Oh well, Shark Week's still "the best thing ever."
Q: Besides sharks, what makes the best reality TV?
A: Skill-based contests.
Q: How many rappers have Jewish lawyers?
A: Quite a few, apparently. Jewish lawyers Sandy Cohen and Saul Goodman would be proud.
Q: Should I see Elysium?
A: That's your call, but David Edelstein said Elysium is "a more than decent formula sci-fi action picture with one or two nicely gruesome effects." What you should do is take Vulture's Matt Damon Hair Quiz.