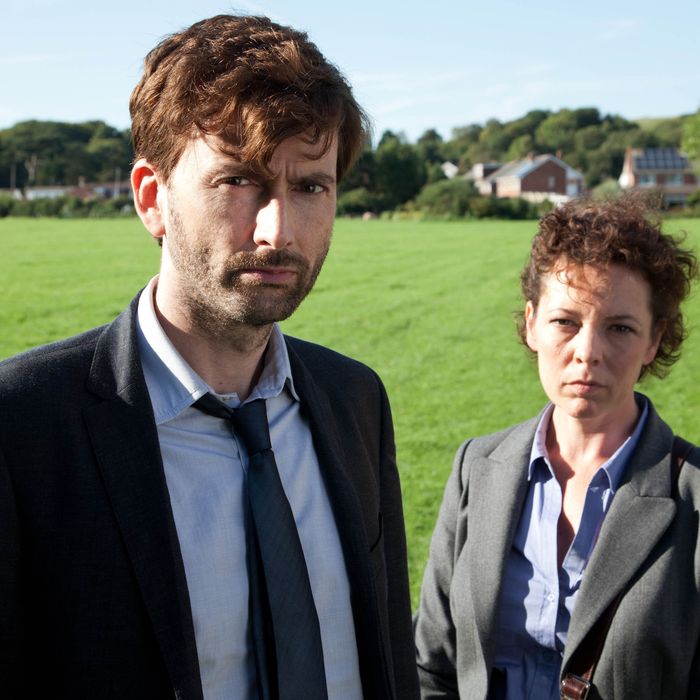 Is it faint praise to say that for long stretches of the new British drama Broadchurch you may forget how many other current shows are telling the same story? It is? Ah, well, the eight-part import (which begins tonight on BBC America) is so good that at certain points I found myself wishing it pursued its goals in a different, less familiar way.
The goal of Broadchurch is to show how a single traumatic death affects the living. The vehicle is the police procedural, wherein cops gather evidence and the town reacts with shock, shame, voyeuristic fascination, and ultimately a kind of wounded numbness. The deceased here is a teenage boy named Danny, who seemed to have committed suicide by leaping off the seawall of his Dorset-area town but was actually a victim of foul play. The show hits all the beats you expect it to hit, and it hits them with intelligence and taste and a fair degree of inventiveness. Murder is always foul, but in small towns it's fouler, because the community is tighter, and the atrocity therefore more exposed and revolting. Murder is a psychic as well as legal event. It hits like a rock dropped in a still pond. The trauma of killing flushes out secrets and soils the façade of cheerful community. And it tests the mettle of a place, showing the victim's family and friends who their friends are, separating the strong from the weak, the righteous from the treacherous.
What other TV dramas taught us this lesson?  Well, Twin Peaks, for one. In fact, every iteration of the ripple-effects-of-murder series owes that early-nineties classic a debt, whether it indulges in Lynchian shenanigans or plays things straight. Recently we've seen a wave of faintly Peaks-y shows about the effect of murder on small towns, or in city subcultures so tightly knit that they feel like small towns: the American remake of The Killing, FX's new The Bridge, the imported miniseries The Fall and Top of the Lake, and, in its own hothouse horror-film way, Bates Motel. Most of these programs succeed where AMC's tediously superficial The Killing largely failed, treating a murder investigation less as the hard spine of the show than a clothesline on which to hang intriguing characters and local color. Broadchurch is another show in this mode. It starts with a mood of horrified impotence and only gets darker from there, even as character eccentricities give us a little bit of comic relief. The image that best sums up this and other small-town-murder tales comes from another David Lynch production, Blue Velvet: the immaculate suburban grass torn up to reveal the bugs beneath.
Although Broadchurch is an ensemble piece, it has a couple of almost-heroes: the partnered cops played by David Tennant (a.k.a. the tenth Doctor Who) and Olivia Colman (Peep Show). Tennant is Det. Inspector Alec Hardy, a former big-city cop who relocated to this much smaller town following a scandal and is horrified to discover that the murder has caused that scandal to dust itself off and come looking for him. Colman plays Det. Sgt. Ellie Miller, who just got done with maternity leave and is appalled to learn that the job she expected to get has been filled by Hardy. To make matters dicier, she knew the deceased; he and her own teenage son were best friends, perhaps unhealthily close, as we suspect when we see Olivia's boy hastily erasing all digital evidence of his recent communications with Danny. As you'd expect, no set of relationships is quite what it seems — not even the marriage of Danny's parents, Beth (Jodie Whittaker) and Mark (Andrew Buchan). Each blames the other for not catching the sneaky late-night disappearance that presaged Danny's killing. So many bugs, so little time.
Broadchurch excels at showing the awkward moments between the briskly delivered plot points, and the small details of voice and gesture that define communities in mourning (or guilty panic), and it has the good sense not to overdo anything. When we follow Mark walking through town in the pilot, saying hello to everyone he meets, the sequence is so effortlessly functional that you don't notice how cleverly it's been choreographed (all in one take, weaving from bright sunlight to artificially lit interiors and out again). The bravura touches aren't begging for applause. They feel organic.
And yet there's something fundamentally unsatisfying about the whole thing, as smart and intricately structured as it is — and it has nothing whatsoever to do with any writing or acting or filmmaking issues, and everything to do with the fact that we've just been to this particular narrative well too many times in 2013, to the point where the "murder in a small town" template feels as played out as the "dark and edgy antihero who doesn't give a damn about your bourgeois morality" mode that still dominates a lot of the cable grid. This is not even remotely a fair complaint, I admit, but I make it anyway, in the event that you've been thinking the same thing. I've liked pretty much every halfway-good recent example of this sort of tale, but cumulatively they leave me underwhelmed. The truly radical thing to do with this subgenre would be to take murder out of it entirely and just show how one death can affect a community. No yellow police tape, no soap-opera-style reveals of deep dark secrets: just the characters, the situations, the feelings.