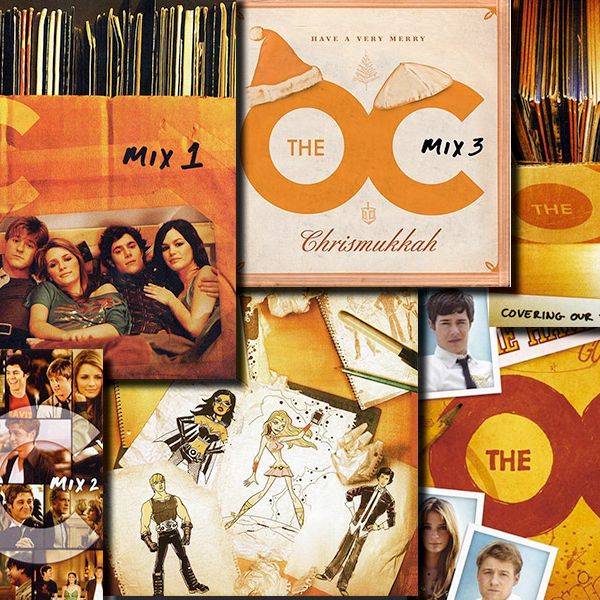 Not too many years ago, buying each subsequent edition of The O.C.'s soundtrack — or "mixes," as the six compilations were cleverly dubbed — was as much of a badge of fan-hood as tuning in to watch the show every week. Chalk that up to the curatorial skills of the Fox soap's musical supervisor, Alexandra Patsavas, who put together the track list for each album as carefully as Seth Cohen might devise a mixtape for Summer, with tunes by obscure indie bands juxtaposed next to those by better-known (but still oh-so-cool) genre-mates. Not surprisingly, the mixes sold like hotcakes. But how do they hold up? As part of our week-long celebration of The O.C.'s ten-year anniversary, we cranked up all six albums — on compact disc, no less — and ranked them by how well they've aged. You may disagree! Or maybe you'll agree so hard that we just blew your mind. Either way, enjoy.
#6: Music From The O.C.: Mix 6 – Covering Our Tracks
The idea that a music-obsessed meta-show like The O.C. would go and release an album solely composed of covers of songs that had previously been featured on the show makes sense. We just wish it made better sense. We have nothing particularly against Syd Matters, the French act covering Super Furry Animals' "Hello Sunshine," but we also have no desire to listen to any other version of "Hello Sunshine" than the original. And we like Mates of State, really, but how am I supposed to blast the duo's slowed-down version of "California," pedal to the floor, while driving down the 101? Perhaps the only notable upgrade over the original is Tally Hall's "Smile Like You Mean It," which should replace the Killers' version from now until forever.
#5: Music From The O.C.: Mix 4
Sure, Mix 4's got the Futureheads, A.C. Newman, Modest Mouse, and Beck. But scanning the track list, there really aren't any songs that immediately call to mind seminal O.C. moments. Hardcore fans might remember Marissa's first kiss with Alex (aka Olivia Wilde) was set to BellX1's "Eve, the Apple of My Eye"; that Sufjan Stevens's "To Be Alone With You" is about adoring Jesus Christ, yet plays while Ryan gives Seth advice about losing Summer; and that Modest Mouse is performing at the Bait Shop while Seth exposes Zach's infidelity. It's telling that the mix's most important track in terms of show action is a cover: Matt Pond PA's version of Oasis' "Champagne Supernova," which appears when Seth and Summer are (finally) reunited. Overall, this soundtrack installment is solid, but it doesn't feel particularly O.C.-y anymore.
#4: Music From The O.C.: Mix 3 – Have a Very Merry Chrismukkah
Just as 'N Sync's Home for Christmas did before it, Mix 3 — Have a Very Merry Chrismukkah gets credit for introducing O.C.-loving Jews to some otherwise well-known Christmas songs. While there's certainly a lack of Hanukkah songs on the record, Ben Kweller's "Rock of Ages" is a wonderful inclusion. Jimmy Eat World's "Last Christmas" does justice to the much-covered Wham! track, and even Rooney gets in on the holiday spirit with a jangly "Merry Xmas Everybody." The Eels' "Christmas Is Going to the Dogs" plays as Seth reveals the crucial Chrismukkah Work Wheel, "so that everybody understands his or her duties this holiday season." And while Seth's "Chrismukkah hymn set to Death Cab's 'A Lack of Color'" doesn't make the album, what Mix 3 does well is pick the holiday's most solemn songs that fit nicely with The O.C.'s own dramatics. Could you imagine Seth Cohen listening to Ron Sexsmith's "Maybe This Christmas"? Or Leona Naess's Joni Mitchell-esque "Christmas"? Our biggest quibble: Bright Eyes' heartbreaking cover of "Blue Christmas" plays during the episode, but is sadly left off the soundtrack. Oy humbug!
#3: Music From The O.C.: Mix 5
Aside from having a slew of wonderful starter bands for easily impressionable youths (see: Beck, Gorillaz, Of Montreal and LCD Soundsystem), Mix 5's collection of Earth-shattering musical moments bumps it up to the #3 spot on this extremely important list. The most obviously important being Imogen Heap's "Hide and Seek", which became so popular after playing as Trey got shot that it quickly became a Saturday Night Live sketch and subsequent Internet meme. It even inspired a Jason Derulo song! Less obvious is Youth Group's "Forever Young," a.k.a. the tune that becomes Marissa and Ryan's song after it magically appears on the radio. We'll never know what Orange County radio station was actually playing the cover of "Forever Young," and we'll never care. We're just glad it happened.
#2: Music From The O.C.: Mix 1
Here's where it all began. Mix 1, like a mixtape Seth Cohen might have made for you if he was a real person and your secret admirer, features a cross-section of good taste. Even without recalling each song's place in the show, this album is a wonderful compilation. But because separating the tracks from the scenes they accompanied is nearly impossible, Mix 1 has it all: Marissa kisses Ryan on the Ferris wheel, accompanied by South's "Paint the Silence"; Ryan is driven past Marissa en route to Chino, as set to Joseph Arthur's "Honey and the Moon"; Ryan's mom leaves him as we listen to Turin Brakes' "Rain City"; and Ryan visits Trey in prison, as we hear Alexi Murdoch's "Orange Sky". And of course, Mix 1 features the World's Most Perfect Theme(tm) song, "California" by Phantom Planet, as well as the song that plays during season one's most nerve-wracking moment, when Ryan rushes to meet Marissa by New Years Eve — "Dice" by Finley Quaye. My one issue? Although "We Used to be Friends" by the Dandy Warhols is used in The O.C. quite a few times, it really belongs to Veronica Mars. Nice try, The O.C..
#1: Music From The O.C.: Mix 2
Putting Mix 2 before Mix 1? Some might call it an upset. But hear me out: Even though The O.C., like many shows before it, has its most objectively memorable and important moments early on, Mix 2 is all about Seth and Summer. And if you were as invested in their relationship as I was (and maybe still am), then you'll have to agree that the best O.C. soundtrack is Mix 2. Why? For one thing, it's got Patrick Park's "Something Pretty," which happens to play the first time they kiss in front of the polo players. For another, it has Super Furry Animals' "Hello Sunshine," which kicks in just as the two are about to get it on. If you've somehow forgotten the particulars about that moment, let me refresh your memory: It plays when Summer shows Seth her boobs. Her boobs! Other Mix 2 musical standouts include Death Cab for Cutie's "A Lack of Color," Nada Surf's "If You Leave," Beulah's "Popular Mechanics for Lovers", and a song that accompanies the all-time saddest moment in the show's entire four seasons, Jem's cover of Paul McCartney's "Maybe I'm Amazed." Jem performs it at Julie's wedding, and if you had the TV-ripped .mp3 like I did, the track included Marissa's whisper to Ryan, "I just want you to know: I understand why you have to do this, but I wish you didn't have to."
BONUS LIST! Crucial songs that are missing from the six O.C. mixes:
Mazzy Starr's "Into Dust," Bob Seger's "Night Moves," Jeff Buckley and Imogen Heap's (separate versions of) "Hallelujah," Coldplay's "Fix You" (sorry!), Ryan Adams's "Wonderwall," Bloc Party's "Blue Light," and Rachael Yamagata's "Worn Me Down."