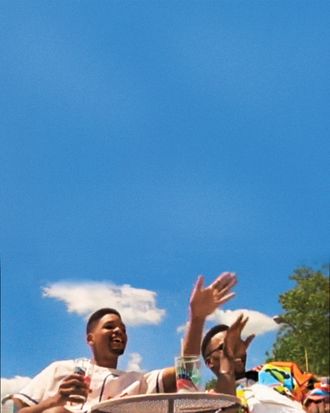 After the Vulture editors spilled on their all-time Songs of Summer, commenters came rushing to share their own nostalgic favorites. Here, a selection of the sunblock-scented nominations.

Mmmbop
Hanson, 1997
"This is slightly embarrassing because I was a bit old for it even then, but I really remember MMMBop from one particularly nice summer. And it was EVERYWHERE." —Volvican
Under the Boardwalk
The Drifters, 1964
"I grew up at the Jersey shore. We girls waited for the boys from 'the city' to come down for summers in Manasquan." —suepler
Over My Head
Fleetwood Mac, 1975
"When I listen to it, I still hear, in the deep background, crickets and cicadas, and I still see fireflies over the prairie, even though I live in L.A. and I haven't actually seen fireflies in 30 years." —zoulou
I'm Gonna Be (500 Miles)
The Proclaimers, 1988
"The summer I was a nanny in Annapolis, we would sing along with the cassingle every time we were in the car." —pollybug
I Wanna Dance With Somebody
Whitney Houston, 1987
"The hottest girls in our neighborhood were blasting it from their house, and one of them was dancing to it on her front porch. I hit puberty on
the spot … then I saw the video, and hit puberty again." —milan.saha.7777
Blinded by the Light
Manfred Mann and his earth band, 1976
"Working at the car wash summer nights after high school and before heading off to college. Sitting on top of the employees' cars late at night, listening to Blinded by the Light (the Manfred Mann version) playing on their car radios." —kg1958
Waterfalls
TLC, 1993
"My 9-year-old self latched on to the CrazySexyCool album as an introduction to adulthood (or young adulthood, or something). I didn't know what they were talking about the whole time, but I knew it was a cautionary tale of some kind." —jstarks
Cruel Summer
Ace of Base, 1998
"In the backyard 'laying out,' covered in baby oil spiked with iodine." —shiksappeal
Party Rock Anthem
LMFAO, 2011
"I can't hear that song without thinking of windows being rolled down and wedding receptions where I'm drunkenly shufflin'. That's an Oregon summer in a nutshell." —ReneSanchez77
Life is a Highway
Tom Cochrane, 1991
"I was all fired up to get in here with my choice, but then I Googled the song and found out it actually was released in the fall of 1991. Yet somehow it became my crew's summer of '92 ANTHEM. I guess summer songs died hard out in the sticks. Also, Rascal Flatts, don't come to me with your crap Disney remake." —gmg22
Hot in Herre
Nelly, 2002
"Followed by Kelis's Milkshake the next summer. Hearing them every night at the Cock before it moved off Avenue A." —LvV
Enjoy the Silence
Depeche Mode, 1990
"Driving through the middle of Pennsylvania with my grandparents … Oh, um, should probably clarify that said episode involved wearing headphones while being very slumped down in the back of a mid-eighties Cadillac Eldorado." —Panda
Big Pimpin'
Jay-Z, 2000
"Summer, 2000. Freshman year looms. We feel that we are large and in charge and we announce this to the world by blasting Big Pimpin from the open windows of our moms' Ford Expeditions as we cruise into the parking lot of Roosevelt Field. And yes, our shades of choice were Oakleys."—Classicist
Summertime
DJ Jazzy Jeff & the Fresh Prince, 1991
"Always and forever. We watched The Box all day waiting for this video to come on. This song made you feel like you were wasting the summer if you weren't outside doing everything that the song referenced. We thought we were so grown, but we were so little! 1991 rulz." —Miss_Priss
(I Can't Get No) Satisfaction
The Rolling Stones, 1965
"You millennial fools don't know squat about summer songs. Satisfaction: Your parents were probably conceived with this in the background."—ernienever
*This article originally appeared in the August 12, 2013 issue of New York Magazine.