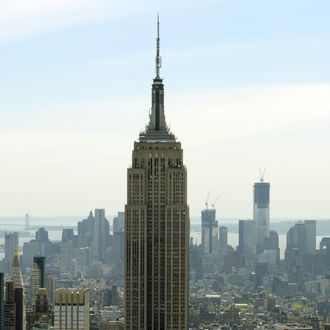 A view of the Empire State Building and One World Trade Center (R-rear) as seen from the Top of the Rock Observation Deck at Rockefeller Center April 30, 2012. The Port Authority of New York and New Jersey held at a press conference today to mark the milestone of One World Trade Center becoming the tallest building in New York. New York's skyline got a new king Tuesday after the still unfinished World Trade Center tower, built to replace the destroyed Twin Towers, crept above the venerable Empire State Building. Workers gently maneuvered a steel column into its base atop the skyscraper's skeletal top, bringing the total height to just beyond the 1,250 feet (381 meters) of the Empire State Building's observation deck.
Photo: Timothy A. Clary//AFP/Getty Images
Cue the Jay Z: The Hollywood Reporter writes that Warner Bros. picked up Thomas Kelly's 2006 novel Empire Rises about an "epic love triangle set in 1930 just as construction on the iconic building begins" for development. Also a writer and producer on Copper, Kelly will write the screen adaptation with Peter Eskelsen producing and Guy Ritchie rumored to direct, just as soon as he replaces Soderbergh on The Man From U.N.C.L.E. and wraps that Treasure Island adaptation. If all goes well, perhaps sweeping features that romanticize construction of world's tallest structures will become the next big thing. If that's the case, we'll happily pitch Eiffel Dreams or Golden Gate Crossing to any studio who'll listen.