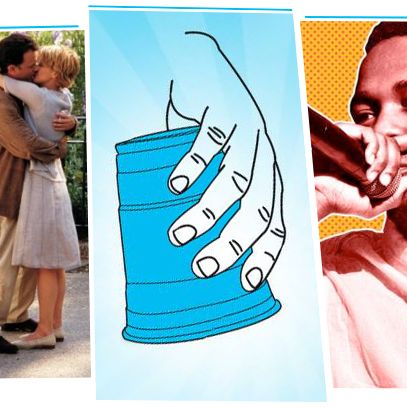 Every week, Vulture faces the big, important questions in entertainment, and comes to some creative conclusions. This week, we worried about the end of cable movies, learned about the history of the "Cups" phenomenon, and listened to Kendrick Lamar start a feud with pretty much everyone he knows. You may have read some of these stories below, but you certainly didn't read them all. We forgive you.
Q: Okay, so what's the deal with "Cups"? I thought it was just a game I played at the lunch table, and now it's the No. 6 song on the Billboard "Hot 100."
A: You've come to the right place. Read Vulture's Comprehensive History of the 'Cups' Phenomenon, and then go master Cups with the help of our handy (haha) GIF.
Q: How do the women of Orange is the New Black look out of those prison scrubs?
A: Fabulous.
Q: Now that I've finished Orange is the New Black, what should I watch this weekend?
A: A cable movie. But you better make it a priority because Amanda Dobbins is worried the cable rerun movie is dying out.
Q: But do all those cable rerun movies really hold up? What about a movie like Ace Ventura?
A: Ask Margaret Lyons, because as much as large parts of Ace Ventura absolutely horrify her now, she can't get those classic lines ("allllllrighty then") out of her head.
Q: Who do you think will host The Daily Show after Jon Stewart?
A: Jesse David Fox thinks John Oliver is The Daily Show's Heir Apparent. Watch 32 of John Oliver's excuses for Jon Stewart's Daily Show absence here.
Q: Do we still need violent stories?
A: Warren Ellis, author of Dead Pig Collector and the graphic novels Transmetropolitan and Red, says we do.
Q: Is it just me, or does it seem like we've had a weak batch of blockbusters this summer?
It's not just you, and you can look to four very expensive movies — After Earth, White House Down, The Smurfs 2, and Elysium — that fell far short of $100 million in the box office as evidence. Kyle Buchanan discussed four lessons Hollywood likely learned this summer.
Q: Okay, so if people aren't watching blockbusters, what are they watching?
Breaking Bad. Everyone is watching Breaking Bad.
Q: Is it true that Kendrick Lamar started a feud with the entire rap game?
A: Well, yeah. "Control (HOF)," a seven-minute track from Big Sean's Hall of Fame, leaked and it included a Kendrick Lamar verse calling out pretty much all of 2013's biggest rappers (J. Cole, A$AP Rocky, and Big K.R.I.T., to name a few). Plenty of rappers have responded, and Jeff Rosenthal weighed in on whether Kendrick Lamar is actually better than any of the rappers he name-checks on that verse.
Q: Should I see Jobs?
A: Bilge Ebiri thinks you'll probably want to see Jobs if "you're the kind of guy who gets weepy at remembering the first time you saw a blue iMac." Otherwise, maybe not. Kevin Roose took issue with reviewers who thought the film was too kind to the "mercurial" Jobs. Instead, Roose writes, "It's actually that it's not kind enough. By omitting what was genuinely appealing about Jobs, and leaving only his psychopathy and brilliance in place, the filmmakers have turned him into a one-dimensional figure — a Howard Hughes for the microchip age." Whether you see Jobs or not, what you should do is read what  Steve Wozniak said about meeting baby North West.