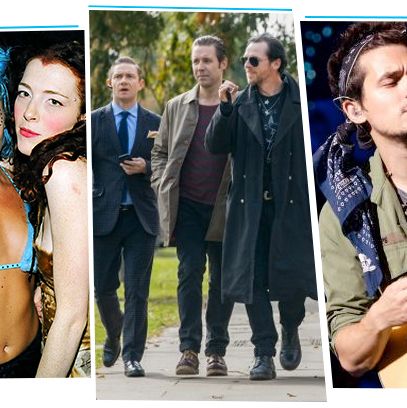 Every week, Vulture faces the big, important questions in entertainment and comes to some creative conclusions. This week we remembered the past three decades of VMAs, declared The World's End as the year's most entertaining movie, and learned to hate John Mayer just a little less. You may have read some of these stories below, but you certainly didn't read them all. We forgive you.
Q: So, Ben Affleck is the new Batman. What did everyone say the last time he played a superhero?
A: Owen Gleiberman at Entertainment Weekly wrote that as Daredevil, Affleck "leaps, wriggles, and — mostly — strikes poses, wearing what's meant to be a very cool red leather jumpsuit; he looks like Catwoman made over by Revlon." Elvis Mitchell from the New York Times said that "The solid, square-shouldered Mr. Affleck is game, and his healthy, rosy-cheeked handsomeness makes him look like a rendering by John Romita, who drew Daredevil for a few issues in the 1960's," and Ben Affleck himself told MTV in 2010, "I think we missed a lot in that movie." You can read more responses here.
Q: Were there any successful indie films this summer?
A: There were a few hits, a few misses, and a few that you should still go see, especially after the Great Blockbuster Fatigue of Summer 2013.
Q: Okay, those sound like good films. But what about romantic comedies? I haven't seen one in a while.
A: Jesse David Fox has got you covered. He rounded up eight mumblecore films to satisfy your rom-com itch, and if you're not sure what "mumblecore" means, you can read our interview with Drinking Buddies director Joe Swanberg.
Q: Has there ever been a better time for TV criticism?
A: No.
Q: Why does it seem like voice-over artists are all men?
A: Because an estimated 95 percent of celebrity voice-over work is done by men. Lisa Liebman investigated the glass ceiling of voice-over work.
Q: How should I remember Elmore Leonard?
A: You can remember him as "humanist," "a remarkable man," and "a great talent." Matt Zoller Seitz wrote an obituary for the author with the "tough" books and the "warm" heart.
Q: What happened to my Netflix Streaming Instant Queue?
A: It's still there, sort of, just under a different name.
Q: What's this year's most entertaining movie so far?
A: The World's End. David Edelstein wrote, "The World's End is the third of Wright's genre-bending black comedies starring Pegg (who co-wrote it) and Frost, and it's arguably the best — although who would want to argue over three such beautifully constructed social satires?"

Q: Okay, I listened John Mayer's new album and I actually kind of like it. But how can that be?? I hate John Mayer.
A: "Sometimes you just need to wash yourself clean of your preconceived notions about a person's past strummy-strum-strum music and douchey behavior and try to look at him fresh," wrote Jesse David Fox this week. Let him walk you through the 7-Step Plan to Not Hating John Mayer Anymore. We're not saying you have to like him as much as Katy Perry does, but at least give him one more chance?
Q: Have Martha Stewart and Busta Rhymes ever stood back-to-back?
A: Absolutely.