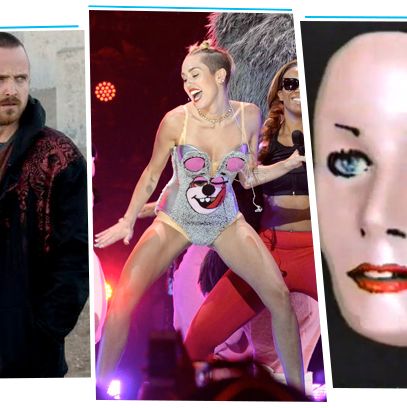 Photo: AMC, Getty Images, Youtube
Every week, Vulture faces the big, important questions in entertainment and comes to some creative conclusions. This week we participated in the Great Miley Cyrus Debate, dug up some very weird music videos from the eighties, and figured out what we do and don't know about the Ricin on Breaking Bad. You may have read some of these stories below, but you certainly didn't read them all. We forgive you.
Q: I read all about the Miley Cyrus controversy this week — where does Vulture stand on her VMAs performance?
A: Jody Rosen called the performance a "minstrel show," writing, "For white performers, minstrelsy has always been a means to an end: a shortcut to self-actualization." Many readers and critics agreed with Rosen's comments and many disagreed. Rosen expanded his argument and responded to one critic on Twitter — read what he wrote here.
Q: So, the summer box office season is over, and it seems like overall it was a mediocre season. What was the worst summer movie weekend ever?
A: We don't exactly have a quantitative answer for you. What we do have is Adam K. Raymond's qualitative list of the last twenty years' worst summer movie weekends.
Q: What about TV? What shows did the best this summer?
A: There are the obvious ones, like Breaking Bad and Orange Is the New Black, but then there are those you probably haven't heard much about, like Devious Maids and Mistresses.
Q: I watched all of Orange Is the New Black and read all of the Vulture recaps. Now what?
A: Now you can look forward to season two, and read our list of Everything We Know and Everything We're Wondering About the Second Season of Orange Is the New Black.
Q: With only a few episodes of Breaking Bad left, I'm getting anxious about that ricin.
A: Read Margaret Lyon's piece on Breaking Bad and the ricin situation.
Q: I can't wait for the James Franco Roast on Comedy Central this weekend. What are some other great comedy roasts?
A: Well, there was that time Snoop Dogg roasted Donald Trump.
Q: The new season of SNL starts soon — who are Vulture's dream hosts?
A: Claire Danes, Drake, and One Direction, to name a few.
Q: One more comedy question: Can you tell me what happened with Dave Chappelle at Oddball Comedy Fest?
A: Sure. Dave Chappelle was heckled so much by his audience that he stopped performing after ten minutes. Jesse David Fox spoke with New York Times comedy critic Jason Zinoman about why Dave Chappelle left the show and what the abrupt departure means for the comedian's future.
Q: Where can I see August's best entertainment photography?
A: Right here.
Q: Were music videos weirder in the eighties?
A: "Weird" is an understatement. Wall of hands, anyone?