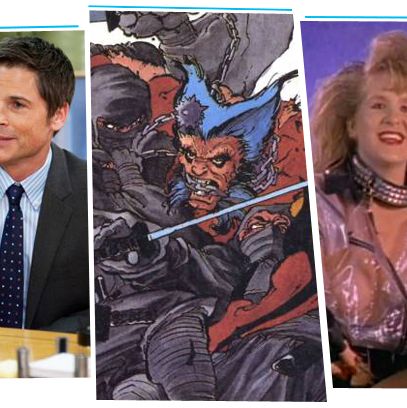 Every week, Vulture faces the big, important questions in entertainment and comes to some creative conclusions. This week we thought about the future of Parks and Rec, talked to the writer of the comic The Wolverine was based on, and brushed up on some Real Sex history. You may have read some of these stories below, but you certainly didn't read them all. We forgive you.
Q: Who's hosting the Oscars?
A: Ellen DeGeneres is! Kyle Buchanan weighs in on the choice, and suggests that this year we might be spared the misogyny and the musical numbers.
Q: Will Parks and Rec survive without Rob Lowe and Rashida Jones?
A: Definitely, and Margaret Lyons says it might even be better. Showrunner Mike Schur thought Lowe would only be on the upcoming season for six or eight episodes, anyway. They'll make it up to us in other ways, though: Mustachioed hero Sam Elliott (The Big Lebowski, Tombstone), Heidi Klum, and Henry Winkler will have cameos in season six, and it looks like we're following the Pawnee Parks and Recreation Department to London.
Q: What do die-hard Game of Thrones fans do on a Tuesday night?
A: They drink beer and play trivia, with team names like Operation Dothraki Freedom, the Iron Price Is Right, Let Aegons Be Aegons, and Crows Before Hos. George R.R. Martin didn't stop by, but if he had, it wouldn't be the first time the best-selling author partied with fans.
Q: Where can I see pictures of celebrities and dogs?
A: Here. And you can see the rest of July's best entertainment photography, too.
Q: So, there's a new X-Men movie, The Wolverine. What does the writer of the character's classic comics think?
A: Chris Claremont liked it … sort of. He said that the "first two acts were kick-ass," but that "the end sort of turned into stuff we've all seen before." Predictable or not, Wolverine is doing well at the box office, and Kyle Buchanan thinks the blockbuster is even Bechdel Test-friendly.

Q: What's the Bechdel Test again? Haven't you guys been talking about it a lot lately?
A: We have, and that's because it's important. The Bechdel Test is a term co-coined by cartoonist Alison Bechdel; a movie that passes the test has at least two women in it who talk to each other about something other than a man. Jennifer Vineyard and Kyle Buchanan discussed the Bechdel Test and more, when they considered this crop of summer movies as some of the worst for female representation, and debated whether it's getting better as we move into August.   

Q: Can you tell me about Shailene Woodley?
A: We're happy to. Amanda Dobbins declared "The Great Shailene Woodley Era," upon us and for good reason. Woodley likes hugs, wore those five-toed shoes on the red carpet, and gives a heartbreaking performance in The Spectacular Now.
Q: What Rotten Tomato score did Snakes on a Plane get?
A: 68%, and you can test your knowledge of other summer movie Rotten Tomato scores here.
Q: What's the history of HBO's Real Sex? Asking for a friend.
A: Real Sex is one of HBO's lost classics, memorable to anyone who was a teen or early adult in the 1990s. Molly Langmuir put together an oral history of the show that taught us about phone sex, stripping, swingers, nudists, female masturbation, and more — or, as Katie Smallheer, who worked on the show for nine years, puts it, "real people doing what turned them on, and having fun."
Q: I'm getting tired of "Blurred Lines" and "Get Lucky" — what are some of our favorite songs of summer?
A: We can help you out.