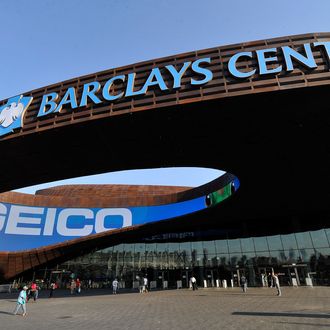 Photo: Stephen Lovekin/2012 Getty Images
Tonight, MTV's Video Music Awards will finally take a cue from the Beastie Boys circa 1987  by broadcasting out of Brooklyn's new Barclays Center, where Lady Gaga, Katy Perry, Drake, Robin Thicke, Miley Cyrus, Daft Punk, and probably 'N Sync are set to perform. The awards are being touted as a party to celebrate the show's 30th anniversary, and MTV hired local artist KAWS to redesign the famous Moonman statuette, a 60-foot inflatable version of which will oversee the festivities from the arena floor.
MTV executive Colin Helms told the New York Daily News that viewers should expect "a whole new texture" this year: "It has never been this participatory or immersive," he said. The paper writes of "a second screen experience…using laptops or phones as well as TVs. Through MTV's website, fans can choose between 10 different camera feeds. By shuttling between them, they can essentially edit the show themselves." "In Brooklyn, there will be cameras on the red carpet, ones outside the dressing rooms, ones to get audience reactions and one to capture performers right as they come off stage. You'll get a 360 [degree] view," Helms added.
As far as lineup specifics go: We know that Katy Perry will close the show with a live feed coming from underneath the Brooklyn Bridge. (A golden lion head was spotted this afternoon, suggesting that she will be singing her new single, "Roar.") Kanye is expected to do "Black Skinhead." 'N Sync reportedly has a reunion medley planned. And Lady Gaga is sure to blow all our minds, or at least try to (paint splatters are likely).
And what about the traditional VMA "surprises"? VMA producer Amy Doyle said, "We don't try to create those moments. They just happen. Every artist comes to the show to kill it — to make their place in VMA history, whether by their performance or by something they say or do." So, expect everyone onstage to out-ham each other in an over-hyped three hours that we can't wait to watch.