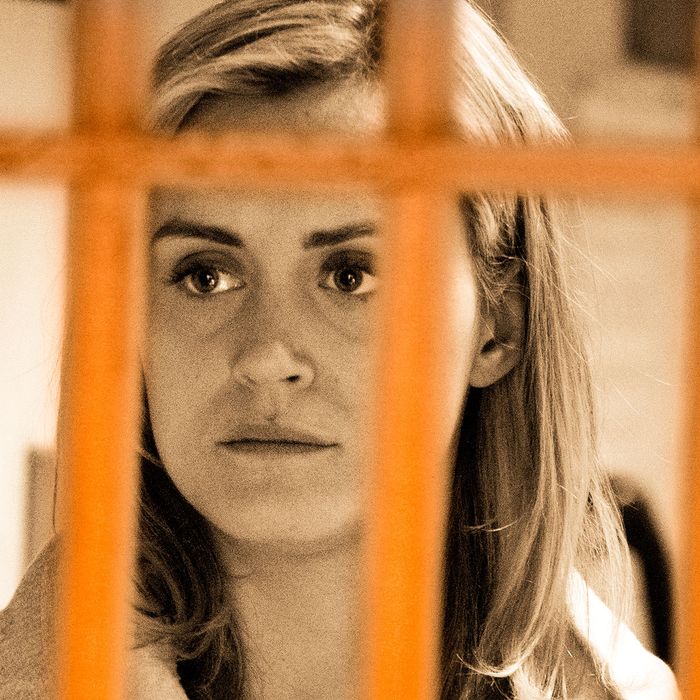 Photo: Maya Robinson and Photo by Netflix
Now that Vulture's finished recapping all of Orange Is the New Black, it's time to look ahead to season two — which is already filming! We have so many questions about what's next for the inmates (and guards) at Litchfield: Who will be back? What will everyone be reading? Who'll be running the kitchen? Here's what we know for sure about next season — and a few questions we're still thinking about from season one.
Here's what we know for sure about season two:
Piper didn't kill Pennsatucky
In the closing moments of season one, meth-y Pennsatucky tried to kill Piper — and Piper fought back, hard enough that it looked like maybe she was the one doing the killing. But Taryn Manning will be back on season two, and she's been promoted to a cast regular. So it certainly seems that Pennsatucky is not dead, though perhaps Piper's intense beating knocked a few of her rotten teeth out.
Laura Prepon is still a maybe.
She's probably going to be back for at least a few episodes, but maybe not for the whole season.
But everyone else is back.
And some of our faves will have bigger roles next season: Danielle Brooks, who plays Taystee, was bumped up to a regular for season two, which means our wish for more of the Harry Potter devotee is actually coming true. And Uzo Aduba, who plays Crazy Eyes, was also promoted, so there's still plenty of potential for chocolate-and-vanilla swiiiirl. And based on various Instagram photos of the cast, it seems Black Cindy (Adrienne C. Moore), Poussey (Samira Wiley), and Janae (Vicky Jeudy) are definitely back, as are Big Boo (Lea DeLaria) and newbie guard Fischer (Lauren Lapkus). Daya (Dascha Polanco), Bennett (Matt McGory), Red (Kate Mulgrew), Flaca (Jackie Cruz), and Sophia (Laverne Cox) — rest easy.
And here's what we're still wondering:

What did Red do to wind up in prison?
We know she broke someone's breast implant. We know she's been forced to be part of a drug-smuggling ring. But we still don't know what exactly landed her behind bars.
And Big Boo? What's her backstory?
We got to see a lot of the characters in flashbacks to their pre-incarceration lives, but not Big Boo, sadly. (And not adorable puppy Little Boo, either.)
What is the actual penguin joke?
He's not an eggplant, he's retarded!
Can Daya and Bennett figure this out?
When we left off, Daya had had sex with Pornstache so she could point to him as the father of her baby instead of Bennett. But the plan didn't really work: Pornstache fell for her, Bennett felt completely betrayed, and Daya's no-good associates on the outside were trying to "help." Ugh, Daya, get an abortion.
What happened to that other inmate in SHU?
When Piper was thrown in solitary, she started talking to another inmate through the vents in her cell. That woman said she'd been in solitary for a year. Are we ever going to meet her? Does she ever get out?
Can Black Cindy have a full-on musical number?
Please, oh please.