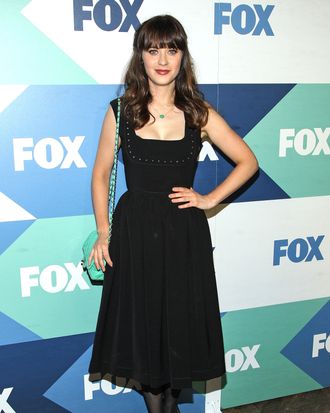 New Girl's Zooey Deschanel at Fox's TCA party
Photo: Paul A. Hebert/Getty Images
The long-simmering sexual tension between New Girl's Nicholas Miller and Jessica Day finally became a romance last May, at the end of the show's second season. How their romance proceeds will be revealed when the show returns in just five weeks, on September 17. When Vulture caught up with Zooey Deschanel at Fox's TV Critics Association press tour party last week, she told us how long she's known they'd get together, and why she's thrilled to get past the will-they-won't-they and into the they-will. She also revealed to us that some fans still haven't forgiven her for her character instigating the (500) Days of Summer breakup.
What's the theme of season three?
It's really hard to tell because we haven't started shooting yet. But … what I'm excited about this season is: Last season, they pulled Nick and Jess together. This season, they can pull them apart, they can twist them around, they can juggle them. There are all kinds of things they can do once they put them together. But we were in a holding pattern where they were keeping us apart all the time. And that made our options in terms of moving our story lines forward limited. So I really think that it's going to be an exciting season.
Were you rooting for Nick and Jess to get together?
I was, I was. I was rooting for them, because when you're keeping them apart, you don't have the same options. Before we got them together, we were in a situation where you know they have to get together, and if they don't ever acknowledge that there's chemistry, then you're just avoiding it the whole time. It was really a good move.
From day one of production, did you have an inkling that Nick and Jess were going to be a couple?
Maybe not day one. But Jake and I had a really good rapport. The wedding episode [from season one] was when I was like, 'These characters have a great Tracy and Hepburn-like sexual tension.' There's a little bit of hatred and love all wrapped into one. And I thought that's pretty special. You don't really get the kind of rapport very often. I thought this would be something that works.
There are obviously Nick and Jess shippers, who'll no doubt be annoyed if there's not a happily ever after for them. There were probably folks not happy that Tom and Summer (spoiler alert!) don't work out in (500 Days) of Summer.
I was thinking about that movie the other day. We shot that as a sad love story. [Summer] was not a villain. It just didn't work out for them. I consistently meet people who are like, "I'm mad at your character!" And I think, "But why?" She was just acting how she felt. It really surprised me, because … what makes that movie so lovely is that it is a romantic comedy, but it has this undercurrent of melancholy. And as a feminist, it bothers me when women are mad at that character. Because wouldn't you want to [end a relationship] if that's how you feel?
What's wonderful about entertainment is that people invest in it. They invest their time and their thoughts and their energies and their emotions, and you have no control over it, in terms of how they feel about it. It's an interesting phenomenon. As an actor you become that lightning rod for that emotion.