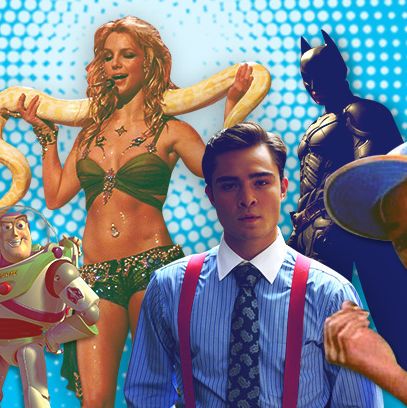 Narcisstic. Attention-deficient. Psychotically self-confident. Fame-obsessed. These are the words and phrases typically used by Gen X and Baby Boomer writers to describe Millennials in think piece after think piece. This is not one of those think pieces. Vulture labels the Millennial Generation as a twenty-year cohort encompassing anyone born between 1980 and the early aughts (thanks, Pew!), but otherwise makes no judgment about the character of millions. We do think, however, that pop culture is one (superficial — but fun) way in which a generation can be described. The concept here is a simple one: These are the 100 pop-culture markers that resonate most with the Millennial Generation. We've placed it in ranked list form (very Millennial) and are publishing it for you to read on the Internet (super Millennial), where you will likely criticize it vociferously (Über-Millennial).
Selected and written by the Millennials on staff, the following 100 items represent a lingua franca, a shorthand, a means of communication. Most date from the early nineties (when the first wave of millennials began to claim pop culture as their own) to the present day. That's twenty years' worth of stuff that includes everything from the Spice Girls to Anchorman to R. Kelly. When taken as a whole, two themes that drive millennial pop culture emerge: memes and nostalgia.
The meme is new, but it's also not. Twenty years ago, people said, "Luke, I am your father" as a means of communicating shared pop cultural values. (I like Star Wars movies. I have seen them many times. Do you like Star Wars movies? Have you seen them many times? Let's be friends.) Today, people pass around a screenshot or animated GIF of that same moment with the text pasted underneath. Same thing. The Internet has made it easy for anyone to instantly slice up pop culture into individual moments and disseminate them into the world. The Family Guy chicken fight, "Milk Was a Bad Choice," Kanye West's "Imma Let You Finish," even The Little Mermaid (hipster-ized) — these all are things that we see through the prism of the way they were meme-ified.
Nostalgia is the opposite of new. In that scene from Mad Men's first season that made everyone tear up, Don Draper describes nostalgia as "delicate but potent … a twinge in your heart far more powerful than memory alone." Nostalgia is bittersweet longing. Or at least it was. The word now means, "something I remember from being a kid, or a teenager, or a twenty-something." It's no longer delicate, and the bittersweet part has vanished. All that remains is the "oh, yeah!" moment. Again, as a result of the Internet, the window has shrunk. We are nostalgic for shows we saw five years ago. Things are picked over and sucked dry so quickly that we instantly tire of them, only to rediscover them not too far down the line. The "I'm so excited, I'm so scared" moment from Saved by the Bell isn't on this list because it's "good." It's on this list because we remember it. It's on this list because we say it over and over again in a variety of situations, because we have internalized it.
This Millennial canon of sorts was put together with the "oh yeah!" moment in mind. This is not a list of the 100 best, most brilliant, coolest, or highest-quality things that have happened during the millennial lifespan. That's an entirely different endeavor; an easier one in some ways. This list is what we talk about when we talk about pop culture. (If you talk about other things, read entry 89 and explain what this list missed in our comment section.)
You know what else is very millennial? Not liking to click through very long slideshows. So here's the ranked list in full, with links to each entry. Wanna click through anyway? Here you go.
100. "All I Want For Christmas Is You"
99. The Room
98. The Fresh Prince theme song
97. Punk'd
96. Ryan Gosling and "Hey Girl"
95. Paris Hilton
94. The Illustrations from Scary Stories To Tell in the Dark
93. "The Cha-Cha Slide"
92. "A million dollars isn't cool…"
91. Matt Damon, ass-kicking everyman
90. Clue
89. Reader's Choice
88. "It's Friday, you ain't got no job, and you aint got shit to do."
87. Call of Duty
86. Blink-182
85. The Babysitter's Club books
84. Now That's What I Call Music!
83. The Perks of Being a Wallflower
82. Wacky Johnny Depp
81. Chelsea Handler and Tucker Max
80. Ace of Base
79. The Star Wars prequels
78. High School Musical
77. Toy Story
76. Janet Jackson's breast
75. "The first rule of Fight Club is…"
74. Catfish
73. "Gasolina"
72. The Royal Tenenbaums
71. Guitar Hero/Rock Band
70. Mash-ups
69. "The Real Slim Shady"
68. The Hills
67. The baby sounds on Aaliyah's "Are You That Somebody?"
66. Illuminati theories
65. Tracy Flick
64. Adult Swim
63. The Romeo and Juliet Soundtrack
62. Lost in Translation
61. "In Da Club"
60. Dawson's Creek
59. Will Smith
58. The O.C.
57. "Umbrella"
56. The Kardashians
55. Rent
54. YOLO
53. James Franco
52. Jimmy Fallon
51. Spice Girls
50. "I'm Rick James, Bitch!"
49. The Hunger Games
48. Dave Matthews Band
47. Arrested Development
46. The Matrix
45. Doug
44. The Blair Witch Project
43. TRL
42. Dubstep
41. Karaoke
40. Amy Winehouse
39. Mr. Feeny
38. "I Want It That Way"
37. Mean Girls
36. American Idol
35. The Neptunes
34. Garden State
33. The Office
32. "I'm so excited, I'm so scared."
31. The Little Mermaid
30. Taylor Swift
29. The Family Guy Chicken Fight
28. "Cry Me a River"
27. Twilight
26. Netflix
25. Auto-Tune
24. "Milk was a bad choice."
23. Britney Spears and the Snake
22. Judd Apatow
21. Titanic
20. Matt and Trey
19. The Rise and Fall of Lindsay Lohan
18. "Poker Face"
17. Funeral
16. TGIF
15. The "Single Ladies" dance
14. Gossip Girl
13. "Since You Been Gone"
12. Celebrity couple portmanteau names
11. "Hey Ya"
10. Christopher Nolan
9. "Dick in a Box"
8. Harry Potter
7. The Onion
6. "I'mma Let You Finish"
5. "I'm Not Here To Make Friends"
4. Tina Fey and Amy Poehler
3. "Ignition (Remix)"
2. Clueless
1. Beyonce and Jay-Z