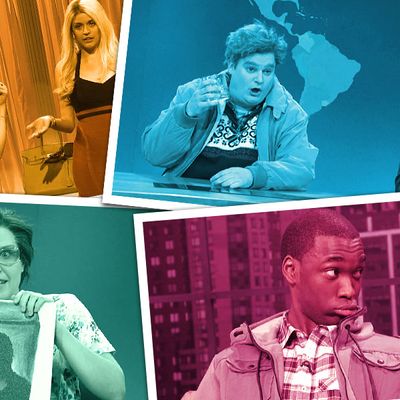 Photo: Maya Robinson and Comedy Central
Saturday Night Live is entering a transition year. Without Jason Sudeikis, Bill Hader, Fred Armisen, and Kristen Wiig (we know she left two seasons ago, but the show is still recovering), who each took on big characters and small, there is a massive void. So with the new season starting this Saturday, we made this list of fifteen characters and sketches we'd love to see again, in order of likelihood of seeing them. (Also, over the summer, SNL moved its digital rights from Hulu to Yahoo, so for the time being, embedding is impossible. For most, click on the hyperlink to watch.)
1. Drunk Uncle
Bobby Moynihan is going into his sixth season, which makes him the show's most tenured cast member after Kenan Thompson. Expect to see a ton of him this year. Considering this is his best-known character and it's generally beloved by all, don't be surprised when Drunk Uncle pops up as soon as possible. 
2. The Girl You Wish You Hadn't Started a Conversation With at a Party
Cecily Strong had one of the bigger first seasons in recent memory. She scored a few recurring roles and was often the one picked when a sketch needed a female foil. This was the character that got her noticed and it will undoubtedly show up, even with Strong now co-anchoring "Weekend Update."
3. The Swarovski Crystal Porn Stars
This sketch was one of last year's few breakouts. Strong and Vanessa Bayer's banged-dumb porn stars are rare characters that appeal to both SNL's low- and highbrow fans. They'll definitely be back, very soon. 
4. Girlfriends Talk Show
Another one co-starring Strong, but this one was more about Aidy Bryant. Though much more innocent than the one above, it's still quite cutting. Bryant nails quiet rage. 

5. Kate McKinnon As an Old Foreign Lady
Of the returning cast members, McKinnon is probably the best at playing weird or off characters. This isn't a specific creation, but McKinnon has found herself in the role of weird, old, foreign lady several times and each one was a classic. 
6. Firing
The sketch in which Bobby Moynihan and Cecily Strong play employees who think they are going to be fired so they make fun of everyone they work with is pretty funny. But this year it will be particularly useful, as it will give us a chance to learn all the new cast members' faces. 
7. Anthony Crispino
We weren't kidding about Moynihan. Crispino has been on the show eight times already and there's no reason we should expect or want that pace to slow down. It's a simple character — a "connected" Italian guy, who mishears the news — but it surprisingly does not get old. There will definitely be news to be misunderstood.
8. Last Call
The sketch pairs McKinnon and a male host as gross drunks who decide to court each other at the bar because they are the only ones left. It's a perfect late-in-the-show sketch, when much of the audience is also drunk. 
9. Jacob the Bar Mitzvah Boy
Vanessa Bayer's smile is one of SNL's best assets right now. Nowhere is that better served than when she plays Jacob, the eerily accurate nervous Jewish 13-year-old character. Tomorrow's the last day of Sukkot. Just saying.
10. Glice Guy
Seemingly since his first season on SNL, Taran Killam has been poised to take over the show, so there's no reason why this won't be a big year for him. The "glice" sketch was a weird one — it involved Killam basically just yelling "glice" at Justin Bieber for a few minutes. The fact that it works as well as it does is a testament to Killam's commitment.
11. The Jay Pharoah Show
The premise is that Pharoah doesn't know or care to know anything about the guest and instead uses them as another excuse to just do his impersonations. It didn't totally work the first time, but there's something there. The sketch gets at the fact that his role on the show is only to do impressions, but is maybe a bit too off-putting. With him gaining experience, it might be a good time to revisit. 
12. What Up With That?
First, let us be clear that we would like to see What Up With That? once, and only once, this year. And on one condition: That it comes on a special episode (holiday, finale, when an old cast member hosts). It can't be done without Sudeikis and Armisen, so just wait until everyone is in town. It will be good to get the old gang back together. 
13. B108 FM
This is another sketch that hasn't totally found its legs yet. But there is a lot of potential in Killam and Moynihan as two Minnesotan hip-hop morning radio D.J.'s. All the MC Jiggle Butt stuff is gold. 
14. Les Jeunes De Paris
It's been two seasons since we saw the delightful sketch of French young people dancing and being so, so French. It might be too long past to reboot, but we're still hoping.
15. Mark Payne
Speaking of an oldie we want to see … Mark Payne hasn't appeared on the show since Moynihan's first season, but these are dire times and Mark Payne is the funniest.