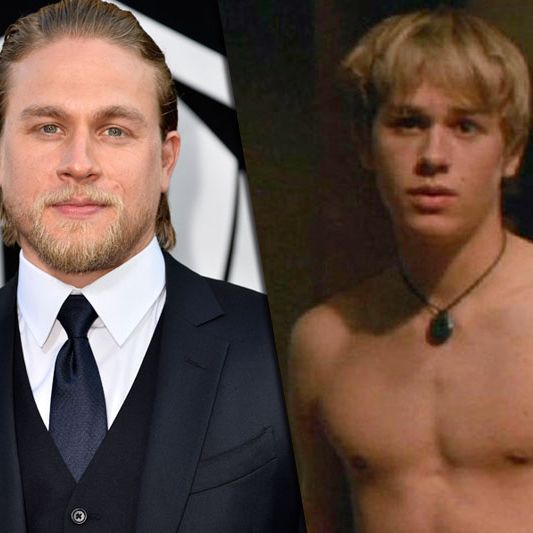 Photo: Frazer Harrison/Getty Images, Channel 4
Charlie Hunnam is hardly an unknown: The 33-year-old British actor stars in one of the biggest shows on cable, Sons of Anarchy, and he played the lead in this summer's $100 million-grossing sci-fi vehicle Pacific Rim. Still, yesterday's announcement that he'll play the dominant, damaged Christian Grey in the film adaptation of 50 Shades of Grey means that Hunnam is about to become a lot more famous very quickly, since everyone and their mother had an opinion on who should be cast as Grey, a wealthy mogul who embarks on a sexy, sadomasochistic relationship with wide-eyed Anastasia Steele (to be played by Ben and Kate's Dakota Johnson). It also marks things coming full circle for the actor who, in his first big TV credit — the original U.K. version of Queer As Folk — played a tentative young student in the thrall of a highly sexual older man; essentially, that means that long before Hunnam will play Christian Grey, he's already embodied Anastasia Steele.
Hunnam was only 18 when he was cast on the notorious British drama, which ran for just ten episodes starting in April of 1999. Unlike any other TV show that had come before it, Queer As Folk was utterly frank in its depiction of modern gay life, strip-mining that subculture for all the sex, drugs, and drama it could possibly provide (and generating a less-acclaimed U.S. remake that debuted the next year on Showtime). Hunnam's character, 15-year-old Nathan, begins the series a newcomer to all things gay, but on his very first night out on Manchester's Canal Street, he meets the sexually rapacious Stuart (Aidan Gillen, who'd go on to play Carcetti on The Wire and Littlefinger on Game of Thrones), who gives Nathan quite the education in the bedroom. Should you have any doubt about Hunnam and his willingness to go there in an onscreen sex scene, do press play on this super-NSFW clip from the first episode of Queer As Folk, where he is convincingly, enthusiastically rimmed by Aidan Gillen.
Of course, young Nathan has no idea what a rimjob even is, recalling 50 Shades heroine Anastasia Steele and her own lack of carnal knowledge. ("Nobody told you about that, did they?" leers Stuart to Nathan after the deed is done.) But both characters immediately fall for their dominant, experienced lovers; Nathan even indulges in a starstruck tic of constantly referring to Gillen's character by his full name — "Stuart Alan Jones … he's looking down at me like the face of God" — that brings to mind Ana's oppressively similar habit in 50 Shades. And though both Nathan and Ana at first consider themselves unworthy of these accomplished men who live in vast, spacious apartments designed to impress and intimidate, they soon realize the power they can wield over their paramours, who grow more and more besotted with each encounter. "Six months later, he was begging me to stay," Nathan brags in a flash-forward confessional at the end of the first episode of Queer As Folk, and for all of Christian Grey's apparent steeliness in 50 Shades, it isn't long before he's sending wounded, emo e-mails to Ana in an attempt to keep her as his own.
So how did Hunnam do at this early bit of role reversal? If all you know him for is his brawny, bearded work on Sons of Anarchy, it may initially be disconcerting to see Hunnam at the height of his teenage twinkiness, but the role is a natural fit for the actor, who makes Nathan's path from sexual naïveté to well-earned physical confidence feel totally convincing. Hunnam followed up Queer As Folk with a love-'em-and-leave-'em turn as a Casanova college student in the Fox sitcom Undeclared, and as he grew into adulthood, it was hard to see him as anything but an onscreen stud; his looks are so absurd that he frequently picks roles that play against them, and Hunnam normally retains his shaggy Sons beard even between seasons, a decision he claims as a sign of devotion to his series even as it recalls Brad Pitt, who often blunts his blond beauty with scraggly, "serious actor" facial hair.
But if you think that the key ingredient in sexual chemistry is a degree of empathy — that is, the ability to put yourself in your partner's head, anticipating their thoughts and feelings — then Hunnam comes to Christian Grey with some valuable experiences on his résumé. Some directors like to rehearse a two-hander by switching the actors' roles for a spell; that way, when the leads return to the roles they were cast in, they better understand the character opposite them and can tweak their own performance accordingly. As someone who's played both the confident cock of the walk and the neophyte that type seduces, Hunnam's already done his homework.