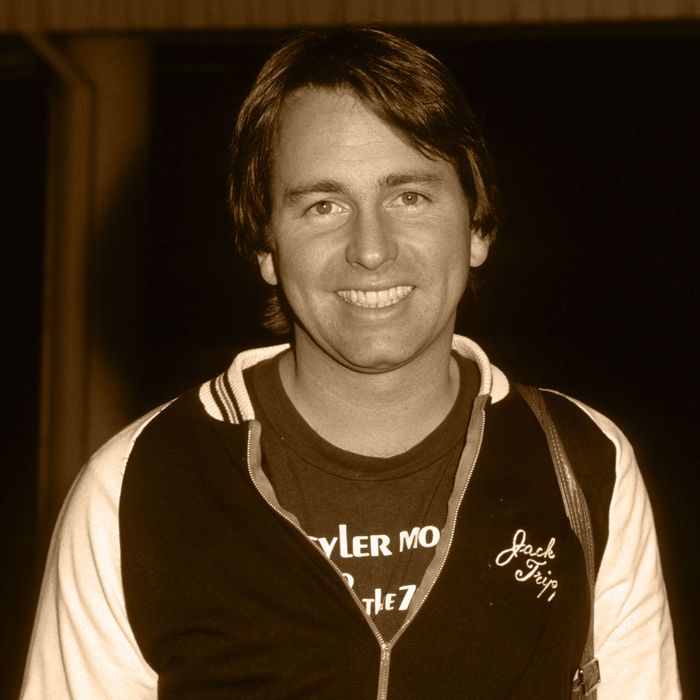 Ten years ago today, John Ritter passed away at the tragic age of 54 — and on September 11, no less. That memory will always sting. But most of our other memories of the actor fill us with great joy, and we're not alone in that sentiment. Here are eight reasons why we miss him: four by us and four shared with Vulture by those who knew him.
1. Kaley Cuoco, who played his daughter on 8 Simple Rules for Dating My Teenage Daughter: "My favorite memory of John was the table reading we had for 8 Simple Rules. I had just turned 16 and I walked in wearing a very tiny outfit. I was sitting at the table reading my script when John walked in the room. He walked straight over to me, pulled off his jacket, threw it over me and said, 'Cover up! I'm not letting you leave dressed like that!' From that instant, he became my TV 'dad.' That man made me laugh harder than anyone ever. My other favorite thing he would do was come up behind you with a potato chip on his shoulder and say, 'Do I have a chip on my shoulder?' He must have said it 100 times, and I laughed EVERY SINGLE TIME. Whenever I eat chips I think of John because I know he's laughing too :)"

2. The six minutes of an incarcerated Jack Tripper acting like a tough guy in this clip from a random 1981 episode of Three's Company, starting at the 11:38 mark; in particular, I love his sheepish flamingo stance at 13:07 and the often useful quote "Gum me!" he unleashes at 15:34.
3. Jeffrey Tambor, who appeared in three different episodes of Three's Company in three different roles (four, if you count the crossover pilot episode of spinoff The Ropers, on which he played a jerky neighbor): "I broke John Ritter up. We were doing a scene [and I made him laugh], and I remember saying, 'This will be one of the happiest times of my career because I just broke the master up.' He was unabashedly a physical comedian. He was unbelievable. You know silly is hard. Just ask Mel Brooks. Just ask Buster Keaton. Just ask Harold Lloyd. Just ask [the members of] Monty Python. Silly is not easy. And only the really, really brilliant ones can do silly."
4. This photograph.
5. Paul Reiser, who co-starred with Ritter (and Martin Short!) in the zany 1983 TV movie Sunset Limousine: "Very soon after moving out to L.A. in 1983 I got my first job — a TV movie playing John Ritter's buddy. I was very excited. I was a big fan of John's and this was a big deal. First day of shooting. I'm in my trailer, nervous. Haven't worked yet, haven't met John yet. There's a knock on my door and then, in a very good, but obviously put-on Liverpool accent, I hear, 'Beatle Paul? It's Beatle John.' Into my life walks John Ritter and we became fast friends — a mutual love of Beatles lore playing no small part. A few months later I get another great job — my first starring role in a movie. I couldn't believe my good fortune. I was loving Hollywood. Then three days into shooting, the producers decided to 'go a different way,' and I was suddenly not-so-much starring in the movie. I was depressed and moping around my sad little apartment and then the phone rang — it was John. I have no idea how he heard so quickly (this was not exactly front page Hollywood Reporter news). But there was John calling to commiserate and tell me about jobs he was fired from and assorted stories of many big-name firings he knew of. Suddenly, I don't feel so bad. In fact, I even felt honored to be in the not-so-elite club of actors who've been given the ignoble boot. John was such a big star already, and for him to take that time and effort to throw an arm around a dejected rookie not only moved me and lifted my spirits, but set an example of generosity and open-heartedness that I try as best I can to remember to pay forward. He was a great big ball of light, John Ritter was. And funny. And I miss him tremendously."
6. This quote by Ritter about his strangest Battle of the Network Stars experience, taken from a 1998 interview I conducted with him for Time Out New York:
I got really pissed off at this one player on the opposite team, and I [jumped him] and wouldn't let go. It was Wilt Chamberlain. I was on on Wilt Chamberlain's back as he was running around. Or course, we planned it all, because Wilt could pound me into the ground. People asked, 'Why did you climb up Wilt Chamberlain?' and I said, 'Because he's there.' Like Sir Edmund Hillary.
7. Henry Winkler, one of Ritter's closest friends since they met in 1978 at a dinner celebrating ABC's 25th anniversary: "His brain was like a supersonic jet. You kept thinking to yourself, God, I wish I'd thought of that. Wow, how did he think of that that quickly? What you never tried to do was match his funny. I never tried to one-up him. Because it was impossible. He topped pretty much everybody. He'd tell the same joke, too. He could tell it three or four or five times a day, and it was as funny the first time as it was the last time he told it that day. Now that is a talent. What would he say? He would just put his hand up to his side like a Borscht Belt comedian and he would say, 'Try the veal, I'm here all week.' And he would use that phrase several times a day and several times a day it was laugh-out-loud funny. I think about him all the time. I miss him all the time."
8. The five-minute sequence below, from 14:50 to 20:12, is one of the funniest moments in television history that no one ever talks about anymore. After agreeing to attend a party on an island thrown by a guy Janet's interested in (and played by Barry Williams, a.k.a. Greg Brady), Jack loads up on tranquilizers to compensate for his fear of flying; his druggy loopiness is exacerbated and comic mischief ensues when a blueblood bro pushes a strong alcoholic beverage dubbed "The Rocket" on him. The scene — which includes the great line "Strut with me mama!" — confirmed to at least one person whose office walls are adorned with two Warholed images of John Ritter created by the Queer Eye for the Straight Guy that he was a comic genius.