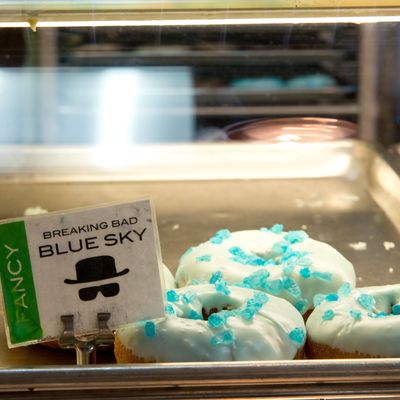 Breaking Bad doughnuts: Just one of many tie-ins to be found in Albuquerque
Photo: Steve Snowden/Getty
By generous estimates, nearly a thousand people showed up for the city-promoted Breaking Bad finale party at the Hotel Albuquerque last night. The tables in its ballroom, lit by dark blue overhead lighting, quickly jammed, leaving hundreds more of the hometown crowd to stand in the back and wings or splay on the floor in front to watch the last episode. When Walter White warned Elliot Schwartz that he was "going to need a bigger knife," the room erupted into applause. And as the final vista of Albuquerque crept across the screen, it seemed impossible to imagine that the marriage between Breaking Bad and its host city almost didn't take place. Were it not for some shrewd tax incentives, Breaking Bad would have taken place in Riverside, a Southern California city far from the dry-mouthed desolation of the open desert, seedy streets, and distant, unremarkable mountains that served as the AMC show's iconic backdrop. It's unnatural to think about a different outcome now — like picturing Nick Nolte as Han Solo or John Edwards as president.
That feeling is magnified among Albuquerque natives, for whom the show's final season was the waking end of a collective Walter White–style fugue state. "It's been unreal to see all this energy and attention focused on Albuquerque," Jesse Torres, a local student, told me earlier in the week. "It's been good for us to have people notice." (Breaking Bad, it seems, had also personally benefited Torres: Thanks to the character Jesse Pinkman, this Jesse has had to endure fewer jokes about his androgynous first name.) Ann Lerner, who heads the city's film office, echoed Torres. "I would say 'New Mexico' and everyone would say 'Santa Fe,'" she said. "There wasn't a myth perception about Albuquerque, there was no perception. People are finally learning how to spell it."
It's no coincidence that last year the city appeared on Fodor's list of top 25 places, along with top destination billing on TripAdvisor and Hotwire. Both city and state officials are working to continue their good fortune. In addition to declaring March 16 "Breaking Bad Day" in Albuquerque (perhaps downgrading the Ides of March into the Low Sun Winter of ominous dates), earlier this year the state also passed "The Breaking Bad Bill," which enshrines into law the tax rebates that incentivized AMC to produce Breaking Bad there. Three movies are now set to shoot in Albuquerque along with two new television series, NBC's The Night Shift and ABC's Killer Women. However, local pride on these will have to be self-generated, as neither show actually takes place in New Mexico — Albuquerque will act as the stand-in for San Antonio in both.
In the meantime, the Breaking Bad economy is booming, with local businesses reaping the benefits of the show's popularity. Marble Brewery released two Breaking Bad beers: Heisenberg's Dark and Walt's White Lie. Breaking Bad placards sit in the windows of filming locations up and down Central Avenue, once the pathway west on the original Route 66, but now a tourist destination of its own. At the Octopus Carwash, which doubled as the White family's A1A Carwash, the cashier boasts that hundreds of tourists are dropping by each week, not only from around the country but from far-flung places like Spain, Italy, and Germany. They take pictures, buy a few Breaking Bad postcards, and sometimes even get their cars detailed. An abrupt dropoff isn't likely even though the show is over: Considering how AMC's ratings exploded this season after Netflix enabled late adopters to catch up, there will always be new people converted into rabid fans who will want to get their picture taken at the real Pollos Hermanos in Walt and Gus's booth.
As the show wound down to a close last night, there remained the mixed-blessing question of how residents of Albuquerque felt about having their home immortalized by a series, however well-respected, whose plot relied so heavily on drugs and violence. Breaking Bad has made the city synonymous with great television, yes, but its plot also links Albuquerque with poverty, gun death, neo-Nazis, drug use, and overdoses. As the final season kicked off last month, Jason Rael, the chief public defender for the state's juvenile division, penned a letter to the editor of the Albuquerque Journal that ran on its front page. In it, he criticized the media for glamorizing drugs in its coverage of the show. He also wrote about the death of a young woman with whom he had worked through her first real stint in jail and accompanying treatment before she relapsed and succumbed to a meth overdose. "So, as Albuquerque mourns the passing of its TV show," he wrote, "please know that there is a real battle going on in this city."
But at the Albuquerque finale parties, locals didn't seem focused on sociological problems: They were there for storytelling closure and to celebrate a show that has made their city a star. Fifty people gathered at the Santa Ana Star Casino, a Native American gaming complex miles north of the city, set off a road dotted with fast-food chains and vans that sell jerky. The casino restaurant offered chile-dusted fried chicken in Los Pollos Hermanos bags and pints of the Marble Brewery ales. Back at the Hotel Albuquerque, a dozen vendors hawked themed artwork, T-shirts, Heisenberg hats, and Saul Goodman magnets outside the ballroom. Holding court at one table was the Candy Lady, one of the more talked-about Breaking Bad small-business success stories. Debbie Ball, who runs the confectioner's shop in the historic Old Town section of the city, has sold as many as 35,000 dollar bags of blue meth rock candy. Though this good fortune was interrupted by an unfortunate real-life reminder of Breaking Bad's story: While in the midst of her boom, Ball's daughter-in-law died of a meth overdose last year.
Rafael Alvarez, a local school schoolteacher, passed by. One of his students is Ian Posada, who played the character Brock on the show. "Not only has the show put Albuquerque on the map, but there's morality in it." he said. "These are issues we deal with in real life. People in Albuquerque recognize themselves."