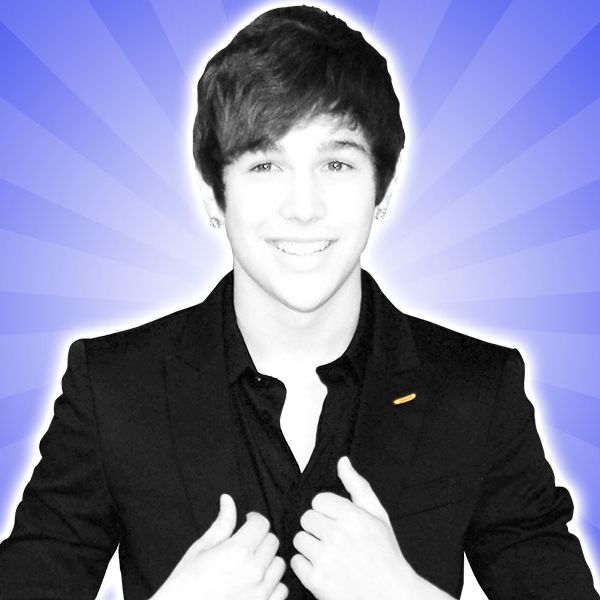 Teen dream Austin Mahone has seemingly come out of nowhere. Who is this new boy who has 14-year-old girls lining up in droves to see him? Who is this new boy who opened this year's VMAs with a performance alongside fellow up-and-comer Ariana Grande? No matter what they say, you are never too old to learn what teens are talking about, so here are some answers to those burning Mahone questions.
So is he actually a teen, or one of those teen-show-like twentysomething "teens"?
Austin is 17 years old. He was born in 1996. He is a teen-teen.
And why are you comparing him to Justin Bieber?
Just as Bieber did, Austin grew a fan base (and scored a record deal) by posting stuff on YouTube starting in 2010. He made a few music videos the following year and was "discovered" in 2011, then signed to Universal. With a YouTube-assisted rise to fame similar to Bieber's, and with the older star moving on to bigger things (things that are more hip-hop-sounding and things that are more peeing-in-a-bucket scandalous), there might just be a spot for Mahone.
Just listen to him, at 14 years old, singing a Bieber song:
And what does Justin think?
He hasn't really commented officially, but the two did meet last year: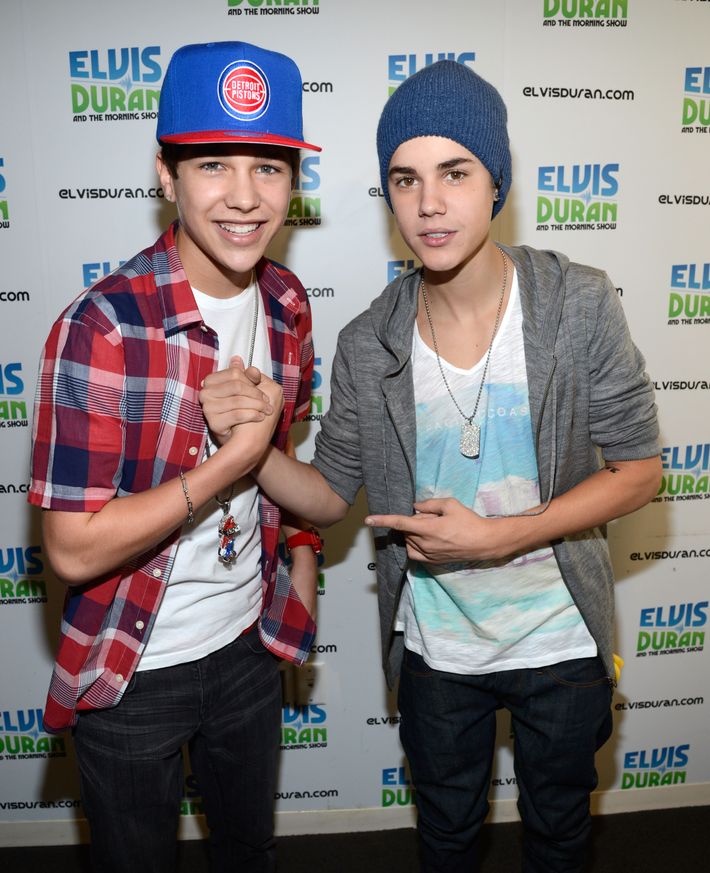 Naturally, there are also rumors that Bieber resents Mahone for creeping in on his fan base (there really are only so many teenage girls), but that seems like people just looking for drama.
Speaking of teenage girls, do Beliebers like him?
Some do. But Austin has his own diehard fans whom he calls (and who now call themselves) "Mahomies."
Mahomies? So is it pronounced "Mahone" or "Maho-ne"?
It's Mahone. The nickname is just for fun. Homies! Get it?
Does he wear tank tops? Can he dance? Is he friends with Flo Rida? Does he know how to properly cover old hip-hop songs?
Yes, yes, yes, and of course he does. He's a pop star, for God's sake!
Has his voice changed yet?
For the most part, yes. Here's his newest single, "What About Love," where he has a deeper timbre than he did singing Bieber covers at 14.
Do you think he might go off the rails like Bieber?
Only time will tell. But he spent this summer opening for Taylor Swift and Ed Sheeran on the Red Tour, so hopefully he'll soak up their good influences (and the added fans).
Okay, I think I get it. He's a worthy Bieber replacement. Is there anything else I need to know?
His first single, "11:11," has some good counting in it. If you're into it, check out this video of Mahone (in braces!) covering Bieber's "Mistletoe" and this video of him doing the Dougie at some girl's sweet 16 party. Now go brag to a teen. You're ready.