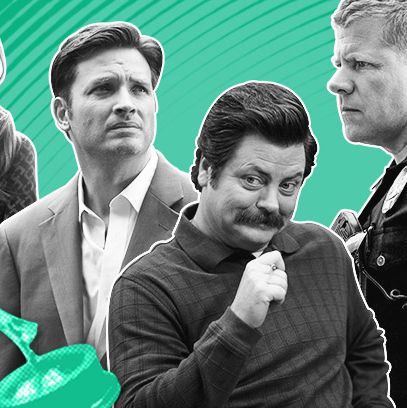 The Emmys are Sunday night, which will give us plenty of opportunities to celebrate some of TV's best shows. Mad Men! Breaking Bad! Louie and Girls! But not every great show or wonderful performer got its, his, or her due this year. Let us now praise snubbed shows and performers and get mad one last time that they won't hear their names called.
Let's start with dramas. Has no one seen Southland? (No, no one has.) Michael Cudlitz was incredible this season, and Regina King was consistently stunning on the show. Southland itself tended not to play into cop cliches, and Cudlitz and King's characters embodied that. I can't wait for that show to surface on Netflix, at which point everyone will finally get onboard.
The Americans also had a banner freshman season, and could easily be on the list for Best Drama. Just for the wigs alone! Keri Russell is perfectly icy on that show, but Noah Emmerich is the marginally more egregious snub.
It's been bandied around a lot in these snub discussions, but it's worth repeating: Tatiana Maslany really is incredible on Orphan Black. She plays several different characters who are clones of each other, and each one has a slightly different speech cadence, a different way they carry themselves, a different way they hold mugs or turn their heads — but none of it feels ostentatious or phony. The show itself is terrific, but that's largely because Maslany is so captivating.
Connie Britton earned a nomination for Nashville, which seems a little off: If anyone's going to be nominated from that show, it should have been Hayden Panettiere. Nashville can be a little ridiculous, and Panettiere gets the tone just right; not quite telenovela level, but the good kind of soapy.
Panettiere's a good crier. But she's not Mae Whitman, TV's best crier. Whitman's had some wonderful cries on Parenthood this season, too, and watching her character Amber fall in love with the traumatized Ryan was completely engrossing. Amber is articulate and confident and tough, and Whitman plays her with so much warmth you want to crawl through the TV and eat cookies with her forever.
Less warm and cookie-inducing, but no less worthy of recognition: Gwendoline Christie on Game of Thrones. If anyone was going to get a nomination for guest actress from GoT, it should have been Christie over Diana Rigg (Lady Olenna Tyrell). Not to be cornball, but Brienne went on such a journey. So good.
On the comedy side, I can't not mention Sutton Foster on Bunheads. She pulled off goofy slapstick, perfect one-liners, a lot of batty dialogue, and a few moments of shocking pathos. Foster makes it clear that Michelle is incredibly talented and that that is not enough. You need luck, too, and Michelle has been unlucky. That's a weird kind of resigned tragedy to have in a teen-centric comedy, but what's even weirder is how well it worked.
Enlightened this season had one of my favorite episodes of television ever: "The Ghost is Seen," in which Mike White's Tyler describes himself as a ghost. As an oyster hiding a pearl. It's so beautiful and sad and perfect. Enlightened was never ha-ha funny, and I get why it's not easy for the show to compete against traditional comedies, but it deserves some kind of additional recognition. An award for Outstanding Tenderness. Something.
Which brings us to the mayor of snubsville, Parks and Recreation. Amy Poehler earned a nomination for lead actress in a comedy (thank goodness), but the lack of recognition for anyone else is baffling. Nick Offerman is generally the fan favorite as Ron Swanson, and rightfully so, but Chris Pratt's sweet dopey Andy is like the second coming of Coach from Cheers.
Finally, one mini-series snub: Rectify. The show, about a man recently released from death row, is the definition of meditative, but it's also so gorgeously filmed you can almost feel the tall grass on your own legs.