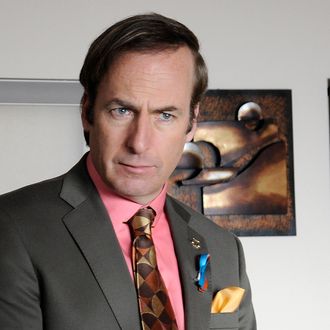 Bob Odenkirk will (hopefully) be back as Saul.
AMC and Sony Pictures Television announced today that they're moving forward with the Better Call Saul spinoff of Breaking Bad. The show is planned as a "one-hour prequel that will focus on the evolution of the popular Saul Goodman character before he ever became Walter White's lawyer." (For prediction purposes, this means Saul could still die on Breaking Bad. Damn you, prequels!)
The series is not a totally done deal, though. Deadline reports that the series order is "pending the complication of Sony TV's deals with Gilligan, [BB writer/producer Peter] Gould and Odenkirk," and the Sony/AMC statement does not mention any of these three men. It just touts that it has reached a "licensing agreement," and that wasn't an oversight: Sony tells Vulture that the studio has "nothing else to add right now." Someone else playing Saul seems totally blasphemous (as does the absence of any BB writers), but maybe we're in a Carrie Diaries kind of situation. Anyway, don't count your Saul-chickens before they Saul-hatch.