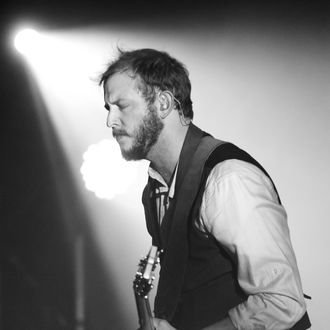 Justin Vernon at a Bon Iver gig in 2012.
Photo: Mark Metcalfe/2012 Getty Images
Justin Vernon is busy with his slew of bands and his Kanye albums and all kinds of stuff, but it appears Bon Iver might be deader than a blade of Wisconsin grass beneath a crush of January snow. The ghost of Vernon's comment about feeling "the need to walk away from it while I still care about it" lingers, even a year since it was said. Now there's a little more clarity, and it's also kind of crappy.
"I don't really write songs anymore. The last Bon Iver record was a very 'sitting down with a guitar and writing' kind of record," Vernon tells Australia's Triple J. "I really have to be in a specific headspace to even begin to illuminate an idea that would create another Bon Iver record, and I'm just not there. I'm really honored that Bon Iver gives me a platform to do whatever I want, but there's only so much time you can spend digging through yourself before you become insular. I'm not in a hurry to go back to that temperature. All of the music I've been making shifting away from Bon Iver feels really good … so if I ever do go back to Bon Iver it will be all the better for it." Solace-seekers, promptly turn to "Re: Stacks" or this cool live piano version of "Beth/Rest." Those who can bear an unspecified amount of years unsure if Bon Iver shall ever rise again, by all means spin the suitably Iverish new Volcano Choir album, Repave!