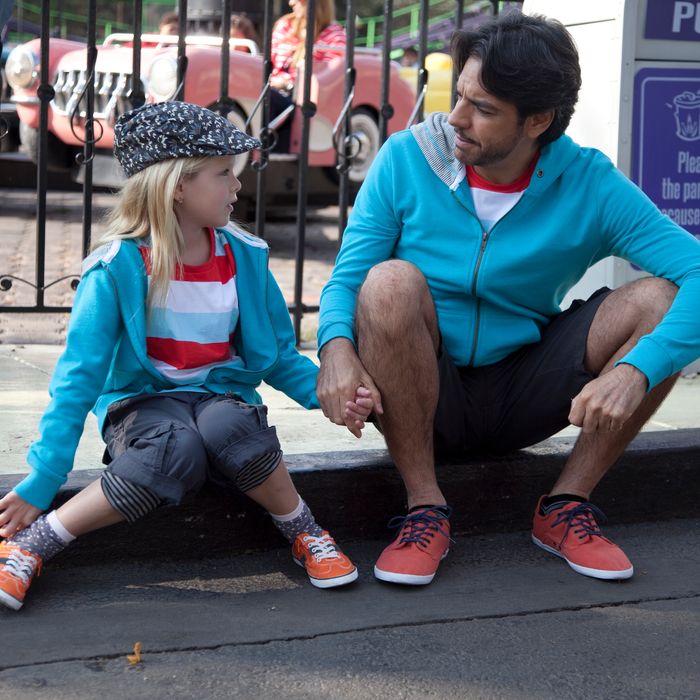 While this past weekend was a pretty slow one at the box office, there was one bit of news: The steady strength of the Spanish-language comedy Instructions Not Included, which came in third place with $8.1 million. That may not seem like a huge number, but it was only playing on 717 screens, giving it a pretty sterling $11,000-plus per-screen average. The theater count expanded after the film's surprise finish last week, when it scored the biggest ever opening for a Spanish-language film over the Labor Day holiday weekend and placed fifth despite playing on just 348 screens. (As you might imagine, last weekend's per theater average was even more impressive — more than $22,000.) The film, which cost about $5 million to produce, now has about $20 million total and has yet to open in Latin American territories.
Instructions is about a Mexican playboy saddled with a child from an old fling, and is being distributed by Pantelion Films, a joint venture between Lions Gate Entertainment and Grupo Televisa, the Mexican media giant. They've been targeting the film aggressively to Latino audiences, utilizing both the film's family-friendly plot and the star power of writer-director-star Eugenio Derbez, a huge figure in Mexico. Derbez has been doing nonstop press for several weeks now. "We kind of pulled out all the stops on this picture," Pantelion CEO Paul Presburger told EW.com last week. "We traveled Eugenio to several different cities, did local news, he was on Univision kind of non-stop the week before the movie came out." In fact, Pantelion started marketing the film in earnest two months ago, when Derbez received a lifetime achievement award on Univision. (They also made a point to release the film in the U.S. first, as opposed to releasing it in Mexico first and then bringing it to the U.S.)
This is all part of a business strategy that is slowly reaping rewards. Pantelion, which calls itself "the first major Latino Hollywood film studio," was put together several years ago specifically to target Hispanic moviegoers. Latinos make up about 26 percent of the moviegoing audience, despite being 17 percent of the broader population. "When we go to the movies, we don't go two at a time. We go all of us at the same time," Alex Nogales, president of the National Hispanic Media Coalition, told NPR last week. Additionally, a 2012 Nielsen study found that moviegoing carries "a particularly positive cultural significance for Hispanics, as they [are] considerably more likely than non-Hispanics to view going to a theater as a way to spend time with their family and friends … [and] to spend time discussing the movies after seeing them." That last bit is probably music to the Instructions filmmakers' ears, since the film also boasts an A+ CinemaScore grade, the first one since the spring's Jackie Robinson biopic, 42.
Other hits this summer have also done well by marketing to this demographic. Universal's Fast & Furious 6 targeted Spanish-speaking audiences pretty aggressively, with its cast doing a lot of joint appearances on Hispanic TV; understandable, since the franchise's previous outings had also been successful with this group. As a result, Latinos were the largest demographic in its $117 million holiday weekend audience — 32 percent — and continued to come out. Despite all that, targeting Latinos isn't a surefire moneymaker, even for smaller movies. Pantelion also released last year's Will Ferrell comedy Casa de Mi Padre, which basically bombed with about $5 million total. So the success of Instructions also represents the fruition of the company's strategy. As Presburger told the Wrap last week, "I've been telling my team all along that we're going to have the breakout and it's great to finally see it happen."