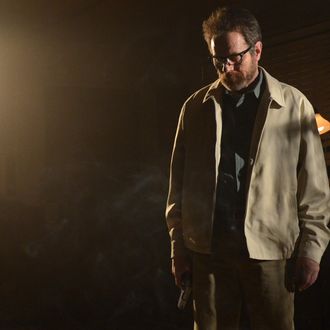 The ratings for the Breaking Bad finale are in, and they're bigger than AMC execs could have ever imagined: A stunning 10.3 million viewers watched the first run of the 75-minute swan song, easily the show's biggest tune-in ever and more than seven times larger than the 1.4 million who saw the show's pilot the day it aired in January 2008. Among viewers under 50, Bad notched a 5.3 rating, surpassing the demo performance of every new network show that debuted last week (including ABC's heavily hyped Agents of S.H.I.E.L.D.). And Bad didn't just grow versus five years ago: It nearly doubled its demo ratings from its summer return and grew a whopping 300 percent from its finale last year. While it didn't match the total viewer numbers of TV's bigger hits (CBS's The Big Bang Theory, AMC's own The Walking Dead), it will outrate most things that air on network TV these days. (We detailed just how Breaking Bad became so big back in August.)
Despite airing opposite the Breaking Bad juggernaut, Showtime's big Sunday debuts did fine. Homeland notched 1.9 million viewers for its premiere broadcast, up about 10 percent from last fall (1.7 million) and the show's best premiere ever. What's more, it did so without the benefit of Dexter as a lead-in, which the show had for its first two premieres. Still, Carrie & Co. did decline versus the show's last stretch of episodes last December, which attracted between 2 and 2.4 million viewers.
And Masters of Sex, which has drawn rapturous reviews from critics, settled for a relatively flaccid one million viewers at 10 p.m., barely matching the Homeland debut (1.08 million viewers) from two years ago and well below the 1.4 million who watched Ray Donovan's Showtime premiere in July. Showtime notes, however, that Masters was sampled by another million viewers via early on demand and online streaming. The newbie also went up against the final fifteen minutes of Breaking Bad, as well as AMC's Talking Bad, which drew 4.4 million viewers for its hour. In any event, while last night's numbers weren't stellar for Showtime, they're not fatal, either. The network's viewers have been trained to watch via replays and on demand, and many will do exactly that now that Breaking Bad is over. There's a very good chance both shows will go up in the next few weeks, and with the amazing buzz for Masters, a second season is all but assured if they do.