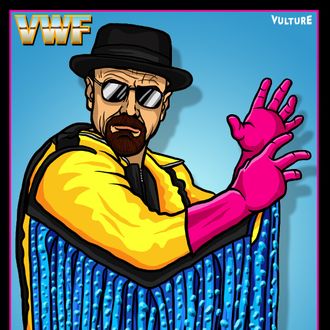 Breaking Bad ends this weekend, and we're feeling reflective. So we decided to take a moment to look back at the fun we had with the show through its five seasons. And so, here is a trip through all the Breaking Bad–inspired visuals we've done over the course of the show's run, from our Walter White jack-o'-lantern to our Breaking Bad Christmas card to a poster for a spring break party movie starring Walt and Jesse called Breaking Buds, and much more. Enjoy them now before the show ends and the grief is too much to bear.
• Illustrator Patrick Sullivan made us a Walter White jack-o'-lantern.
• Illustrator Jon Defreest made us a Jesse Pinkman Christmas card.
• Jesse David Fox and Linsey Fields made these Breaking Bad infographics.
• Fox also put together this photo slideshow of Bryan Cranston and Aaron Paul looking like the BFFs that they are.
• Defreest imagined what Breaking Bad would look like if it were a spring break romp — Breaking Buds!
• Look, Defreest loves this show, so there's a bunch more from him — like these Walter White sneakers that Bryan Cranston once wore …
• … and this musing on what Walter White would look like if he were a WWF wrestler …
• … and this fantastic Gus Fring Halloween mask that Gus Fring himself took to the Emmys.
• … and a Pollos Hermanos value meal. Just because.
• And in case you missed it, just today he did a series of Breaking Bad Choose Your Own Adventure books.