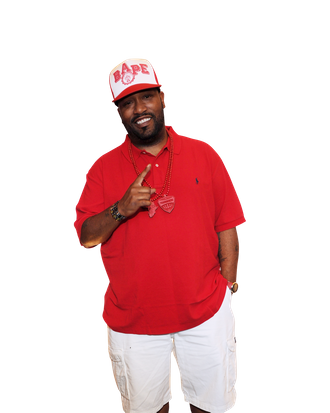 On a day when he could be relishing his Houston Texans' win over a late lunch at Freebirds, Bun B is doing press for one of his more unlikely projects: a hip-hop coloring book and activity guide filled with the faces of 40-ish of his friends and co-workers. The book is funny, smart, and as kid-tested, mother-approved as some of these guys get: Action Bronson appears to chew on a candy cane; Kanye lacks a mouth with which to scream at people. Created with the help of Shea Serrano — a noted rap-world writer and illustrator, as well as husband, father, and middle-school science teacher — the book is out today.
You said that when the book was done, you wanted to give promo copies to two people: The Pope and Blue Ivy. How is the Pope liking his?
I have no idea. I'm still waiting to hear back on what pages he's going to color first. If I had to guess, it'd have to be Machine Gun Kelly. We didn't do ASAP Ferg, who obviously would've been the Pope's first pick, on some Pope–meets–Hood Pope shit.
But really, is Blue Ivy in fact getting her copy?
Tomorrow, Monday. I just got an address to send it to. Not theirs, of course.
At the back of the book, in the acknowledgments, Shea notes that everyone whose face appears in the book gave you all exclusive permission. Is it harder to get samples cleared on records or facial rights for coloring books?
Samples, because I know most of the people whom we drew in the coloring book. I don't know half of the old-school people we keep sampling shit from. It was much easier, but — that being said — it wasn't easy at all.
I read that you ran into Drake and Questlove at NBA All-Star Weekend this year and — within twenty minutes — got their agreements. So was it that there were people who just didn't get the concept?
Well, there was one rapper who didn't get it. I won't name him, there's no reason to name him. He's a good friend of mine, we've known each other for years and we've recorded together but … he just didn't get it. He couldn't grasp the concept and didn't want to be a part of it. Which is perfectly fine with me. His thought was, I'm not gonna do it; it doesn't matter who's asking. But he did his verse for me, and I'd rather have his verse over this picture from him, any given day.
Maybe it's because he's putting out a competing coloring book.
I would take that as serious rap beef. There's one thing with playing with my intelligence; there's another when you're playing with my intellectual property.
The reaction online has been overwhelmingly positive; you've gotten coverage everywhere. But you've got your critics, too. A HipHopDX commenter asked, anonymously, "What's Bun B gonna do next, release coke bricks made out of Play-Doh?" Care to respond?
That was a lame attempt at trying to get a response from me. If he wants to ask me a question, let him put his name on it. Otherwise, he's a Twitter egg: soft-boiled.
Aside from being an illustrator, Shea's a middle-school science teacher (and noted hip-hop writer). To explain this to Vulture readers, he's Walter White, you're the Jesse Pinkman, here. Will you two always be friends or can we expect a twist ahead?
I would love to have a witty answer to your question, but I am the one particular person who does not like Breaking Bad. I'm the only guy. Yeah, I know. I can't do it, I've tried several times … I just tried a month ago, tried to start again, but season one is just so hard to get through, dude.
Everyone wants to know, what's the release party going to be like? Who will be there? What will you be wearing?
I'll be there, probably dressed normally. Shea, I think, said he's going to wear a white tuxedo. I will not, though.
This isn't just a coloring book; it's got activities, too. Seeing as Kanye loves playing Connect 4, Jay Z's really good at Jenga, and you're friends with everybody, I was wondering if you knew of anyone else who's particularly good at board games?
Well, Too Short's really good at pool. Everyone knows Snoop is really good at Madden. But board games? Somebody plays Monopoly, I just can't think of it right now. Ah, this is ripe for parody. All that shit's available on iPads now, so very few people actually play a "board" game. Big Boi is a major Words With Friends addict.
2 Chainz just put out a cookbook, you've got this coloring book. Will either of them be on the syllabus for the course you're teaching at Rice University this year? All's I'm saying is it's an easy way to boost sales.
No, unfortunately, our classroom has a different curriculum than I think a cookbook or a coloring book is gonna cover. If you're in college and your course recommends a coloring book, you're not in college. You're not even in community college. You're actually in a coma.
Trill 4 Life, your fourth solo album, will be coming out through Rap-A-Lot in November …
Nope!
Nope?
Nope!
Ha! It's been reported that …
No, actually, I don't know why people keep saying this Trill 4 Life thing. Trill 4 Life was never a title for anything, aside from the fact that people — Internet people — were saying it. I never said anything anywhere about Trill 4 Life. I did a "Trill" trilogy — Trill, II Trill, Trill OG — and saw no need for a fourth one. The new album through Rap-A-Lot is not a new album. It's called Trill OG: The Epilogue and it's just leftover songs from the Trill OG sessions. It may be new to the public, but those aren't new songs.
So when are you doing your next album, your next proper album?
You know, there's interest. I haven't done an album in three years, I'm not signed to anybody, so I'm just mulling over offers. In the meantime, I'm still putting together music, an independent music compilation; gonna start my label and try and get distribution for that. But as far as a solo artist goes, I am unsigned right now.