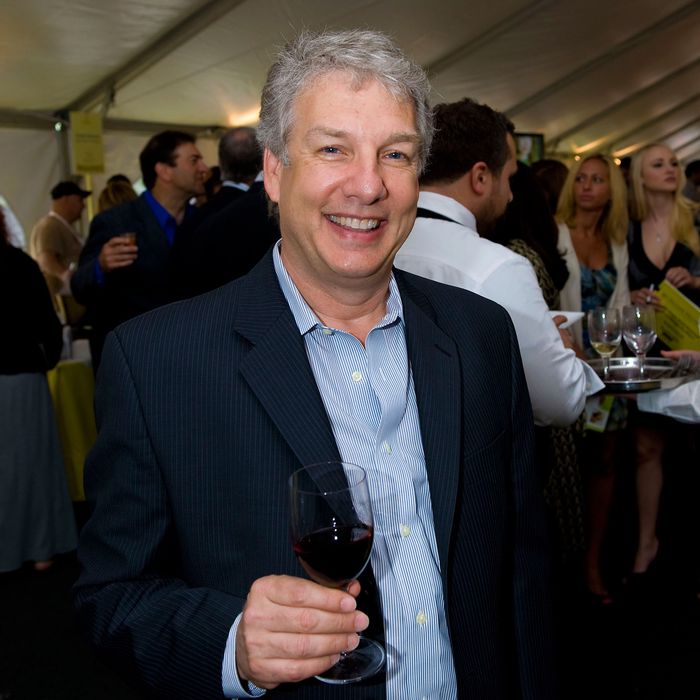 TV host Marc Summers poses at the 4th Annual Great Chefs Event Benefiting AlexÕs Lemonade Stand Foundation at Osteria on June 17, 2009 in Philadelphia, Pennsylvania.
Photo: Jeff Fusco/Getty Images
"Why'd you bring me here?" Marc Summers was clearly a little irritated that I'd chosen the Children's Museum of Manhattan for our meeting. When I muttered something about the venue's vague resemblance to the set of Double Dare, the seminal Nickelodeon obstacle-course-cum-game-show he hosted from 1986 to 1992, he looked at the hundreds of kids crawling at top speed through an enormous, slightly grotesque reproduction of the human digestive system and nodded. "I never wanted to do a kids' show," said Summers. "I had zero interest in doing a kids' show. I was 34 years old and I wanted to be a game-show host. I wanted to be Bob Barker."
I hadn't anticipated how incredibly creepy it might look for a 62-year-old grandpa-to-be with salt-and-pepper hair and sensible, rimless glasses to hold court about a light-up game called "Beware of the Sleep Stealers!" at a place where the median age is 5. But Summers didn't seem fazed by the kids eyeing us warily. As a career host — his Food Network Show, Unwrapped, is in its fourteenth year — he's used to managing awkward situations.
Kids loved to watch Double Dare because the show encouraged them to get messy — "It was about throwing green crap on your friend," Summers recalled — but the brilliance of the program was the host's ability to talk to children without talking down to them. "I made fun of them like they were adults," he said. Being in on the jokes of grown-ups  was a major reason Nickelodeon's target demographic deeply loved the network's programming that rolled out in late-eighties and early-nineties, and why the shows still resonate with them now that they're adults.
Nostalgia for Double Dare and other early Nickelodeon offerings has reached a fever pitch of late. The quirky Nick sitcom The Adventures of Pete & Pete — which regularly featured cameos by alt-rock icons like Michael Stipe and Juliana Hatfield — was recently recapped in its entirety by A.V. Club. A book based on the Nick sitcom Clarissa Explains It All is slated for 2014. And Nickelodeon itself is cashing in on the nostalgia tsunami by rerunning old programming after midnight in a block called "90's Are All That." As one of the few human adults who appeared as themselves on the network way back when, Marc Summers remains a figurehead of the era and, as such, wrote the foreward to and appears prominently in Mathew Kickstein's entertaining Slimed!: An Oral History of Nickelodeon's Golden Age. (Update! On September 27, Summers will host a 92Y launch event for the book featuring the stars, producers and executives behind the many seminal series from the cable channel's early years.)
Slimed! traffics in the R-rated behind-the-scenes shenanigans at the children's network. "It was like being in a fraternity," Summers explained as we watched a toddler clamber through a gaping mouth. "It was a bunch of grown-ups doing a kids' show with zero supervision." The game show filmed in Philadelphia, on the cheap and away from executives' watchful eyes, and apparently many things took place on the sly. "One day — and I won't mention names — I asked someone, 'Why isn't this girl at the studio?' And they said, 'Uh, I can't tell ya,' and I said, 'tell me,' and he said, 'She's getting an abortion. So-and-so knocked her up.'" Summers shot me a conspiratorial grin. "It was the eighties, you know? There might have been a little experimentation going on there."
We'd run out of toddlers to terrorize and games to paw at, and were looking like total weirdos, so we crossed the street to Café Lalo, an Upper West Side standby festooned with posters of Parisian can-can girls. Their underwear was showing directly above Summers's head as we talked, and the image formed a companion piece to the slightly frilly pink strawberry-mango-papaya smoothie he ordered after verifying that the fruit in it was fresh.
Oddly, the viscous liquid in the parfait glass is reminiscent of the goop that contestants on Double Dare had to wade through. The setup of the game show for the uninitiated: Kids answered questions, and winners of each round trekked through a sloppy course littered with vats of whipped cream, baked beans, and "gak." "When they were mixing up what was basically slime, they started calling it gak," Summers explains. "So it caught on, and some genius at Nickelodeon said," [Summers turns on goofy-executive voice] "'Oh, that's a clever name, gak." Huhuhuhuhu.' So they decided to put it out as a toy. And one day [Double Dare producer] Mike Klinghoffer comes to me and says, 'You know what gak is, don't ya? It's a street name for heroin!'"
Though the gak-heroin connection was a new revelation, that Summers had undiagnosed OCD and was working on the messiest show on television is the one cocktail party piece of trivia that most people know about him. And it drives him nuts. "This is what I hate about Twitter and Facebook," Summers complained, because strangers dredge it up without knowing the details. "'Oh, how did he ever do it? Oh, he hated every minute of it!' Oh, shut up. No, I didn't. I loved every minute of it. I defy anybody to look at one minute of videotape and see any discomfort in any way, shape, or form," he says.
Just like the thirtysomethings indulging their inner child by watching reruns of The Adventures of Pete & Pete, Summers still wants to achieve his childhood dream of becoming Bob Barker. "There's a game show I've created that I'm trying to get on," he told me. So far everyone has turned him down. "When you get older in the industry, when you have gray hairs and no piercings and no tattoos, it's hard to get a hosting gig," he says with a sigh. "And I don't look like Ryan Seacrest." Even so, he seems primed, not unlike a Double Dare contestant struggling to get through a puddle of gak, to try and try again.