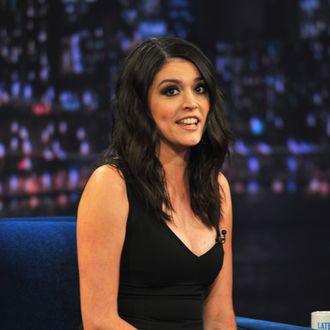 With SNL head writer Seth Myers heading for Jimmy Fallon's job in February, SNL's "Weekend Update" is missing its host. That gig — the one the New York Times pretty aptly calls "an almost guaranteed ride to the next level of stardom" — is going to Cecily Strong, who joined the show last season and perhaps joined your life as the Girl You Wish You Hadn't Started a Conversation With at a Party. Strong will join Meyers on the desk during the Sept. 28 season premiere. The last three "Update" hosts were Jimmy Fallon, Tina Fey, and Amy Poehler, so yeah, it's looking good for Strong.
There's also, we should note, a tiny possibility Strong won't fully take over "Update" in the end. Lorne Michaels may try to persuade Meyers to stick around; his version of Late Night won't air Fridays, so he could drop in for quick rehearsals to keep doing his usual thing. (Taking Meyers's head writer gig, though, as co-head writers, will be Colin Jost and Rob Klein.)
Though people constantly bemoan the show's current laugh-level, with the departure of Fred Armisen, Bill Hader and Jason Sudeikis, the criticism is likely to be particularly tough this season. Michaels took a preemptive shot at the haters: "People attach to the cast they see in high school. In those years they generally can't drive. They don't have any money. Staying up late is exciting. Being with friends up late is really exciting. So they're very connected to the cast they see then." That's why you don't laugh as much at SNL anymore. Just let go of your nostalgia!