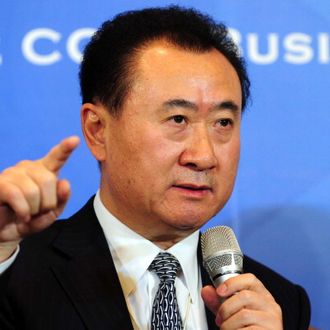 Combining the film world of Hollywood with the amusement park mecca of Orlando, China's wealthiest investor, and recent owner of AMC Entertainment, announced plans for the Qingdao Oriental Movie Metropolis with a lavish event in Hong Kong on Sunday that included A-listers like Nicole Kidman, John Travolta, and Leonardo DiCaprio. The New York Times reports that Wang Jianlin, chairman of Dalian Wanda Group, hopes the 40.5 million-square-foot structure (the largest to date in the country) will have film studios, 3,000-seat movie theaters, resort hotels, an indoor amusement park, and even a hospital – everything necessary for proper moviemaking, really.
Since the Movie Metropolis is rumored to cost anywhere from $4.9 to $8.2 billion, Jianlin has to get to work raising capital. To date, he's already signed agreements with four top global talent agencies to attract the likes of Kidman and DiCaprio to produce 30 films each year and attend an annual festival, a statement from the event said. The Wall Street Journal added, "The company will also enlist 50 domestic film- and television-production companies to work with Wanda, ensuring that 100 homegrown films and shows are made each year."
With all that's going on, the billionaire suggested outsiders might do well to keep a close watch on his country's growing industry, saying, "Those in the world film industry who realize this first and are among the first to cooperate [read: invest] with China will be the first to reap the benefits." Since it seems like he already knows his audience, don't be too surprised if Jianlin really does take over Hollywood's production in the years to come.