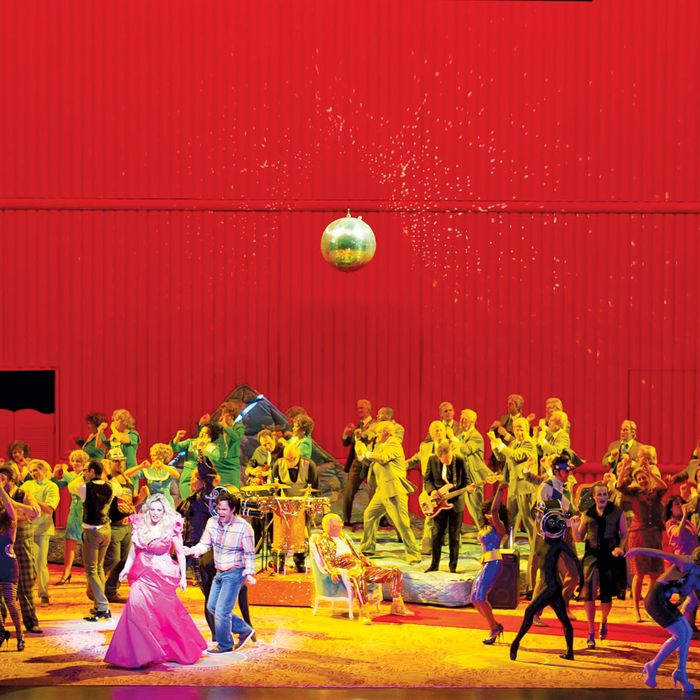 New York City Opera began last season with Powder Her Face, a sour British romp about the rise and downfall of a sexually voracious tabloid aristocrat who performs a scene of oral sex set to raunchily suggestive music. The company began the current season with Anna Nicole, a sour British romp about the rise and downfall of a sexually voracious American tabloid queen who performs a scene of oral sex set to raunchily suggestive music. This second import, by librettist Richard Thomas and composer Mark-Anthony Turnage, opens with a sizzling, brassy chord and a blast of desperate hilarity. Soon we get our first glimpse of our heroine, the self-created goddess of camera-friendly excess, Anna Nicole Smith. But her liveliness can't last. The moment of truth comes a little later, when her octogenarian-billionaire husband collapses, then rouses himself just long enough to utter a final protest: "Not dead yet." City Opera finds itself in roughly the same position.
Anna Nicole, which the nearly cashless company co-produced with BAM, may be its last party. Seeking its own sugar daddy, City Opera recently announced it will go out of business unless it can raise $7 million in the next two weeks, and $20 million altogether by the end of the year. That Hail Mary could conceivably pay off, but its $1 million Kickstarter campaign had reached a tenth of that by curtain time. A New York without the old, ambitious New York City Opera that lived at Lincoln Center is already a poorer place, and its ultimate demise would be terribly sad. But with Anna Nicole, the already shrunken company is making a misguided plea for clemency.
Opera is not really the supercilious genre its haters think it is, but if it were, this wannabe potboiler would be an egregious example. There was something deeply distasteful on opening night about a gala audience in Brooklyn chortling at the primitiveness of Texas rustics and their comical drawl. Turnage has expressed his fear that he unintentionally singled out its protagonist for mockery. He needn't have worried. The opera paints over its fundamental misogyny by spraying the entire cast with scorn. There's not a smidgen of tenderness or sympathy for anyone here — not for the unctuous lawyer, the toothless cousin, the doddering billionaire, or the assortment of grunting males, all cheered on by a Schadenfreude Chorus of contempt. Anna's mother, who tries to act as the opera's moral center, gets treated as a censorious grotesque.
It doesn't help that some of the American idioms appear to have sprung from a phrase book edited on another planet. Did any Walmart employee ever complain of "strugglin' on the low wage"? Has the phrase "Daddy-o" been uttered without irony in the last 50 years? The whole opera has as a labored, archaic feel, as if Thomas had laminated old clichés and Turnage framed them in cheesy lounge music and wrong-era, gussied-up blues. The aesthetic of stilted idioms and insincere rage is summed up in the immortal line "I'm gonna rape that goddamn American Dream," which Turnage sets like a syrupy torch song.
The real Anna Nicole, who stripped and primped her way through the nineties, then died of an overdose in 2007, desperately wanted to be seen. Richard Jones's production, which opened two years ago at London's Royal Opera, honors her needy mixture of vulgarity and glamour, especially with the first act's manic visual charm. His show is a hectic and slyly garish concoction of glitter and fat suits, room-size mattresses and preposterous lingerie. (Couldn't the director order the soprano Sarah Joy Miller to stop hopping up and down, though, flapping her wrists like an overstimulated tween?)
But spectacle isn't enough. For an opera about a semi-educated pinup, Anna Nicole keeps stumbling over language. A stripper instructs Anna on the logistics of a lap dance, emphasizing "scanty panties which are always kept on" — and then repeats variations on that priceless thought another half-dozen times. When Anna opts for breast augmentation, the libretto unleashes a flood of synonyms (ruby wazoos, wahookas, mashmookas, chinookas) that outdoes even the Urban Dictionary. Thomas has packed the show so full of words that Turnage is left to scramble around them, slipping in bits of musical invention wherever he can. The result is a score that is loud and busy but also jerky and uncertain. Many scenes drag on — the consultation with the plastic surgeon seems to play out in real time, complete with waiting-room prelude — but even so, musical ideas never get the chance to jell.
City Opera has a long and splendid record of audacity, but to repurpose a friend's one-liner, Anna Nicole isn't even hip; it's hip replacement. Thomas and Turnage have shamelessly recycled hoary operatic clichés. There's an anti-man aria, rather like the one from Così fan tutte, degraded to suit contemporary sensibilities. ("Hump and dump, spunk and leave, make believe like they give a shit.") The noxious quack from L'elisir d'amore reappears as the slimy cosmetic surgeon, purveyor of pneumatic breasts. And of course there's that tragic staple, the soprano's protracted, melodious decline. Except that there's no tragedy and precious little melody in the last hour of Anna Nicole — only a jittery, pathetic gloom.
All of this is a terrible shame, since the production demonstrates that even a crippled City Opera can still put on an effective show. Steven Sloane keeps the huge cast energized, the orchestra sharp, and the busy score snapping and swinging along. In the title role, Sarah Joy Miller evolves from scrawny ingenue to blowsy superstar, even without music to fully support that transformation. But a deep pool of talent evidently isn't enough to keep an opera company in good health. During her lifetime, the real Anna Nicole fed TV audiences' endless fascination with self-destructiveness and terrible taste. Now that she's gone, City Opera is hoping its audiences have the same predilections. The problem is that when those faults lie with an organization, rather than a bombshell, they're no fun to watch.