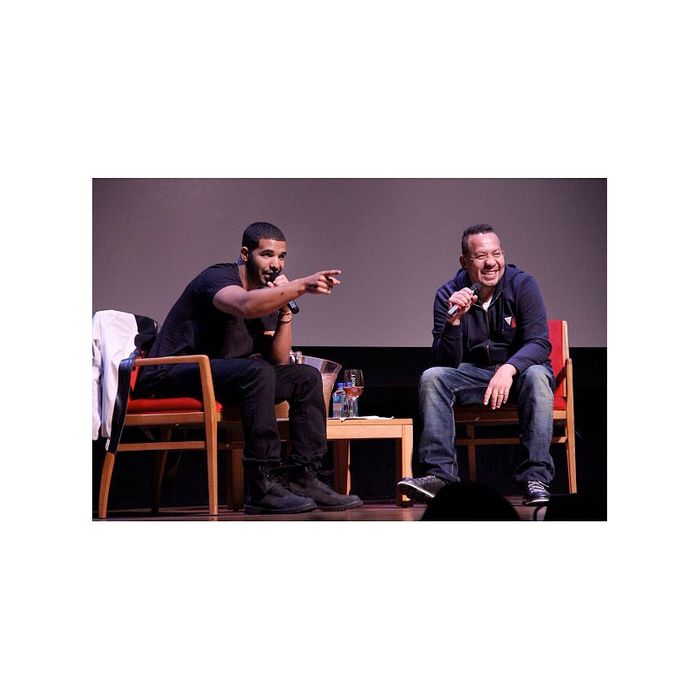 "Kendrick's verse was a moment. It was really cool for a couple weeks. But are you listening to it now? How does that verse start?" Speaking to a packed house at NYU's Skirball Center, Drake sat like A.C. Slater, only on the front of his chair. "I'm not mad at it, I get it," said the rapper. "I know it's all love because I saw him, like, five days later at the VMAs. I kind of lost respect for the sentiment, though. My thing is, if it's really 'fuck everybody,' then you can't be halfway about it."
After he said this, his entire section of friends stood up, arms wide like Tupac, as if this were a bar fight or a scene from Step Up 2: The Streets. Moments later, he described himself as "still the guy with the clouds in his picture." Oh, and he twice interrupted the interview to pour bubbly for an older woman near the front whom he affectionately called "mom" and urged to buy his album, Nothing Was the Same, in stores tomorrow.
It's strange to watch someone pull back the curtain in front of your eyes, but — for 90 minutes, as part of Elliott Wilson's #CRWN conversation series — Drake did exactly that, setting up the game only to flip the board over, pick up the pieces and put them back in the box. He called Twitter "not real"; the picture of fame he painted felt almost exactly the same. It could be that he's from Toronto, that ego is as foreign a concept there as Gordon Lightfoot here. Or maybe he's just hip-hop's George Clooney, a walking, talking wink with eyebrows.
He spoke as if he'd just returned from the Land of Make Believe, taken a few pictures, and is thinking about going back again. The Miley Cyrus party he'd just been to in Las Vegas was "weird." He loves the Photoshop jobs and jokes people make about him because "I love to laugh" and then he laughed like "ha ha ha." He told people who criticize his R&B to wait until he's 33, when he's "super-tan, wearing a suit and singing whole albums at the MGM Grand." When Elliott pressed him about making a rappy-rap album, Drake noted that he could pull that off, but that his concerts would then be "fucking boring." He's a superstar who still imagines himself an outsider, a famous guy who wears celebrity like an Instagram filter.
In the same way, he doesn't care much for hip-hop cachet; it comes, it goes. Late in the evening, he said, "Yeah, I was on Degrassi, yeah, I wear sweaters, yeah, I wore Dada and no, I don't give a fuck." He laughed, Elliott laughed, it's all a lark. "People can say that my songs are so emotional but, if I didn't write about my life, what the fuck else would I write about?" They laughed some more. Elliott brought up barbershop talk, so Drake made fun of Elliott's haircut, saying, "You don't go to the barbershop. You were at the salon. They don't give that cut at the barbershop." Ha ha ha, ha ha ha. He's incredibly self-aware, ha ha ha.
And sure, there was news: Drake revealed that Jay Z's verses on his album — for "Pound Cake" — were originally destined for Magna Carta Holy Grail, but that Drake had strong-armed the a cappellas from him. "I probably shouldn't have told you that, but what's done is done," he said.
Starting this Wednesday, MySpace will roll out Drake's NYU conversation in three video installments.