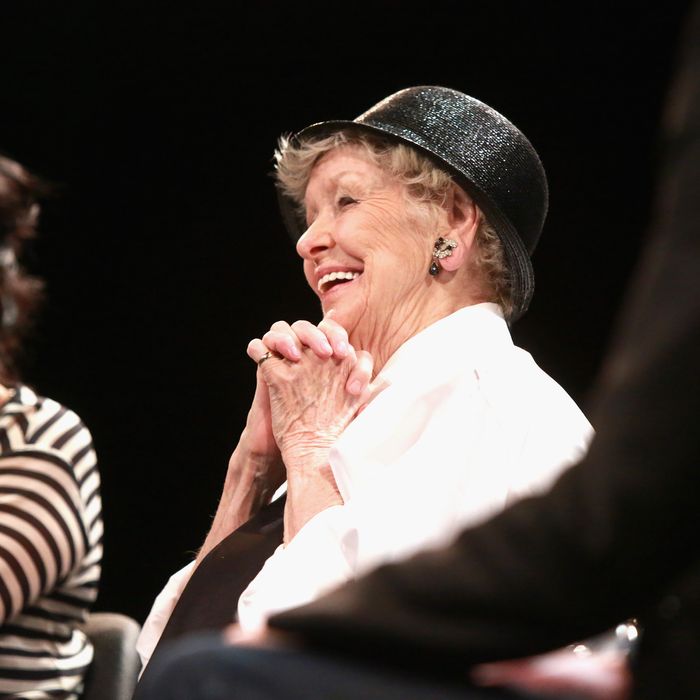 NEW YORK, NY - APRIL 22: Director Chiemi Karasawa (L) and actress Elaine Stritch speak onstage at the Tribeca Talks After the Movie: "Elaine Stritch: Shoot Me" during the 2013 Tribeca Film Festival on April 22, 2013 in New York City. (Photo by Robin Marchant/Getty Images for Tribeca Film Festival)
The Broadway legend is not kidding. "What's his name?" grouses Elaine Stritch in a screech she's used so often, though not this time, for comic effect. "The black guy. C'mon. The funny guy. The black guy. The funny guy. The black guy. Come on." Her young caretaker suggests Dave Chappelle, but Stritch waves her off. "She doesn't know it. You know it. HBO. Had his own show on HBO. Damn it! Oh, shit. I think he's the funniest man alive and I think what's-his-name is the next funniest."
Stritch isn't senile. Far from it. At 88, though, she's vexed by an inability to retrieve at will the names of certain faces she can clearly see in her head. "I beat him when I won for Elaine Stritch at Liberty," she continues, offering up an obscure bit of data about competition for an Emmy she won nine years ago. The cellular signal is crap in the $1.2 million furnished apartment in Birmingham, Michigan, that Stritch bought four months ago when she decided to leave her Manhattan life behind, so it wasn't until later that Google helped me to determine that she meant Chris Rock. (No. 2, by the way, turns out to be Billy Crystal.) But in this moment, she's looking for a graceful way to move the conversation along, so she zings me. "It's boring that you can't figure it out," she says. "Really bo-ring. I mean that, from my bottom of my heart. What else do you want to know?"
Mostly, I want to know what it has been like for a quintessential New Yorker to be suddenly living outside her native Detroit in proximity to her seven nephews and nieces but not much else. Has it been, as her 30 Rock son Alec Baldwin predicted on his WNYC podcast chat with her, fertile grounds for a wacky fish-out-of-water sitcom? Or has it been something darker?
The answer: a little of both. Stritch greets me from a wheelchair in her kitchen; her hair is set in that familiar helmet of white cotton candy, but she's also wearing just panties and a large white T-shirt that barely covers her hips. Her legs, still as slim and taut as they were when she performed At Liberty pantless and in black stockings, are propped on a chair and crossed at the ankles. I sit alongside her until she instructs me to move because she was blinded in her right eye after tearing her retina in a fall on Madison Avenue in the spring. "I want to see you straight away," she says. Then, looking down at herself, she cackles and says, "Don't be afraid, darling. I don't care what you see of me."
Stritch is endeared, probably, because I brought my aunt's vinyl copy of Sail Away, a Noel Coward musical she starred in back in 1963. She cradles it in her lap and says of her 38-year-old self, "I love my clothes and hair there. I really looked good." Then she recalls telling Hatful of Rain playwright Michael V. Gazzo about dating the show's lead, a dancer named Grover Dale, and how Gazzo asked her, "What is that, a jelly?" I look at Dale's picture and said, "Well, he sure looks nelly," to which she replies with another big laugh, "He does, doesn't he? But he wasn't." (Dale, as it happens, dated Anthony Perkins for six years before marrying a woman.)
When Stritch was interviewed by VanityFair.com in June, on the occasion of her first visit back to New York since the big move, she was not adjusting to life in Birmingham well. "I'm about as unhappy as anybody can be," she said then. In the months since, things have only gotten worse. In July, she fell on the marble floor of her bathroom here and fractured her pelvis — her third fall this year, for which she says her doctors don't know the cause. Hence, the wheelchair and the lack of pants, a more comfortable state of existence for her.
Yet the misfortune seems to have redoubled her efforts to find satisfaction in this two-bedroom, 2,500-square-foot space in a building called the Dakota. ("Makes me think of, oh, what's her name? Older actress … Humphrey Bogart … Lauren Bacall!") "I think the change of lifestyle can hit you as boring unless you give it a fair shot," she says with a forced smile. "It means putting your best outfit on, hit the streets, go to dinner, meet old Mrs. Nederlander, meet all the famous people that live in this town. And that's exciting. I like celebrities. I love people who are famous. Always have. I'm going to be happy here. And the common folk are even better than the famous folk. I'm gonna get along fine." (Barbara Nederlander, mother of theater owner James Nederlander, died in Birmingham in 2010.)
Her routine these days involves a lot of sleep to ward off diabetes-related fatigue and daily physical therapy to regain her mobility. Stritch takes strolls with a walker wearing a pair of oversize glasses, dozens of which sit in neat rows on her nightstand like magazines, and her classic black bowler, which rests on a small table by the front door. "I like glasses so I can go out without my makeup," she says. "Just grab your coat and get your hat and go." Ah, but does anyone wear hats anymore? "Ha!" she screeches, catching the allusion to her most famous tune from Company. "I think they do. Me, especially. Which is an irony twisted."
Locals stop her constantly to chat about 30 Rock — "Well, they're not asking me about Noel Coward's Sail Away" — and she obliges them, even though her Emmy-winning performance is among her least favorite credits. "I'm not too fond of that kind of comedy, a little far out, a little bent," says Stritch. Then, concerned that Tina Fey might take offense, she goes on, "I adore Tina. I think she's one of the sweetest girls, which is funny to hear me say because she'd probably be hysterical laughing. But I do think she's sweet. I think she's a good egg, I think she's an honest human being, and I think she's very attractive."
Stritch and her caretaker bicker over how much insulin she needs, which gives her the opportunity to show me a glucose monitor called a Dexcom embedded on her stomach to constantly transmit her level to a handheld device that looks like a black iPod. Her friend, the writer Charles Isherwood, visited recently for an upcoming profile for the New York Times, she says, and she used the monitor to gross him out at a dinner party. "It's a sitdown dinner and I said, 'If you're interested,' and I show him this thing on my belly," she recalls. "And he says, 'Well, I'm not that interested.' Ah-ha-ha-ha-ha-ha!"
It's an opening to follow up on a bizarre disclosure on Baldwin's podcast earlier this year, that her first orgasm took place onstage during Act II as Martha in Who's Afraid of Virginia Woolf?  "Absolutely true," she answers without a blink. "I don't have to go into detail. If you want anything more, you'll have to go to another actress. I don't think she can top that." But what did she do onstage when that, uh, happened? "I used it! I made it part of my performance. I'm not Actors Studio-ing my way into the hearts of millions. I'm just saying this happened. So, therefore, I must have been very up and into that role." It never happened again, she says.

Despite the move and her injuries, Stritch isn't retired. "Semi," she bellows as she toddles via walker and wearing slippers from the Carlyle Hotel, where she lived for fifteen years, to show off her Emmys, Tony, and other statuettes displayed on a black baby grand piano. The black metal chair she used as her only prop in At Liberty is besides the piano, now adorned with tan cushions. "If I get a call tomorrow morning and they say, 'What about this play?' I'm going to say, 'When?' And I won't be the least bit frightened."A documentary about her life, Elaine Stritch: Shoot Me, has been making the rounds at film festivals, and the poster is framed outside her bedroom even though she's of two minds about it. "I think it's great, but I don't want to be in it," she says. "I don't like what I see." What does she see? "Sadness. I'm a sad lady."
Sometimes, yes. But in her presence that melancholy feels ephemeral; in a blink, she's back up. She'd love, she says, to be on AMC's Mad Men — "I'd have to find a character. I don't think I could get away with the secretary level," she says — or HBO's The Newsroom. As Jane Fonda's mother? "I could be Jane Fonda!" she says. Better yet, she offers, she could be roasted on Comedy Central. "I'd get sore," she says. Then why do it? "I would like it, but I'd get sore. And I'd get MORE comedy out of that!" We circle back. I ask again: She doesn't miss New York? "You say that like it's not true!" she says. "I feel good about being here. When the hospital sends for me, when the ambulance comes and I ease my way out of the world, I'd rather be in Detroit, Michigan, than Lenox Hill. Pfft." She actually spits.

Stritch is kicking me out now because her supper, a hamburger, is ready. But as we again pass her awards en route to the door, the sight of them momentarily mesmerizes her. "No, I don't miss New York," she repeats, this time in a whisper of a register. "I love New York. I went to New York to become an actress and I did it. And I won all the awards known to man. And I'm happy. And I came home. I came, I saw, I conquered. And it feels great. Are you kidding?" And how does she define conquering? A standing ovation? A Tony? "All of it," she says. "And I felt it when I was good. Oh, did I feel it. Whooo! Are you kidding?"