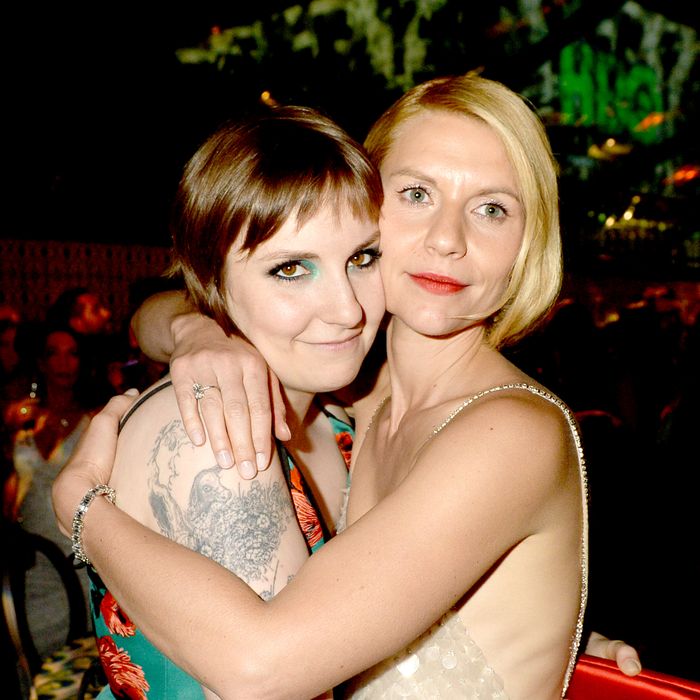 Lena and Claire.
Photo: Jeff Kravitz/2013 Jeff Kravitz
The Emmys were a total snooze, save for a few charming moments — but you can always count on the parties to be fun, because there's drinking involved. Here's what we learned when we dispatched a team of reporters to be flies on the walls at the weekend's biggest events.
Friday, September 20: Pre-parties hosted by Entertainment Weekly and Variety and Women in Film
9:12 p.m. Judah Friedlander walks EW's red carpet at Fig & Olive and says he isn't that impressed by the Emmys hoopla. "It's really stupid. Hollywood is so 'green energy' yet they send 5,000 limos with one person in them to one location. It's the stupidest thing in the world. You know how depressing it is to sit in a limo alone? Limos are supposed to be a party time, not this isolation fucking mobile tank, you know?"
9:28 p.m. Emmy host Neil Patrick Harris and his husband David Burtka are on the carpet for maybe two minutes before NPH shakes his head and walks around the press line, into the party. In hindsight, we don't blame him: If you were hosting a mind-numbingly boring ceremony, you wouldn't want to talk about it either.
9:31 p.m. At the Variety and Women in Film event at Scarpetta at Montage Beverly Hills, Jessica Paré is all smiles floating about the room with her musician boyfriend, John Kastner. She walks onto the smoking patio, where she'll remain until roughly 11 p.m.
9:33 p.m. Elisabeth Moss is also on the smoking patio. Vulture bums a cigarette from her. "I was a smoker before Mad Men," she says with a grin.
9:41 p.m. Modern Family's Nolan Gould shows up to the EW party with a broken thumb. "I wanted to bedazzle it, put like Nolan on it or something, like Mariah Carey did," he says. "But I'm actually going to get it signed at the Emmys by some of my favorite celebrities. I want Aaron Paul right on the thumb. He gets the prime position."
10:15 p.m. Inside Scarpetta, Ray Donovan's Paula Malcomson — who has an Irish accent, albeit a fading one, in real life — says she can tolerate the shit viewers give her for her Boston accent on the show. "But when one said that my Irish accent was bad," she says, "I thought, They don't know what the fuck they're talking about."
10:30 p.m. Anna Chlumsky says she's glad people are now calling her "that girl from VEEP" instead of  "that girl from My Girl." But she and Thomas J. are still blood brothers for life, right?
10:35 p.m. Back at the EW party, The Newsroom's Marcia Gay Harden says the Emmys gifting suite is the highlight of her awards season. "What is bizarre for me is how fast I will try to drive to the gifting suites just to get free stuff because, I mean, I could buy it if I wanted to. But it's free, and I'm saying, 'Once a waitress, always a waitress.'" At least she's honest.
10:38 p.m. Cobie Smulders can't wait for Sunday. "I'm enjoying this year because Neil is hosting. Neil Patrick Harris. Maybe you've heard of him?" Yes.
10:41 p.m. Cristin Milioti — the HIMYM mother — tells us she's getting by with a little guidance from Smulders. "She knows this is my first rodeo. So far we've just been pounding cocktails … She's the best."
10:55 p.m. Laura Prepon interrupts her unsuspecting Orange Is the New Black co-star Uzo Aduba with a big hug from behind. High-pitched squeals ensue. But what about the fact that Prepon is reportedly leaving the show?
Saturday, September 21: BAFTA Tea Party
2:40 p.m. Thirteen-year-old Kiernan Shipka is wise beyond her years, advising Emmys newbies to "relax as much as possible." "It goes so fast," she adds. "Like a flash. Take it in, it's nice, it's really a blessing. Have fun."
2:55 p.m. Girls' Allison Williams is no longer a rookie herself. "I now know to expect some sweat — there is perspiration," she says. "The nice thing is I'm here to support the show for Lena and Adam, so once I sit down, I'm sitting down so I can kick my shoes off and enjoy the show. Can I tell you, it's a tiny slice of heaven every time I remove a high heel?"
3:05 p.m. Kit Harington, who missed the Emmys last year owing to a broken ankle, arrives with his brother. That hair.
3:24 p.m. Kevin Spacey grabs a cool drink at one of the bars. "It's a different time, it's a new year, it's a new paradigm," he tells us of the Emmys. Then he swatted us with a cocktail napkin. (Not really.)
3:29 p.m. John Benjamin Hickey, nominated for Best Supporting Actor, Movie or Miniseries for The Big C, is thrilled to be a first-time nominee. "I'm a virgin, and at 50 years old, to say you're a virgin at anything is … nice!"
3:53 p.m. The Mindy Project's Ed Weeks is happy to be surrounded by so many fellow British people. "Nothing against Americans," he says. "I'm a Yankophile. I'm always in trouble with my British friends for becoming too Americanized."
4:38 p.m. You thought Linda Cardellini would win Best Guest Actress for her role on Mad Men, and so did the category's actual winner, Carrie Preston, who took home the award for her work on The Good Wife. "I never considered it would be me," she said. "I'm still on cloud nine."
Sunday, September 22: Governor's Ball, and after parties hosted by HBO and Netflix
8:22 p.m. We spot Amy Poehler at the Governor's Ball, chatting with 30 Rock producer Eric Gurian. She gives us her highlight reel of the night: "Merritt Wever's speech was hilarious, I thought Neil did a great job, Edie Falco's speech to James Gandolfini was beautiful, Julia Louis-Dreyfus's bit was hilarious. So happy for Tony Hale. And, you know, I'm happy that Jon Hamm lost again because we're throwing a loser's party tonight and no winners are allowed."
8:30 p.m. Matthew Weiner and Chuck Lorre are waiting to order drinks. They share a laugh.
8:45 p.m. Bill Hader is limping from one table to the next. Does he have a show-related injury? "No no — I was totally doing a bit," he said. "I had a lot of fun tonight but [the show] was very sad [makes sad face]." Truth.
9:05 p.m. Merritt Wever, who says she is still too nervous to eat, picks at a salad.
9:15 p.m. Damian Lewis will not explain his shaved head to us. Would doing so reveal a Homeland spoiler? "No. It's weird. We had a really large hiatus this summer and I went away to do a movie but I can't tell you what that is either."
9:21 p.m. Boardwalk Empire's Bobby Cannavale arrives at the HBO party with his sweetheart Rose Byrne, whom he called "the love of his life" during his Emmy speech. He greets Adam Driver.
9:45 p.m. At the Governor's Ball, Matthew Weiner makes his way to Vince Gilligan, presumably to congratulate him on his Emmy win for Best Drama Series. Gilligan is surrounded by people, all wanting to take a photo with him. Ever the southern gentleman, he obliges every request.
9:50 p.m. Gilligan tells us of Anna Gunn's win: "I clapped my hands together so hard that my hands were actually throbbing afterward. I was so excited."
9:47 p.m. Inside the HBO party, the Girls table is clearly the epicenter of the party. Lena Dunham and Judd Apatow take a selfie with a cell phone.
10:06 p.m. Natasha Lyonne hangs by the Girls table for a few minutes before sitting down. A guest role has to happen.
10:25 p.m. Among the first to arrive at Netflix's innaugural Emmy bash at the London's rooftop bar was Kevin Spacey, who was tailed by security and an assistant all night long. He talked about his GIF-able Emmys intro interruption — the telecast highlight! — and opined to well-wishers that Julie Harris should have been included in the In Memoriam tributes.
10:41 p.m. Kate Mara and Max Minghella are holding hands poolside. Mara had actually planned to accept David Fincher's Emmy for Outstanding Directing of a Drama on his behalf. It wasn't seen on TV, but she made it halfway up the aisle before presenters Carrie Preston and Dan Bucatinsky accepted on his behalf. Apparently no one told them!

10:42 p.m. At the HBO party, Arrested Development's Jason Bateman is having a thoughtful conversation with co-star Will Arnett. Perhaps they are discussing the AD movie, or maybe Bateman's telling Arnett where to get a good spray tan.
10:51 p.m. Stephen Colbert shows up holding his two Emmys, loving life.
10:52 p.m. Linda Cardellini's male companion wins the prize for most attentive date when he whips out a powder brush and touches up her makeup.
11:20 p.m. Over at Netflix's fete, Arrested Development boss Mitch Hurwitz is marveling about the skills of "super nice, super sweet" Emmy winner Tony Hale, who won Supporting Actor in a Comedy for Veep. (In our minds, he won for both Veep and Arrested.) Hurwitz told us the plan for Buster next season is "already all mapped out." Those who've finished Arrested's fourth season will remember — spoiler alert! — that the biggest-handed Bluth was arrested for the murder of Lucille 2 in the finale.

11:38 p.m. House of Cards star Robin Wright leans in for a kiss from boyfriend Ben Foster, and then hangs out in a tight embrace near the crowded bar. Nearby, Orange Is the New Black's Laura Prepon and Pablo Schreiber hold court, not talking at all about Prepon's reportedly very limited screentime next season.  

11:39 p.m. Top Chef's Padma Lakshmi exchanges numbers — or is it just cooking tips? — with Aaron Sorkin at the HBO party.
11:41 p.m. Sofia Vergara asks the D.J. to play more Shakira.
11:44 p.m. The Lena Dunham–Claire Danes love fest continues; the two hug and whisper something into each others' ears.
11:56 p.m. Now Vergara is leading a samba on the dance floor.
12.05 a.m. And now she's having a dance-off with her Modern Family co-star Eric Stonestreet. We're as sick of Modern Family winning Emmys as the next guy. But we're calling this anyway: Vergara wins the night.