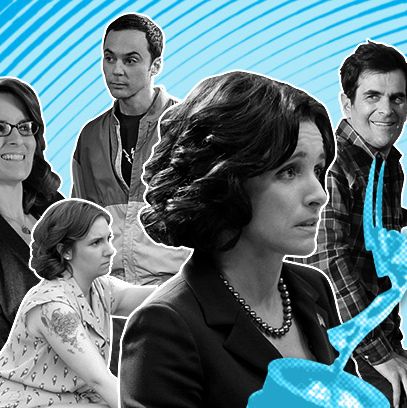 The 65th Emmy Awards are this Sunday, and to prepare, all this week Vulture will be examining the major — and a few minor — categories. Let's put aside trying to predict who will win and focus on the more important question: Who ought to win? Today, let's kick things off with the comedy races.
Outstanding Supporting Actress in a Comedy
Mayim Bialik, The Big Bang Theory
Julie Bowen, Modern Family
Anna Chlumsky, Veep
Jane Krakowski, 30 Rock
Jane Lynch, Glee
Sofia Vergara, Modern Family
Merritt Wever, Nurse Jackie
Julie Bowen has won the past two years, but maybe this is the year the Academy will notice that Modern Family has stopped being funny. Wever and Chlumsky both had terrific seasons, and Bialik is the classic supporting player: totally solid and funny in her own right, but without taking focus or primacy. But look into the cam-er-a and try to explain how Jane Krakowski has never won for 30 Rock. It can't be done! This is her fourth nomination and last chance to win for her performance as the hideously amazing Jenna Maroney.
Outstanding Supporting Actor, Comedy
Adam Driver, Girls
Jesse Tyler Ferguson, Modern Family
Ed O'Neill, Modern Family
Ty Burrell, Modern Family
Bill Hader, Saturday Night Live
Tony Hale, Veep
It's gotta be Tony Hale. No one plays whipped better, and he should really be nominated for both Veep and Arrested Development. But unlike Arrested's motherboy Buster, Veep's Gary is self-sufficient. And tragic! Hale's inherent sweetness makes you believe that Gary, the Leviathan-carrying assistant to the vice-president, is actually crazy-gifted but sadly, because of his longing to please his boss, perpetually underappreciated. In the episode "Running," which Hale submitted, Gary finally gets a taste of gratitude: High on pairing St. John's Wort (from Gary: "It's herbal! It's from the earth!") and pain medication, Selina gregariously invites herself to his parents'$2 40th wedding anniversary, but once sober she completely forgets the offer ("I thought your parents were dead"). The look on Hale's face as he swallows the news? It makes us feel like bullies for laughing, but laugh we do.
Outstanding Lead Actress in a Comedy
Laura Dern, Enlightened
Lena Dunham, Girls
Edie Falco, Nurse Jackie
Tina Fey, 30 Rock
Julia Louis-Dreyfus, Veep
Amy Poehler, Parks and Recreation
Tina Fey, Edie Falco, and Julia Louis-Dreyfus have already won for their roles, and another win for any of them wouldn't really come as a surprise. But Laura Dern's performance as Amy Jellicoe on the late great Enlightened is in another league. Enlightened is a beautiful and hopeful but ultimately sad story about the limits of optimism, and the fact that the show was anything other than a straight-up tragedy is mostly thanks to Dern's surprising emotional buoyancy. Amy isn't optimistic because she's stupid; she made a choice to be hopeful, even in the face of evidence that she should stop. Somehow Dern made her credible, and while we'd love to see Poehler win, Amy Jellicoe is a lot tougher to play than Leslie Knope.
Outstanding Lead Actor, Comedy
Jason Bateman, Arrested Development
Jim Parsons, Big Bang Theory
Matt LeBlanc, Episodes
Don Cheadle, House of Lies
Louis C.K., Louie
Alec Baldwin, 30 Rock
For taking life as a curmudgeonly single-and-looking dad and making art of it, we'd give this one to Louis C.K. C.K. submitted "Daddy's Girlfriend Part 1," a summation of his (or his character's? who can tell?) life's predicament. Louie's daughters come to the conclusion that daddy doesn't have a girlfriend because he's waiting for "the right one." After sleeping with a fellow comedian who turns out to be mean (Maria Bamford, of all people!), he begins fantasizing about nicer, gentler, knee-length-skirted schoolteachers. He's instantly smitten with a bookstore employee (Parker Posey in a knee-length skirt) who helps him find a funny flower book for his daughter, and works up the courage to ask her out in in the most perfect rambling speech that, among many highlights, gets this part right and in the correct order: "I"m attracted to you because you're nice and you're a decent person … also, you're horribly cute." (Part 2 was also a mini-masterpiece, but that was really Posey's showcase.)
Oustanding Writing, Comedy
Episodes, "Episode 209," David Crane, Jeffrey Klarik
Louie, "Daddy's Girlfriend (Part 1)," Louis C.K., Pamela Adlon
The Office, "Finale," Greg Daniels
30 Rock, "Hogcock!" Jack Burditt, Robert Carlock
30 Rock, "Last Lunch," Tina Fey, Tracey Wigfield

For 30 Rock's last episode, "Last Lunch," Fey and Wigfield did everything they said they never would (hugging! learning!) and brought a landmark network comedy series to a pitch-perfect end. So much closure: Liz and Tracy's final trip to the strip club, "Rural Juror," "I love you, too, Jack," Kenneth's rise and all the other things that left us damp-eyed. Now, where can we buy a clear dishwasher?
Outstanding Comedy
30 Rock 
Girls
Louie
Modern Family
The Big Bang Theory
Veep
30 Rock went out with a bang, and one last Emmy would make a perfect wedding gift for Liz Lemon and Criss Cross. Girls and Louie are both fantastic shows, singular in their respective visions, but they're not (nor are they designed to be) laugh riots. Modern Family was straight-up not good this season. Veep had a banner year, and The Big Bang Theory is the only multi-camera comedy on today that's worth a damn. But come on. It has to be 30 Rock. It's both the sentimental choice — it's the final season! — and the actual right, best choice. And for the love of God, someone let Lutz order lunch already.