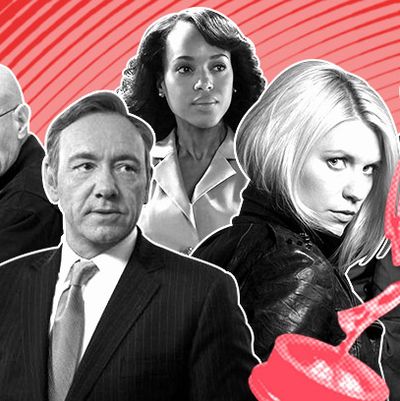 The 65th Emmy Awards are this Sunday and, to prepare, all this week Vulture will be examining the major — and a few minor — categories. Let's put aside trying to predict who will win and focus on the more important question: Who ought to win? Today, things get serious with the drama categories. So much carnage!
Outstanding Supporting Actress in a Drama
Anna Gunn, Breaking Bad
Maggie Smith, Downton Abbey
Emilia Clarke, Game of Thrones
Christine Baranski, The Good Wife
Morena Baccarin, Homeland
Christina Hendricks, Mad Men
The Maggie Smith express seems unstoppable. But recall the events of the Breaking Bad episode "Fifty-One," in which Skyler walked fully clothed into the pool, successfully sent the kids away to Hank and Marie's, and told Walt that she felt helpless to do anything but wait until he dies. We shuddered just typing that out. Anna Gunn needs to win for playing the impossible position in which Walt's put Skyler — fierce and broken, seething and weary — all season long.
Outstanding Supporting Actor in a Drama
Jonathan Banks, Breaking Bad
Bobby Cannavale, Boardwalk Empire
Jim Carter, Downton Abbey
Peter Dinklage, Game of Thrones
Mandy Patinkin, Homeland
Aaron Paul, Breaking Bad
Aaron Paul and Peter Dinklage have both already won. (Deservedly so!) Jonathan Banks — terrific. Bobby Cannavale — also terrific. Jim Carter — perfectly fine in a role where he has very, very little to do. As Claire Danes would say, Mandy Patinkin, holla. Patinkin's Saul is so wise and sage he could be the show's Yoda, except that Saul's also heartbroken and weary and he knows enough to be frightened for himself, for his sorta-daughter Carrie, for his country. The beard alone should win an Emmy.
Outstanding Lead Actress in a Drama
Connie Britton, Nashville
Claire Danes, Homeland
Michelle Dockery, Downton Abbey
Vera Farmiga, Bates Motel
Elisabeth Moss, Mad Men
Kerry Washington, Scandal
Robin Wright, House of Cards
It's a packed field, with a record seven nominees in the category. Claire Danes won last year and seems like a safe enough bet to win again, even if the second season of Homeland gave her less interesting things to do. But Elisabeth Moss has never been recognized for her work on Mad Men, and that is starting to feel egregious. (Moss is also nominated for Top of the Lake, but we'll talk about miniseries later this week.) This season on MM, Moss's Peggy had some major moments. She accidentally stabbed her boyfriend, for example. She fell in love with Ted. She reunited with Joan. She flirted with Stan. Oh, Peggy, we all want so much for you.
Outstanding Lead Actor, Drama
Bryan Cranston, Breaking Bad
Hugh Bonneville, Downton Abbey
Damian Lewis, Homeland
Kevin Spacey, House of Cards
Jon Hamm, Mad Men
Jeff Daniels, The Newsroom
Cranston's already been to the podium three times. But Jon Hamm was bursting at the seams this season, a pressure cooker readying to blow. So much of Don's bottled-up pain surfaces, and Hamm was heavier, sweatier, more volatile (scarier in the bedroom!), even the charm felt forced. In the finale (which Hamm submitted for consideration), Don cracked in the quietest, most stunning of ways, selling the shit out of a lie to Hershey's (old Don!) and then, hands shaking, revealing the uncomfortable truth about the awful childhood of Dick Whitman (new-ish Don!). Hamm should really get all the awards for that pitch scene alone.
Outstanding Writing for a Drama
Breaking Bad, "Dead Freight," by George Mastras
Breaking Bad, "Say My Name," by Thomas Schnauz
Downton Abbey, "Episode Four," by Julian Fellowes
Game of Thrones, "The Rains of Castermere," by David Benioff and D. B. Weiss
Homeland, "Q&A," by Henry Bormell
Fun fact: "Q&A," the Homeland episode where Carrie interrogates Brody, is the only episode in this category that doesn't end in someone's death. "Dead Freight" is the one where Todd shoots the kid on the bike. "Say My Name" is the one where Walt kills Mike. "Episode Four" is the episode in which Sybil dies shortly following the birth of her daughter. And in "The Rains of Castermere," a million people get stabbed. That's a lot of bloodshed! In addition to being the only non-fatal episode, "Q&A" is also an incredibly dense episode that's Homeland at its most paranoid and aggressive. We'd be happy with anything except Downton (sorry, this whole season was a mess), but "Q&A" is the cream of the crop.
Outstanding Drama
Breaking Bad
Downton Abbey
Game of Thrones
Homeland
House of Cards
Mad Men

Breaking Bad is nominated for the first half of season five, and it was pretty great — but not as goddamn fantastic as these final eight episodes have been. So this round goes to Mad Men, which took us down to the deplorable depths of Don Draper, and then, at the end, up the other side. (The Hershey's pitch. Don and the kids at the whore house. That look from Sally. "Both Sides Now" playing. God, I'm going to start crying all over again.) And this is to say nothing of a season that also included Pete's sad and hilarious frustrations, the maturation of Betty, Peggy's bumpy professional rise, Joan's awkward power grab, and the glorious Bob Benson.