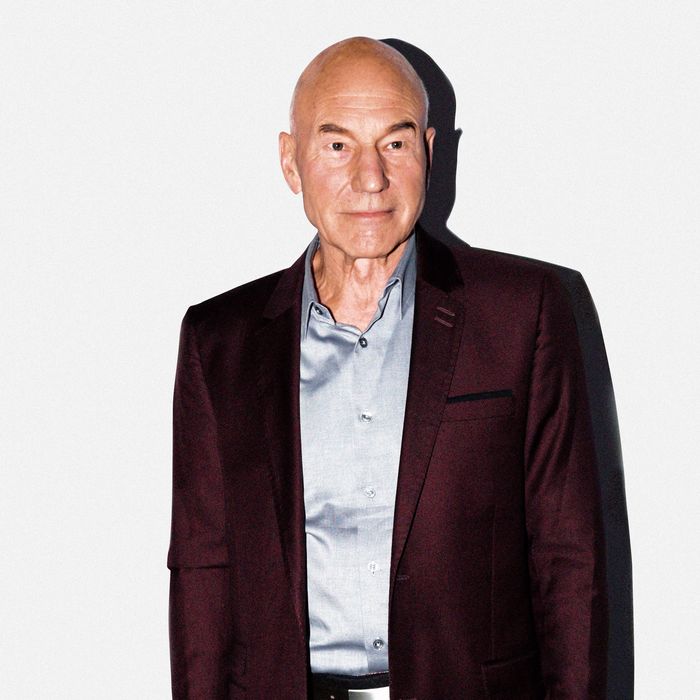 Are you sure you don't need a sweatshirt?" Sir Patrick Stewart asks as he tucks into his own gray hoodie. The actor, of Star Trek: The Next Generation and X-Men fame, is seated on the roof of his Park Slope duplex drinking Champagne. His wife, the singer Sunny Ozell, sits nearby. "Cheers, big ears," she toasts. The two wed a week earlier at a ceremony in Lake Tahoe. Sir Ian McKellen, Stewart's longtime friend and co-star in an upcoming Broadway repertoire of Harold Pinter's No Man's Land and Samuel Beckett's Waiting for Godot, served as the officiant. Guests included the entire crew of the Starship Enterprise.
Stewart is clearly smitten with his wife, whom he met five years ago when playing Macbeth at the Brooklyn Academy of Music. One night after a performance, he had dinner at the Brooklyn artisanal-pizza restaurant Franny's, where Ozell was waiting tables. The two hit it off. "One of the great things about being with Sunny is that she encourages the bolder, more dangerous, the riskier, outrageous choices," says Stewart. Take, for example, Stewart's recent playfulness on Twitter, documenting everything from eating his "first 'slice' " of New York pizza to posing for a picture in France in front of a Picard store.
Or there's the video that Ozell, who is 38 years younger than her new husband, posted of him giving a tutorial on the "quadruple take." As Ozell's feet rest on Stewart's knees, the actor repeats McKellen's line from No Man's Land, "Her buns are the best," then illustrates a succession of theatrical glances, each one more ridiculous than the last, as Ozell giggles in the background. Both insist they were not high when making the video. "We had been drinking an especially fine bottle of Domaine Tempier Bandol rosé," says Stewart.
"We had a couple of them," says Ozell.
"I don't think so," says Stewart. "Well, you may have."
The sun slowly sets over the South Slope skyline. "Are you sure you don't want a sweatshirt?" Stewart asks me again, furrowing his brow. The actor became a frequent Brooklyn presence after he and Ozell started dating. He's enjoying the small-town feel of his neighborhood. After he was knighted in 2010, his pharmacist ribbed him: "So whadda we have to do now? Curtsy?" says Stewart, slipping into a Brooklyn accent.
"I always thought if I lived in New York, I'd live in Manhattan, of course. And there are times when I get a little wistful," says Stewart. "But by the time I get off the subway here and walk back up Fourth Avenue, I am at ease and at home."
Most Brooklynites leave him alone, says Ozell. "People are more concerned with being cool than getting his picture." Stewart recalls once seeing a man on a stoop who clearly recognized him. "I thought, Ohhhhh, man," says Stewart. "And as we drew abreast of him, he said, 'Hey, Mr. Stewart, welcome to the neighborhood! Enjoy!' " Stewart smiles and repeats the phrase. "I mean, that's pure gold, that."
He's even adopted the borough's progressive politics—maybe even to the left of progressive. "I've always believed that it is not possible to be in the world and not be political," he says. When Star Trek took off in 1987, Stewart suddenly found that the world listened to his opinions. "I'd been given a voice that I didn't know was available to me, and it was to speak seriously and with a proper level of involvement on issues of inequality and unfairness," he says, his voice building toward an emphatic crescendo, like he's giving a philosophical pep talk to a band of mutant superheroes. Stewart has used that voice most notably to speak out about issues of violence against women, talking publicly and powerfully about how his father abused his mother when he was a boy. He used to even consider himself something of a socialist. "I feel I could not describe myself authentically now as a socialist. In many respects, the life that I live would seem to be in conflict with that." Nevertheless, he adds, it didn't stop him from announcing that he was a socialist at dinner parties in Beverly Hills and then watching "the reaction ripple around the table when people would think, What kind of dinner party am I at?"
The sun has sunk behind the buildings, and a chill sets in. Ozell appears behind me with a soft green fleece. "I worry about you," says Stewart, more Deanna Troi than Jean-Luc Picard. I hesitate.
"Wear Patrick Stewart's fleece, come on!" says Ozell. I put on the fleece.
Stewart rubs his bald head and then pulls his hood up over it. "Sunny and I have almost nothing in common," says Stewart of his wife. "And it seems to be a great basis for a relationship.
"She has had to learn about what I do," which, for instance, was why Stewart was genuinely teaching Ozell about double takes on a porch in California. "And my musical attachment ended with the death of Buddy Holly," says Stewart. "You're looking at a man who, when I met Sting on Dune, I said, 'Oh, so you're a musician.' I asked him what he played, and he said bass, and I said, 'I've always felt so sorry for you guys, carrying that huge big thing around with you everywhere you go.' Later I asked him, 'Do you have a group?' and he said, 'I play with the Police.' And I said, 'Wow, you play in a police band?'
"Talent has always been the sexiest thing to me," says Stewart. "I have missed out on innumerable, shall I call them, 'romantic opportunities' because the other person involved wasn't very good at what they did." He remembers how a few weeks after meeting, Ozell invited him to one of her singing gigs. "I wasn't even familiar with the term gig," says Stewart. "A gig was something that was pulled by horses." He showed up at the Living Room, on the Lower East Side, and was so nervous that she wouldn't be good that when the guitarist started in, he began to hyperventilate. "And then she opened her mouth, and it was glorious."
The sun has completely vanished, along with the contents of our glasses. During the weekend of wedding festivities, he says, "I heard people tell me they had never, ever, seen me so happy." He grins. "I'm having more fun than I've ever known before."
*This article originally appeared in the September 30, 2013 issue of New York Magazine