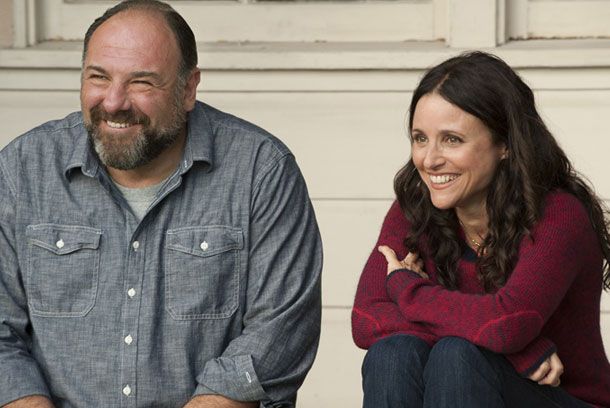 Say the name James Gandolfini, and it will likely conjure memories of him playing the tough-guy roles for which he was best known. However, in his final leading role, as Albert in the rom-com Enough Said, the late actor displayed another side of his onscreen range, a side more closely associated with the real person he was off camera. To friends and family, he was Jim, an actor who was affable and easy to work with; at times, he was even self-deprecating and funny, much like the character he plays in Nicole Holofcener's movie.
In this new film, Gandolfini plays a divorced man who meets Julia Louis-Dreyfus' character Eva, at a party neither of them wants to be at. Also divorced, Eva is a massage therapist, whose daughter is getting ready for college. At the party, Eva also picks up a new client Marianne, played by Catherine Keener, who just so happens to be Albert's ex-wife. Without realizing the coincidence until she's already involved with Albert, Eva listens to Marianne's unfiltered diatribes about Albert's faults—down to his bedroom behavior.
Despite his flaws, Albert is kind-hearted and quirky in a way that makes him loveable. Eva sees the good in him, but also the bad and the ugly thanks to Marianne's merciless criticisms of him. In a culture where a simple Google search might expose more details about your new date than you might care to know upfront, Enough Said is a charming commentary about the new rules of love. Watching Gandolfini in this role, it's clear he was an actor who had more to say—enough said.