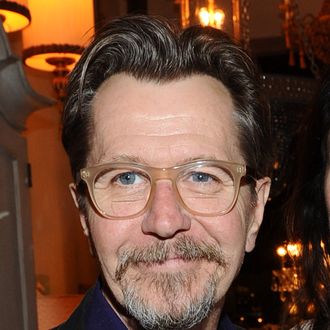 Gary Oldman probably won't reprise his role.
Photo: Michael Buckner/Getty Images
On the same day that ABC's superhero drama Agents of S.H.I.E.L.D premiered, Fox announced that it won the bidding war for its own superhero show: the Commissioner Gordon origin drama Gotham. Created by Mentalist showrunner Bruno Heller, who will write and executive produce this time around, the latest from Warner Bros. and DC Comics explores a young James Gordon during his early days as a detective with the Gotham City Police Department. Though the show will also feature the origin stories of "the villains who made Gotham City famous," it will reportedly leave out Batman, whom Gordon doesn't meet until later in his career.
Deadline reports that Gotham joins S.H.I.E.L.D., along with CW's Arrow and planned spin-off Flash as the only superhero shows currently on network TV. To show their excitement, Fox has given the project a series commitment — a distinction only CBS's sci-fi drama Extant has received so far this season. Variety points out that's "not quite an on-air order but a hefty down payment that puts Gotham on the fast track to pilot production." Your move, NBC.